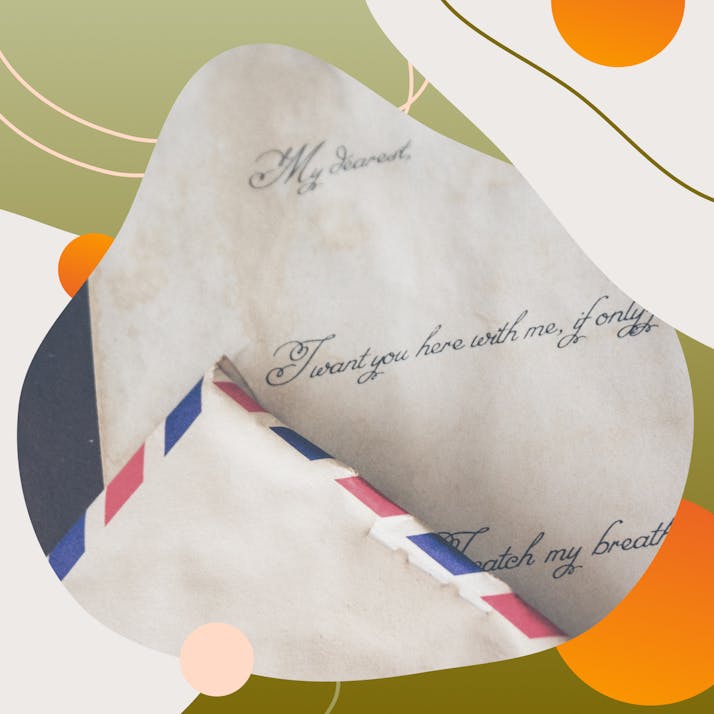 I Learned About Having a Healthy Marriage Through My Parents' Love Letters
Love letters sent back and forth in the 1940s between Philadelphia and New York were all the author needed to know her parents were deeply in love.
/ / /
How do you define love? I define it by the example my parents set. My brothers and I grew up in a home where we were witness to two people who prioritized each other's well being above their own and continually demonstrated affection and respect for each other. That kind of love is not as ubiquitous today as it should be. The world we live in can be overly stimulating and leave many with little time and/or motivation to cultivate and nurture profound and epic love for their partners.
My parents' love developed and deepened through the written letter, a form of communication that is practically non-existent today. Letter-writing offers a way to express our sincere emotions and our real vulnerabilities. For many, it is easier to write down their thoughts than to say them out loud.
How My Parents' Relationship Began
My parents met in 1945, when my dad, Abe, and my Uncle Hal were Coast Guard buddies stationed in Greenland. Hal had married my mom's sister, Rae, during his service in WWII, and they traveled together until she became pregnant, prompting Rae to live with my mother, Dotty. Hal got to know my mother when he visited Rae on his leaves and eventually decided to bring my dad with him on a subsequent visit. Abe and Dotty had an instant attraction to each other and went on several dates whenever dad had leave. 
Though Dad lived in Philadelphia and Mom lived in the Bronx, they continued pursuing their courtship. I sometimes wonder if they considered the ramifications of the "geographically undesirable" aspect of their relationship, or if they were living in the moment, simply enjoying each other when they were fortunate enough to be together.
Eventually, Dad completed his service and he and Mom began the next stage of their courtship.  In Mom's autobiography, which she wrote for her children, she remembers, "Abe was clean-cut, on the quiet side, and a perfect gentleman. After his discharge, he made every effort to visit me as often as he could. He would take the train from Philly to Manhattan, and then out to the Bronx, where I lived."
Long-Distance Love Letters Is How They Stayed Connected When They Were Apart
This became a challenging routine and they needed to stay connected in between visits. In 1946, there was obviously no email, texting, Facetime or Zoom. Even a long-distance phone call was considered a luxurious indulgence. Their best and only option was snail mail. My father wrote letters to her every single day that they weren't together. My mother wrote daily as well.
"He wrote such nice, loving letters with cute little drawings around the margins," she remembered. "He courted me for a while in this way; that is, in person and by mail, and we ultimately became engaged."
Mom saved all of dad's letters in a floral cardboard, octagonal box. Tragically, he passed away at the too-young age of 43. My mother remarried a few years later, and when she did, she gifted me dad's collection of love letters. I never opened the box. Well, in truth, I did just once to look at the letters and touch them. They were all in their original envelopes but I didn't open them. I considered them sacred documents that didn't belong to me.
I Made Sure the Legacy of My Parents' Love Letters Lived On
My stepfather passed away 25 years after marrying my mother, and I tried to return the letters to her then. Dad was always the love of her life, and I thought they should be in her possession. She told me to keep them, so I did. I realized these letters were a treasure for our family and years later, she allowed me to publish a book from these letters, and I printed a copy for each member of our family. Of course, I made a copy for her as well. Each of their three children and four grandchildren received copies as well.
I felt privileged to peek into the lives of my parents as they developed their romance. My dad had a fabulous sense of humor and it showed in his letters. 
For example, one of his early letters closed this way:
As ever,
Sincerely,
Yours truly
Regards
Love (ahem!)
Aw skip it
Abe
As I mentioned earlier, they corresponded daily, so my dad's letters were filled with the details of his daily life, one that looked very different from ours today.
What I Learned About My Parents Through Their Letters
I also got a taste of how they spent their time together. He wrote about wanting to sketch her profile on his next visit but wondered if she'd be able to sit still for 30 minutes.  He expressed his doubts. "But if we keep the rhumbas and the sambas off the radio, you might be able," he wrote. No date night Netflix or video games; instead, Latin dancing for Dotty and Abe!
My father was a percussionist and loved music. Many of his letters revealed his musical interests. "My sister bought a phonograph last week and we've been buying records galore," he wrote. "I looked high and low and finally got my favorite two records and keep playing them whenever I'm home. One is 'Sing, Sing, Sing' by Benny Goodman. The other is by Bunny Berrigan called, 'I Can't Get Started With You.' Both terrific. Did you ever hear them?"
Although there is a renewed interest in vinyl records today, generally speaking, phonographs and vinyl have not quite replaced the more convenient and universal musical services such as Spotify. There was also a huge disparity in the postal service then and the postal service today.  In one of the letters, my dad expressed his disappointment in not receiving my mom's letter that morning. But he didn't despair because "maybe it will be in the mail this afternoon" he wrote. Imagine that—two mail deliveries a day.
The Letters Helped Me Understand What a Healthy Marriage Looks Like
Sadly, the letters my mother sent my dad are long gone. Nonetheless, I was able to learn much of what she wrote through my dad's responses. It is with great privilege that I had the opportunity to discover, and share with my family, the history of the love affair between my parents, who I miss deeply each and every day.
But their legacy is with me. They showed me and my brothers what a loving marriage looks like—not by words but by comportment. Theirs was a union of great love, devotion and mutual respect. Today, I am blessed to be in a loving marriage, and I thank Mom and Dad for their example.