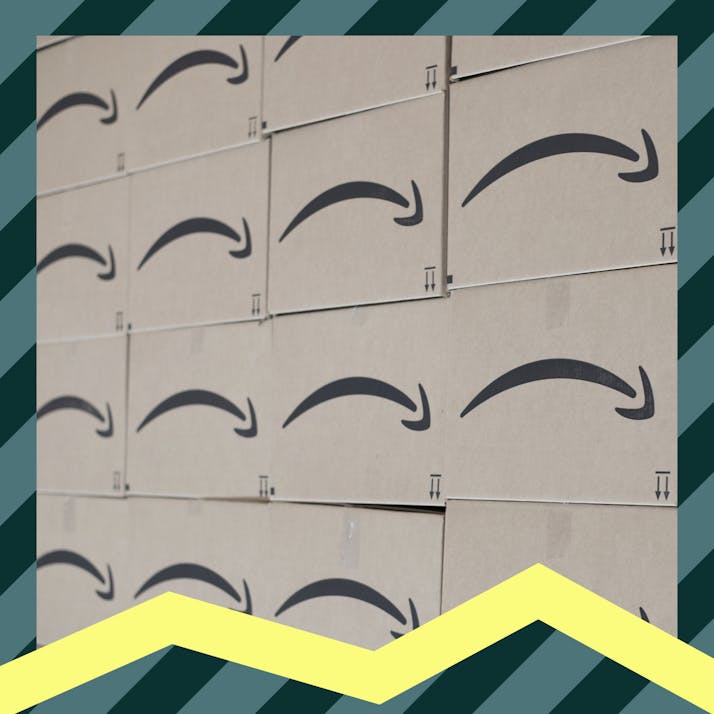 Inside Amazon: What It's Like to Be a Driver for the E-Commerce Behemoth
A former driver for Amazon exposes the company's inhumane tactics.
/ / /
Amazon is one of the largest multinational corporations in the entire world. With dozens of contracts with the federal government and with intelligence agencies, it could be looked at as the future of the workplace and tech itself. 
Growing up, I considered myself to be more of a free-market Reaganist and had a positive view of large corporations. I held the belief that large corporations generally practiced business in good faith and helped benefit the economy by providing jobs. Whenever I would hear labor unions and essential workers talk about how they weren't being treated well, I thought they were being too demanding and putting themselves over the company collectively. However, by stepping into their shoes, I was able to learn about their perspective.
Driving for Amazon Seemed Like a Great Position on the Surface
When the COVID-19 pandemic began in the spring of 2020, I was a college student left with no place to go. The campus was closed and the baseball umpiring job I had in previous years was shuttered along with the sports season. With an economy decimated by the pandemic, job openings were few and far between. However, there was one job opening that caught my eye: a delivery service partner (DSP) with Amazon, who was hiring for a delivery driver.
The role was advertised as a flexible, high-paying seasonal position, where you could pick which days you could work and training would be provided. When interviewing for the job, the HR manager made the position seem as attractive as the description, where if you came to work on time and worked hard every single day, you would be successful and have opportunities for advancement on the job. Drivers would be scheduled to work five days a week for 10-hour shifts. They would typically assign drivers 140-160 stops each shift, with Amazon expecting that drivers complete deliveries at a rate of 20 stops per hour. Most drivers were able to complete their routes before the end of their scheduled shift, while still being paid for the entirety of their scheduled shift, and if they didn't finish their routes before the end of their shift, a supervisor would recall the driver to the station to return the packages they were unable to deliver.
After accepting the job, I attended a three-day job training seminar, which was followed by a hands-on training session, where an Amazon job trainer would follow you around. As I began my experience as a delivery driver, it wouldn't take a long time for me to realize that the job would be a lot more challenging and significant than I had previously thought.
After completing my training and beginning my time as a driver, the job felt great. I was assigned smaller-sized routes, was completing my routes early and was earning high driving scores. As I continued delivering packages, my route size gradually increased until they reached full-size routes. While I was able to perform well with more residential stops with winding roads, routes with tighter roads and apartments were a lot more challenging. Some days required delivering through hazardous conditions, such as excessive heat, thunderstorms and torrential rainfall.
One day when there were intermittent thunderstorms, I was assigned to a route with over 200 stops and even delivering at an above-average rate in ideal conditions would be almost impossible to complete before the end of the scheduled shift. I couldn't take the required 30-minute break and still couldn't complete the route before the end of my scheduled shift. In this situation, drivers are left with the choice of taking a break or completing their route on time.
The Algorithms Amazon Used to Monitor Drivers Weren't Always Accurate
Amazon was able to utilize pandemic protocols to implement lasting changes in the workforce. Pre-shift meetings where all the drivers would typically gather were moved to Zoom, while cutting back on ride-along training sessions, which took a lot away from the personalization of the workplace. The elimination of the personalization made the job made it feel as if it was managed by algorithms, and made it feel as if they didn't want us to interact with other drivers so that they could have more control over drivers.
Before proceeding to their assigned route, drivers are provided a company smartphone, where they are required to sign in to two different apps. The first app was the Amazon Flex app, which serves as a tracking and navigation app. Whenever a driver completes a delivery, they are required to scan a QR code on the package and take a picture of where the package was delivered. It also determines the order of deliveries and can track how fast an employee is completing deliveries and whether they are completing deliveries in the correct order.
The second app is the Mentor app, which evaluates how safely a driver is driving. Drivers receive daily scores ranging from 500 being dangerous to 800 being elite. If the app detects a driver driving over the speed limit, breaking or turning hard, not wearing a seatbelt or using the phone while driving, you will lose points. A lot of times, these algorithms can be inaccurate. An article in Bloomberg reported that these apps can deduct drivers' scores for offenses they did not commit. Even though it is widely known by drivers and supervisors, this app is used to evaluate driver safety. For example, while I would have high scores on residential routes, my score would be reduced for sharp turns and aggressive acceleration and braking because of the grid layout in urban areas. As if they didn't surveil drivers enough, since I left Amazon, they have added algorithmic surveillance cameras to each van to detect whether a driver is distracted.
Meanwhile, a member of dispatch is stationed at the delivery center to oversee delivery routes. At any time, dispatch members can track a driver's location and how far along their route they are. A dispatch member will call a driver when they want them to pick up packages from another driver, check on a driver that is behind on their route or to call a driver back to the station if they don't finish their route by the end of their shift.
Each week, the two apps will calculate the safety, efficiency and accuracy of a driver into a score ranging from 300 to 800. Each driver will then be ranked from best to worst based on their score. Each day, the Amazon DSP would be provided with 40 routes for drivers, and if more than 40 drivers were scheduled to work on a given day, the drivers with the lowest scores would be sent home. If a driver struggled to keep their score above 660, they could be fired automatically. Even though a human supervisor would probably evaluate drivers differently than the algorithms, the algorithms are treated as if they are perfectly accurate.
During one of the company meetings, I remember something that was stunning to me. One of the toughest parts of the job is delivering packages to places like apartments, where a driver needs a password or customer permission to enter the facility where they are supposed to deliver the package directly to the customer or their room. If the driver can't enter the facility, the driver will leave the package in a doorway or lobby so they can complete the delivery, while being able to continue onto their route, even though it is against company policy. However, to enforce this policy, Amazon began using the Flex app's algorithms to detect whether a package was delivered to the correct location. If the algorithms detected a driver delivering to the wrong place, they would be shut out of the Amazon apps and fired automatically. The concept of digital firing was an idea that I thought was crazy and unheard of.
Being a Delivery Driver Has Given Me a Wider Perspective
The craziest part about working at Amazon is how they view employees more as a part of a system than as human beings. Employees are assigned 40-60 hours of physically demanding work weekly. If an employee makes a handful of mistakes or isn't able to handle the long hours and follow every command, they can easily be replaced. If an Amazon worker expresses concern for workplace safety conditions, they face the threat of retaliation from their supervisor. A recent example would be from Edwardsville, Illinois, where supervisors were allegedly threatening to fire employees who left an Amazon warehouse to seek shelter ahead of a tornado that later leveled the warehouse and left six people dead.
A year after working as a delivery driver for Amazon, I worked as a driver helper for UPS. While they had challenging, competitive jobs, UPS takes care of their drivers better than Amazon does. While Amazon has more seasonal drivers, with less delivery experience, UPS has more experienced full-time delivery drivers. UPS drivers are also unionized, where the union is able to negotiate for manageable workloads and bargain for higher wages, an option the drivers at Amazon don't have. With employment and job stability going through a union, drivers have a lot more certainty that they will be treated fairly by their employer. 
Prior to working for Amazon, I was a free-market absolutist, but this work experience definitely provided me with a more blue-collar perspective. While profits are important, an employer should always prioritize the well-being of their workers. There are a lot of exploited blue-collar workers throughout the country, and their voices should be heard and should be protected from exploitation.