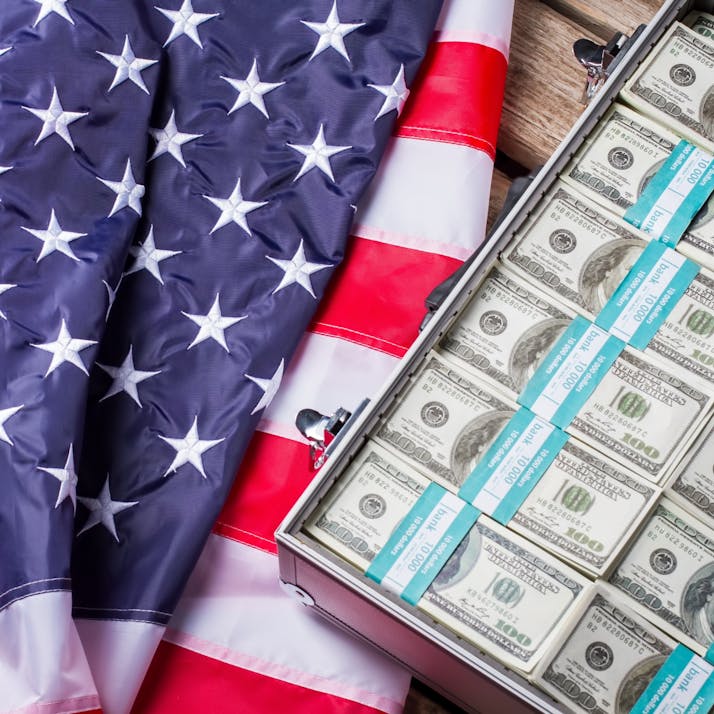 Why Raising Money for Political Campaigns Is Undemocratic
A political operative in Ohio writes that cash is ruining our government.
/ / /
I work in politics. I've peered behind the curtain upon the organizational and bureaucratic realities of running for office, and I've learned that you fundamentally cannot create change without money.
Campaigns Are Expensive
Ohio, the state I currently live in, use to give taxpayers $50 to make civic donations through a campaign contributions credit signed into law in 1995. This money empowered 11 million people to participate in their democracy in an often inaccessible way. The campaign contributions credit was repealed this year by a Republican supermajority, and Ohioans lost the ability to crowdfund their preferred candidates. In a political era darkened by Citizens United, dark money and corporate interests, people power matters.
We will never get new, exciting candidates or representatives if we don't level the playing field for everyday citizens.
Our campaign has two full-time paid staffers, one paid part-time volunteer coordinator and one paid part-time compliance specialist. We have to pay for access to bulk email services through the party every month. We pay to use a secured online fundraising platform. We pay to use a speed dialer to connect with constituents and donors as efficiently as possible. We have to pay for yard signs, door hangers, walk cards, envelopes, postcards, letters, t-shirts, buttons, media buys and volunteer resources. In total, we have spent close to $160,000 in a year. If that seems like a lot of money, keep in mind that the average winning congressional campaign spent $1.3 million in 2018. Our opponent currently has just over $1 million cash on hand. We are trying to be as economical as we can with our grassroots budget, and with that comes limitations.
How Money Corrupts American Politics
Like many, I worked from home during the first few months of COVID-19. In my job, I create all of our digital and written content. In a time without volunteer organizing, fundraising events and community outreach, my responsibilities were significantly reduced. I'm lucky to have held onto my job through the beginning of the crisis and the ensuing depression. My team had me spend my time, instead, on fundraising. In March, April and May, I spent 40 hours a week on the phone asking for political contributions, along with the campaign manager and candidate of the campaign. Together we spent 360 hours trying to convince people they should invest in our success.
It sucked.
Our district's median income falls well below the national average, so our fundraising opportunities are limited in-district and in-state. I had a few devastating conversations while making contribution calls in Ohio. People would apologize because they couldn't make a contribution while their business was closed. An old woman who loves our campaign told me she can't afford to help on her fixed income. Justifiably, one man was livid at a solicitation for money when he had just enrolled in unemployment. Across the state, people couldn't believe that their representatives and leaders were failing them so egregiously: To many, we don't have a system worth financially supporting.
We had to change our fundraising strategy if we wanted to run a competitive election, so we outsourced our asks.
Nearly all of our highest donors come from New York and California. New York has 27 representatives, California 53. Not only do these states have enormous power in Congress, but constituents also have the money to fund their candidates—centralizing power in our political system. We called these states chasing dollars and begging people to care about rural Ohio.
Ultimately, we had to rely on out-of-state money to get through the summer and create a fully operational campaign.
The Role of Money in Politics Needs to Change
Everyone is suffering right now. Campaigns are expensive. We deserve better leadership. The only solution I can imagine for a district like this is much more extensive than a single tax credit. We need publicly funded elections, or the people will always be too economically disenfranchised to make a difference in their political landscape. This needs to happen at the federal level because I know Ohio can't be the only state where first-time candidates have to claw their way up Everest to make it onto the ballot. We can't change the needs of a campaign, but we can level the playing field.