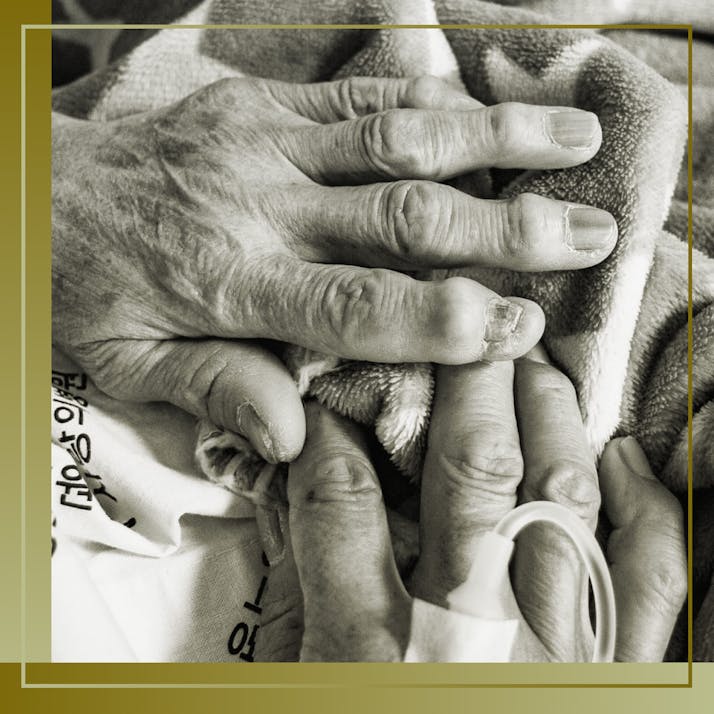 I Wasn't Able to Say Goodbye to My Grandpa Due to COVID
A woman reflects on not being able to see an ailing relative due to international travel restrictions.
/ / /
My grandpa wasn't ever just my grandpa. He was my mentor, my advisor, my friend and at times my jester. He taught me what unconditional love looked and felt like. He loved being around people and used each chapter of his life to help them in different ways, from building housing, temples and community centers to providing scholarships. A lot of what he did was about uplifting and building the community where he lived, whether it was in Fiji, New Zealand or Australia.  
Grandpa was the youngest of 12 kids in his family, raised with his nieces and nephews who eventually moved to different parts of America, Canada, New Zealand and the U.K. He was the superglue of our family, pulling us all together even when we didn't get along. He passed away on Nov 22, 2020, after not seeing some members of the family for 12 months or more. COVID restrictions had prevented us all from traveling to him as we usually do. 
The death of someone like my grandpa shouldn't be a reason for sorrow—he lived too amazing and colorful a life for that. But it was sad that he passed at a time when family and friends couldn't be together, and when I couldn't travel to Australia to be with them. So now we're faced with the question, how do you celebrate an amazing man's life during a global pandemic? Our very 21st-century family found a bunch of ways to grieve and celebrate him, but I, his oldest granddaughter, can't figure out how.
Saying Goodbye to a Loved One During COVID Is Hard for Everyone
My aunts and mum, who were able to gather in Adelaide, Australia during lockdown all got to spend time with him before he passed. They worked through 14-day hotel quarantine, hospital visit restrictions, police escorts and state border closures just to be there. My lovely aunts and mum would pass along all his characteristic one-liners to the nurses and grandma, as a way to assure the rest of us that he was okay. They mediated FaceTime calls for me so I could see him and talk to him and help him crack a joke or two. 
The rest of the extended family that wasn't in Adelaide were stuck biding time until lockdown was over and we were able to travel there. This was harder than expected. Some of us distracted ourselves with alcohol, others with work, others by "socializing within limitations." Those who weren't in Australia called grandma incessantly for updates, sometimes a call a minute during waking hours, and she was completely unable to get downtime at home between hospital visits. The funeral that was organized was delayed a week while everyone in Australia waited for state border closures to lift so all the aunts, uncles, cousins, grandchildren and great-grandchildren could be together to mourn and celebrate my grandpa's amazing life, albeit in a smaller way than we imagined.
I've Tried to Grieve on My Own, but Can't
Meanwhile, I was in San Francisco at home with my partner, who struggled to understand my connection to a man he'd never met and a relationship he didn't share with his own grandfather. As you can probably tell, I was very close to my grandpa, as all his grandchildren were. 
To put it briefly, I have struggled. Traveling to Australia would have meant two to four weeks of quarantine, with no guarantee that I could come back into the U.S. for work, as I am on a visa. Moreover, I had started a new job supporting COVID-19 research as a lab-based scientist, and with COVID-19 cases in the U.S. spiking, time off was impossible. I had to put work before family, which meant missing my grandpa's funeral. 
Two months on, I still miss the opportunity of being able to sit around and share stories about the glorious life my grandpa lived and how much love and goodness he shared with the world, and to simply exist in the same space that he recently existed in, something I will now never be able to do. I dream that every night I could smell his smells, feel his presence, watch his movies, eat his food, be in his garden and listen to his music. (He saved a list of songs on his YouTube account for me—the youth are not the only tech-friendly folks in my family). I wanted to join my mum, aunties and sister in carrying his coffin on its journey. My mum, grandma, aunties and sister still have not hugged me; I haven't hugged them. I cannot put into words how much I crave being in the presence of someone who really knew him, who knew his whole life like I did, if not more. 
Instead, I sit with my journal and try to channel my inner Jane Austen to work through what I miss about him in deep and entertaining detail. But I can't even put my emotions into words, let alone deep or entertaining ones. Who do I talk to about this? My family in Australia have done their form of grieving. The family in the rest of the world was not as close to him as I am. I ran out of energy to navigate COVID-19, a new job and missing him, so two months on I'm writing this article, searching for advice, knowing there is no perfect answer. In the words of a close friend, "This is just how life happens. Fairness is not part of the equation."
Not Getting to Say Goodbye to a Loved One Has Also Put Things in Perspective
COVID-19 has robbed me of precious time with loved ones, of my ability to grieve and celebrate their lives. Although it's pushed me into valuable COVID-19-related research, it has also prevented me from doing the work I love, which is researching a cure for HIV. I have had to cancel numerous trips, both domestic and abroad. 
On the other hand, lockdown has brought many aspects of my life into clearer view. I lost my grandpa and had to prioritize work instead, but this is exactly what my grandpa would have wanted, had we all been thinking objectively: me supporting the wider community. I've connected deeper with family (and my weekly screen time has skyrocketed as a consequence). I couldn't interact with friends, but I found a wonderfully compassionate man to share my life with. I couldn't travel (and oh, how I miss it), but I found peace in my meditation and yoga practice, something my grandpa has been trying to instill in me since I was a teenager. 
My aunts, mum and sister carrying my grandpa's coffin made me realize that my grandpa and grandma have raised two generations of strong women of color with diverse cultural backgrounds. What if I make this his legacy? A family of women who can share their strengths, weaknesses, love and kindness with other people, men and women alike. How do you teach people to be kind, share love and support each other when they haven't had that modeled in their lives like I've been privileged to? Do we ask our leaders to step up? Do we create safe spaces for each other? Do we try to inspire each other so the strength of within is awakened? 
The State of the World Right Now Is a Lot of Taking, and Little Giving
Grandpa would have said you can only share love and kindness, that there should never be any expectations of receiving anything back. What does that mean for our world's healthcare workers, social workers, essential workers and research staff, who have spent the last 12 months inundated with COVID-19 and its effects at work and home? Many of us have had limited time off. (What's a weekend again?) We're consumed by the new information and the state of global politics, healthcare and travel. I'd like to say that I can turn off the news and have boundaries to how much COVID-19 information enters my personal life, but this is not true. 
After all, I missed the opportunity to say goodbye to my grandpa and support my family because of the effects of COVID-19. With the guidance of my grandpa, I've devoted my life to the service of others in different ways. Today I would like to ask you, the reader, how can you model love, kindness and community for yourself, your loved ones and the next generation?