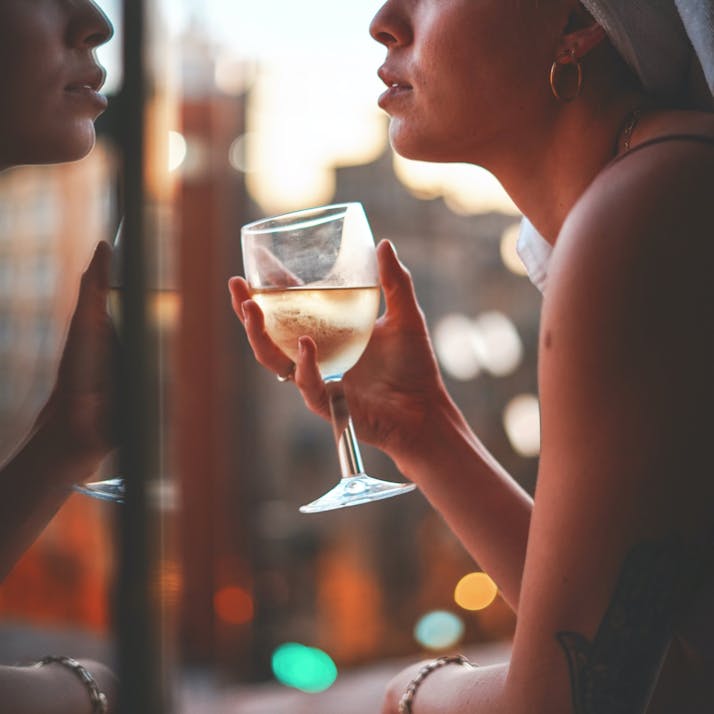 How I Fell in Love During My Ho Phase
A woman explains how she found the man of her dreams—when she wasn't exactly looking for him.
/ / /
Being plus size in the late '90s and early 2000s, clothing choices were far from fashionable. Add in the pressure of being a teenager wearing baggy jeans, oversized sweaters or gauchos and bell sleeve floral shirts: It's no surprise that when it came to the boys, I was a late bloomer. In my senior year of high school, my sister gave me a pair of lightly washed denim jeans that showed off my figure. It was the first time that I realized that I had hips for days, and fitted clothes made me look far less frumpy than anything else in my closet at the time.
The first day I wore those jeans to school, heads turned. I probably wore those things at least twice a week from that point forward. There was a newfound confidence that awoke in me. Suddenly, I cared more about what I looked like. I discovered that eyebrow waxing and acrylics weren't just for special occasions anymore. Most of my Saturdays were spent in the hair salon. This confidence followed into my college years: While it was a bit of a culture shock to me, it didn't take long to adjust. I was suddenly visible, and to be honest, I loved the compliments and the attention. 
I loved being the person who wasn't seen as conventionally attractive and still left the party with the finest male there. I'm not sure if I chose the ho life or if it chose me. Either way, I loved the power that came along with it. I do know that my ho phase was a good-ass time. All of it (and them). I was a preacher's kid, so my unburdening seems to be on-brand for a somewhat geeky person deeply submerged into Southern Christian culture. Most of my weeknights were filled with church-related events: dance rehearsal, choir practice, bible study, connection group, a conference of some sorts. Now some of the church kids were fresh as hell, but I respected the house of the Lord—for the most part.
There was something incredibly intoxicating to me in the power that came along with having a roster of men at my disposal. The rush of going out with multiple men on the same day was a high that sent my ego into orbit. I remember having a party one night and "scheduling" the three men I was seeing at the time to make an appearance because I wanted to spend some part of my birthday with all of them. 
What a time!
Dating Helped Me Realize What I Did Not Want in a Relationship
The ho phase wasn't strictly about ho'ing around: Although I was dating multiple men, all of them weren't sexual partners. That's nasty as hell. Occasionally there would be a loose commitment. No matter how much I tried, faithfulness was not my strong suit. The monotony of settling down paled in comparison to the rush felt when being in the thick of a ho phase.
I used a color-coded calendar to keep track of whom I went out with and with whom I slept. There were men just for date nights, some that were a guaranteed good time after a drunk night and, yeah, even some just for conversation. However, as much excitement as there was in dating multiple men at the same time, each relationship brought greater clarity. The biggest epiphany being: "Bitch, you're getting too old for this."
Some of these men were also involved with other people. Some didn't have any ambition or goals, some only wanted a beneficial arrangement and more than one left the indication that should I fall pregnant, I would be parenting on my own. On the surface these men were good-looking but what could they really offer beyond a few meals and admittedly (sometimes) lackluster sex? I think part of the reason I kept reverting back to this phase was that the more men I met—and took some time to learn who I was—the more I was able to see what I did not want from someone whom I would be seriously dating. It was easier to avoid vulnerability by erecting this wall over my heart and emotions. I continued to play the game because this way, I was in control.
And it worked until it didn't.
How I Accidentally Met "The One"
On a whim, I found myself creating a profile on Plenty of Fish. Browsing the profiles, the right swipes were beyond generous because I wasn't looking for commitment as much as I was looking for a distraction from life. Some fresh meat would be just what I needed. As the ho phase goes, a batch of gents gained enough of my attention and the selective weeding began. From this round of folks, I ended up meeting a few of them in person. In true ho fashion, I met them on the same day.
Over time, my communication with a lot of men began to dwindle. I ignored the infamous "you up?" text at 4 a.m. with one guy in particular. This one guy. His exuberant confidence made his mere presence command attention. The light that reflected from his eyes when he talked about things he was passionate about was blinding. And I could get lost in them forever. He had a smile that would calm the roughest seas. Everything about him felt new yet familiar at the same time. As time passed, we were hanging out quite often (not even having sex) and I never felt the need to be anyone other than myself.
And then it happened.
Falling in Love Unexpectedly
Almost instinctively, I began to let my guard down. Of all the men I had previously dated, he was sui generis. While I didn't know a lot of things relating to relationships or commitment, it was certain that anything I could possibly want in a partner could be found in him. He was intelligent and handsome but also patient, attentive and reassuring. His ambition and motivation were infectious. But, most of all, he was a provider; I felt safe with him. Even on the days that we were upset with each other, there was peace and comfort in his presence.
I remember the day that I genuinely wanted to lay all the cards on the table, quit the game and officially focus on this one person. Somehow, in the midst of ho'ing, I started falling for this man. We were at his house eating ice cream after dinner, watching the original Lion King and it felt so nostalgic. It was almost like one of those moments where a married couple would be reflecting on their relationship and asking each other, "Can you believe this is where we are now?"
He said, "I want you to listen to this." He played a song that expressed his love toward me. It was a perfect moment. I knew, without a doubt, that every word in that song was about us. For once, there were visions of the future and a desire to grow old with someone. I didn't want to see other people. I didn't want to hurt him, only learn how to love him truly. What the hell was happening? Every broken piece of me was suddenly whole. "Redamancy" is defined as to love and be loved in return. That's what this had become. Our relationship was the first time that I experienced what it felt like to be genuinely loved for who I was. And to genuinely love someone as well. It was pure. That feeling alone was greater than any power that I had felt previously. Even now, years later, nothing else compares.
I can't say that we would have met had it not been for my mindless swiping that night. One could even say that the universe knew what (and whom) I needed, even when I didn't. It seems weird to be grateful for a ho phase, but without a doubt, this relationship was the greatest blessing. As the old saying goes: You have to kiss a lot of frogs before you find a prince.