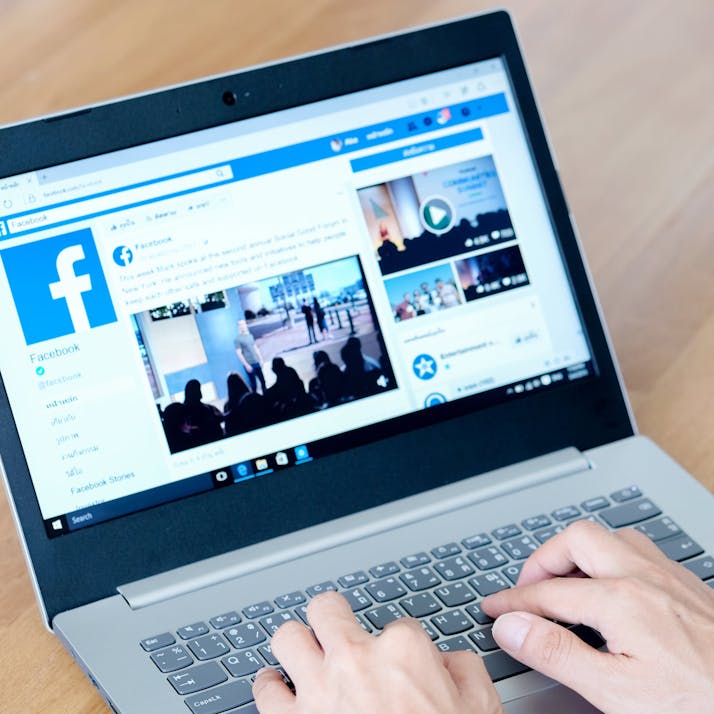 I Found My Dream Career Through a Stranger on Facebook
One stranger's generosity unlocked a teenager's writing talent, affirming social media's connective power.
/ / /
Never in my life had I imagined becoming a published writer or pursuing a journalism career. As a reticent and timid South Asian teenager, grappling with gender identity issues and constantly being bullied, I was always anxious and hid in the shadows. As the world raced past me, I felt like a misfit without any tangible reason to exist.
This constant self-loathing, which included a botched childhood surgery and subsequent tormenting by fellow classmates over my appearance, took a turn for the worse. I decided to quit my academics and study from home.
I did not realize I was depressed. I was just fraught with stress and nowhere to go, a fact compounded by my crippling social anxiety. That's when my icon bar on Facebook turned red. An older white woman—almost my grandmother's age—requested my friendship in the virtual world. These were the simpler times back in 2012, when social media was about sifting through a flurry of status updates, adding new friends and boasting about "likes" on profile pictures. At first glance, I was skeptical. Why would anyone add me? Especially an older white woman from the United States? Was this a scam?
But what did I really have to lose? Nothing.
Scrolling through Jane Doe's account, I stared at profile pictures containing a blonde woman flanked on the sides by an older man with glassy eyes. There was nothing remarkable about the two of them. Swiping through their older (and sometimes dimly-cropped) pictures, I could envision her life—her kids, grandkids, dogs and an American farm.
Anne Frank Taught Me How Powerful Writing Can Be
Weeks passed. I walked back into my dull life and pretended to merge into the shadows. If I stayed quiet, would anyone notice? Jane started forwarding random literary recommendations and I was a bit apprehensive. Eventually, we spoke, and she turned out to be an extremely caring, genuine and supportive mentor. The more I stayed inactive, the more she would comment on my Facebook statuses and encourage me to develop my flair for writing. Eventually, I threw caution to the wind and expressed how I really felt—despondent and confused, hoping to assert myself.
At this juncture, Jane introduced me to the tragic and poignant world of Anne Frank, and her acclaimed diary. She advised me to read it carefully—or rather, to live every page. For the next three months, I pored over Anne's diary, learning about her journey living in an extremely chaotic and cramped attic as the world turned extremely morbid, dangerous and hostile toward Jews. I cried for Anne and her family's helplessness; I smiled at her childish complaints; and I learned so much about life, resilience and kindness.
One line that Frank wrote in her diary stirred something deep within me, igniting the passion to write. "Everyone has inside of him a piece of good news," she wrote. "The good news is that you don't know how great you can be! How much you can love! What you can accomplish! And what your potential is!"
As the season changed to winter, Jane would often text me about her everyday life in Michigan, sending pictures of her house or the banal details about her grandchildren. Within these conversations, she would also encourage me and offer active support to open up, let the world in and share my story.
Jane Doe Made Me Realize Everyone Has a Story to Tell
On a humid afternoon, I was bullied by a classmate on stage in the presence of 60 other students. The student mocked my reclusiveness, physical appearance and social status as a way to demean me. To say I was crushed would be an understatement. Looking back on the incident now evokes in me a pity for my tormentor. It must have taken a considerable amount of self-hatred within him to hate someone for their differences.
I cried, and then cried some more.
I confided in Jane about the incident and she introduced me to her world. Her husband was an Army veteran. He was schizophrenic and struggled to remember his kids or even Jane. His current status was something that led her to make friends elsewhere. As Jane saw him remember and forget her—or, at times, just walk out of the house—her heart sank. Yet she held onto the belief that we all had a story to tell, a life to live—either in India, the United States or Africa. We matter wherever we are, however we look.
That's when I began my journaling journey, writing extensive analysis of every book and current news events, and sourcing books to add to my knowledge. I had created a safe space, an oyster for myself, encouraged and supported by a stranger over the internet.
To Find Your Dream Career, You Have to Be Open-Minded
One day, I asked Jane if she would be comfortable if I wrote a story about her husband, his schizophrenia and the perils and struggles of establishing a relationship with his grandkids. I didn't hear back from Jane for a few days but when she did return my message, she was ecstatic. She explained her apprehensiveness about letting the world see her vulnerabilities, but eventually thought it was a story worth telling. Her voice mattered, too.
While crafting her story into a 5,000-word essay, I spoke to her at length about life, family and the joy of banal things. It was cathartic, and I found a grandmother in 68-year-old Jane. The story was real, pure and an act of unrelenting kindness. Upon completion, I submitted the story for a writer's competition, and my stomach turned in knots with panic and excitement. All these years of bullying and fear had been turned upside down and I was excited to show the world that I did not need to fit in. None of us need to.
An email popped a few days later: "Your story has been selected in the top ten and will be published in a book. Congratulations."
"Thank you, Jane," I wrote back to the messenger on the white-and-blue screen. "This would be impossible without you."
Jane's husband, David, was worsening, so our communications thinned to a trickle and I began my ascent towards a social life with confidence, in pursuit of finding a space for myself within this world. A space that was uniquely me. When the green-and-black book cover arrived with my name on it, it stamped in me a confidence that I can never forget. Never.
This was the first time Jane took my number, called me and thanked me profusely. The voice on the other end sounded so feeble but endearing. She had read a copy of the book shipped by the publisher and could not believe her eyes. A Facebook friend request had changed two lives for the better—a writer was born and Jane's story had printed proof of existence.
Later on, she relayed how her family had embraced the book and shared it with everyone in their circles. Jane was celebrated as the "grandmother who makes innocent teenagers write books about her."
I Never Thought I'd Have the Confidence to Pursue My Dream Profession
This act of kindness by Jane—sharing her story, encouraging a 19-year-old stranger to write, read and find one's own voice over the internet—is a story about the power of human connection that can transcend race, geography, religion. It can upend lives. This may sound cliché, but sometimes, magic does happen.
Unlike the current 2020 maelstrom that has perpetuated hate, bigotry and violence, we as a society need to step backward to the nascent era of social media and course-correct our trajectory. Replace hate with kindness. Replace trolling with empathy. Replace doxxing with community care and protection. We need to build back and build it better.
So, what happened to me and Jane? I am a journalist now. I ask questions and seek answers about poverty, social inequalities and democracy. This job needs confidence, resourcefulness and the ability to have a sense of empathy. I stayed in touch with Jane intermittently before her account went inactive beginning in 2017. I've never heard from her since, and sometimes I worry.
Whatever the case, this is a narrative I wholeheartedly cherish and recall every time someone complains about the pitfalls of social media in the current climate of demagoguery and hatred. I hope my story evokes in the readers a sense of empathy for those around them. Thank you, Jane, for being a force to be reckoned with.