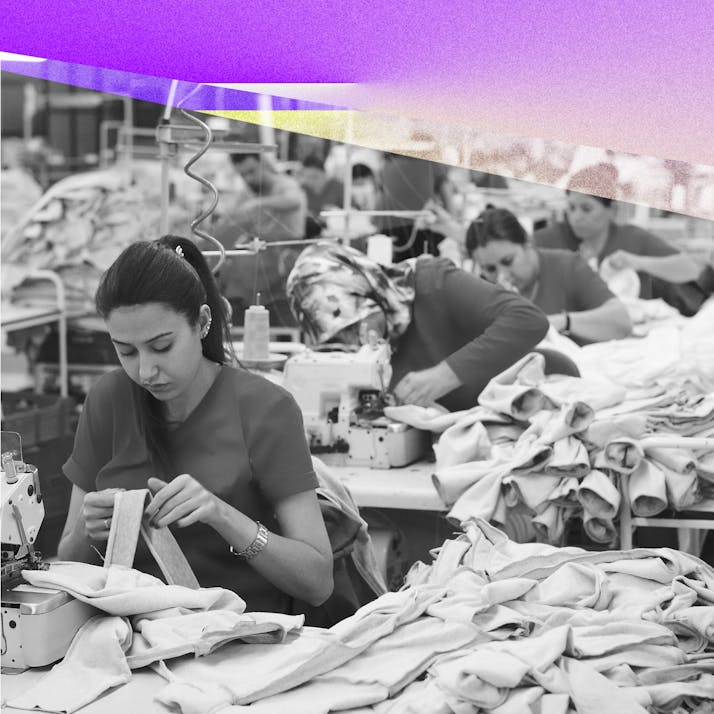 My Ethical Dilemma of Working in the Fashion Industry
How can I square my position in the style world with its myriad issues?
/ / /
The myth of the fashion industry isn't new: expensive clothes, thin white women, fierce competition and way too many egos. Nor is it inaccurate. The way the fashion world is portrayed in movies is far from fictional—anyone who's seen The Devil Wears Prada or Cruella has had a real glimpse at what the life of a fashion professional is like.
So why do so many women, even the less egotistical bunch, dream of working in this industry and often accept mistreatment and ridiculously small paychecks once they make their way in? 
I can tell you one thing for sure: It's not only a case of having masochistic tendencies. Amidst the bitchiness, the posing and the questionable behavior, you'll also come across the kind of creativity that makes your hair stand on end, visionaries that challenge you intellectually and make you dream again. And if we are being honest, there are some pretty sweet perks too, be it free designer handbags, paid-for trips to Milan and Paris and access to fancy events in fancy places that will give your Instagram followers a serious case of FOMO.
The Toxic Fashion Industry Is Romanticized, to Say the Least
In my case, it was a mix of the perks, the creative stimulation and the fact that I got to make my childhood dream come true that led me into the glitzy world of fashion magazines, despite the serious red flags I saw along the way. I might have had to ask my parents to help me buy groceries at the end of each month, yet I got seasonal Net-a-Porter vouchers and at least one Michelin-star dinner per week, paid for by a luxury brand looking to woo journalists in exchange for positive coverage. I might have seriously compromised my own sanity when I had to deal with office bullying for over two years as a junior editor, yet at the same time, I got to interview legends like Tommy Hilfiger, sit front row at fashion week and connect with some of the industry's most powerful CEOs as part of the job. 
As the years pass, the money gets a little better, your skin gets a lot tougher and you find yourself becoming part of this monster of a system. You find yourself playing the fashion game, posing in borrowed designer clothes that you pretend are yours, showing off your seemingly glamorous life and mastering the resting bitch face, just like those that came before you. 
Does it feel good? At times, it does. Getting a seat at the table and a taste of the lifestyle of the rich and the famous after shedding literal blood, sweat and tears will no doubt make you feel good about yourself. But it's a very short-term kind of satisfaction that feeds your ego rather than your soul. Once the initial "pinch me" moment wears off, you start to notice the social and ethical issues in the fashion industry, the cracks in the system and the questionable morals behind it.
It Took Time, but I Eventually Saw the Problems in the Fashion Industry Culture
How can this editor lose sleep over something as meaningless as missing out on the exclusive news of a luxury brand's store opening when the rest of the world is grappling with a pandemic and lives are being lost? And how come fashion week goers haven't learned anything from our yearlong lockdowns and the collective trauma we've experienced? Why are people still putting lives at risk to crowd backstage at Dior just for the sake of getting a shot with A$AP Rocky? 
This lack of perspective and priorities has saddened me, to say the least, and forced me to question the relevance of the industry itself. At a time when community, kindness and mental and physical well-being need to be at the top of our agenda, what's the point of a fashion industry that promotes unrealistic standards of beauty, fleeting trends and a rate of consumerism that very few can keep up with?
Of course, there have been conversations about rewiring the industry to respond to the times we live in, but in reality, genuine change is almost nonexistent. The fashion crowd is already back to promoting too many luxury items on Instagram, posing in head-to-toe designer looks and faking a perfect life.
Environmental, Social and Ethical Issues in the Fashion Industry
There are also bigger issues that are harder to swallow. Namely, the sexually abusive behavior of some of the industry's most famous photographers, its issues with overproduction and pollution, and its inherently racist attitude. 
Over the last decade of working as a reporter in the fashion industry, I've followed and covered stories about models being abused by supposed legends of fashion photography like Bruce Weber and Mario Testino. I also regularly report about fashion being the second most polluting industry in the world—apparently a truckload of clothes is dumped in landfills around the world every single second—and brands producing way too many collections a year, leaving garment workers in unsafe conditions, while refusing to change in the name of capitalist gains.
In the wake of the Black Lives Matter movement, the industry's diversity issues have also been exposed, with fashion professionals finally speaking up about the racist behaviors and bullying that takes place in the industry behind closed doors. Apologies were issued and some big bosses were forced to step down, and yet people of color are still made to feel like outsiders inside these glitzy fashion offices while entry-level salaries remain so low that it's almost impossible for working-class individuals who can't rely on financial support from their families to get their foot in the door. 
"It's embarrassing to be part of a business that has such outrageously antiquated ideas," I recently heard Tommy Hilfiger say during a conversation with Halima Aden, one of the industry's first hijab-wearing Muslim models, who recently decided to step away from modeling given the lack of sensitivity to her modesty requirements shown by stylists and photographers. But isn't there at least a tinge of hypocrisy in what Hilfiger and so many other fashion professionals are saying—myself included? 
We find it embarrassing to be associated with a business that's racist and culturally insensitive, yet continue to make our livelihood from it. Our relentless work and dedication keep its wheels spinning. We—or should I just say I?—find it outrageous that our colleagues are ignoring COVID-19 and rushing back to fashion week, yet sooner or later, I will probably start dressing up (in gifted clothing, of course) and return to the front row myself, reporting on new season collections, even if I know that their production is killing the planet and no one really needs any more new stuff. 
There's a major push and pull of contradicting forces at play here. On one side, my love of creativity, beauty and writing about all things sparkly and glamorous. On the other, my moral compass and exhaustion from being surrounded by egos, superficiality and resistance to meaningful change. 
I Have High Hopes for How the Fashion Industry Changes in the Future
It's certainly not all doom and gloom. There's a new generation coming to the fore that is challenging the power of the gatekeepers, smiling instead of hiding behind dark sunglasses and resting bitch faces, creating clothing out of trash to make a statement about sustainability and speaking out against racism. I've found glimmers of hope when I speak to the young women building successful circular businesses and offering women the chance to rent out clothes instead of buying them at inflated prices. Or all the Gen Zers who have made secondhand cool—the old guard wouldn't be seen dead in anything old season—and turned Depop into a billion-dollar business. 
At fashion week, too, you are more likely to spot healthier-looking models. Backstage at runway shows, it used to be champagne and nudity all the way, and believe it or not, no one would flinch. Now there are new regulations in place to ensure that models are above the age of 16 and that they're offered food on the job, as well as a private space to change.
In the world of glossy magazines, budgets have shrunk and editors have had to ever so slightly come back down to earth. While some still loudly mourn their "old glory days," a new crop is turning frontline workers, activists and creatives of color into cover stars for a change and working to make their offices more inviting for people who aren't skinny, rich or white. There's a long road ahead, but it makes me happy when I now overhear interns excitedly talking about how (some) editors-in-chief now strike up conversations with them in lifts. A mere few years ago, I was more likely to find them crying in the bathroom or looking petrified, simply because they couldn't secure the best dinner table for their bosses at the Ritz. 
This willingness to challenge the status quo—and perhaps the occasional Net-a-Porter gift voucher—is what gives me reason to stay in this ambiguous world and try to change it from within.
My Current Relationship With the Fashion Industry
Having had a year off from the fancy event circuit, I had time to breathe and regain the parts of myself I had lost to the fashion bubble. I now have the courage to call things out if they feel wrong, to say no to stories that serve no purpose but to glorify a luxury conglomerate, to spend less time in fake networking events and more time volunteering as a mentor for young people from lower-income or minority backgrounds looking to find a way into the industry, even if they don't have connections and fancy degrees. This has made the job more meaningful than any freebie or trip to Paris Fashion Week could ever do. 
Do I still feel hypocritical about working in fashion instead of an NGO or a sustainability startup? Of course. Every single time I'm asked to write about yet another new luxury store opening or expensive handbag launch, those conflicting feelings rise back up. 
For now, I have faith that as the industry presses restart, there will be fewer new handbags and Instagram trends being pushed onto people and a renewed focus on unhindered creativity, inclusion and fashion made to be worn for more than a single season. But if the big guys have their way and it's back to business as usual, will it be time to give up the teenage dream and say enough is enough?