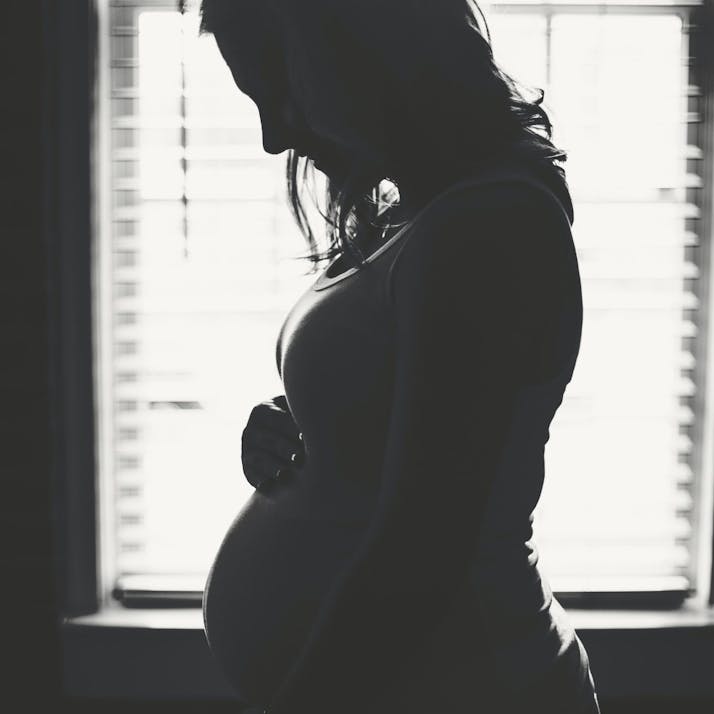 I'm a Domestic Violence Survivor—Now I Help Others Survive
A woman who has experienced homelessness shares her traumatic personal history, and how she escaped to a better place.
/ / /
The first five years of my life were great. My mom and dad had good jobs at a senior center and we had a beautiful house. We would go on vacations, and I even remember traveling to Disneyland, riding the teacups and wearing Minnie ears that my dad bought me. But after I turned five, my uncle came into my life, and everything changed. 
I had never met Junior before, and my family never talked about him. So when he walked in my Nana's door, I was curious. He told us funny stories about his time in the Army. He would take me anywhere I wanted to go and buy me whatever I wanted. He was a charmer. My favorite uncle, Tyrone, voiced his concerns, but no one batted an eye. Then my whole childhood changed.
At the time, Junior was living with my grandparents. One day, when I was in his room watching cartoons, he picked me up, sat me on his lap and started tickling me. He looked at me and told me he loved me, but "not like a niece." I was so confused. "What do you mean, uncle?" I asked him. "I love you more than anything! To the moon and stars. You're my favorite person," he replied. "I love you, too, uncle," I told him. Then he kissed me, and stuck his tongue in my mouth. I didn't know what to do. I was frozen. Then he started touching me. I was so scared and confused. He told me never to talk about our little secret. 
The Sexual Abuse Only Got Worse
The same encounters started happening more frequently, and he started getting more abusive. Until I was 11 years old, Junior raped, abused, tortured, sodomized and mind-controlled me. He would throw me in an ice bath or a dark closet if I behaved badly. He would let the neighbor lady downstairs use me. If I tried to tell anyone, he would threaten to kill me. I remember going to my happy place when it happened. 
My parents had become addicts and always spent their money on drugs instead of bills. I remember coming home from school a few times and we were locked out of our homes. When we lost our home again, I had to stay with Junior for a while. My dad has been clean for 13 years and my mom for six, but it felt like I was living in a nightmare. I won't go into detail of what happened to me, but I will say monsters are not under the bed. They walk among us.
My Domestic Violence Survivor Story Doesn't Stop There
When I was 19 years old and living with my roommate, we went to a club called OverDrive on a Saturday night. The club was lit, and while I was in line, my friend Demetrius from junior high recognized me and stood with us. We started catching up. I asked him about his friend. "Who is that?" I asked. "Oh, that's my boy, Rashaud," he said. "We go way back." I gave Demetrius my number and told him to keep in touch. The next day Rashaud texted me. We went on a date a couple days later. It was the beginning of a seven-year relationship filled with heartache and abuse. 
My housing situation became tenuous. My friend wasn't keeping up with her part of the rent. I couldn't afford a two-bedroom apartment by myself, so I told her I was moving out. I couch-surfed, bouncing from house to house. When I didn't have a place to sleep, I slept in my car. I couldn't stay with Rashaud because he lived with his mom. My parents were in a homeless shelter with my younger siblings, so I couldn't stay with them. I was working full-time and then some, just so I could save up for a place, which is hard without any credit. 
A Complete Stranger Was There for Me When No One Else Was
Rashaud and I were only together a few months when I found out I was pregnant on my 20th birthday. (Happy birthday to me.)  I still remember I took two tests that night, and one the next morning, just to make sure. The doctors told me I was three-and-a-half weeks pregnant. I was shocked because I was on birth control. When I told Rashaud, he acted like he was happy. 
I used to get horrible night sickness. As I got bigger it was difficult to sleep in a car or on a couch, so I got a room at Motel 6 when it was payday. One morning at check-out time, I didn't have all the money for the room. I begged the clerk to give me some more time to get the money. "Sorry, but my hands are tied!" he said. "When you get all of the money for the room, come back." I went to get all my things together to leave. I was in tears and scared. I didn't know what I was going to do. This woman stopped me and said she overheard everything. She asked if I was okay. I told her I was fine.
"How far along are you sweetie?" she asked me. I told her I was a few months and having a baby girl. She insisted on helping because she didn't want to see a pregnant woman sleeping in a car. I finally gave in and thanked her for helping me. We went back to the front desk and she paid for a couple of weeks. I was in shock. No one has ever done something like that for me. I asked her if I could pay her back but she declined. "Just give people a hand up when you can, okay?" she told me. I will never forget the sweet woman who left an impression on my heart. 
When I was six months pregnant, my parents got a place and asked me to come live with them. I was so happy to have a home again. I was so worried about having somewhere for me and my baby. At my 5D sonogram appointment, I got to see Mia's perfect little face. She had so much hair. But after I had Mia, the abuse started again.
My Domestic Abuse Survivor Story Has a Happy Ending
In the beginning, it was verbal. Then Rashaud started pushing me. I should have left then, but I was stupid. Some days were good and some were really bad. Mia was 15 months old when I found out I was pregnant with my second daughter Anicia. I was so scared to tell him. When I showed him the test, he didn't say a word and just left the house. The next nine months were okay. I wasn't getting yelled at as much. But after I had Anicia, the beatings started. It got to the point where I was getting beat up almost every day. I was good at hiding everything—or so I thought. 
Six years ago, when Mia was six and Anicia was four, I finally left Rashaud. We were living in our own place at the time. I called my dad to come get us and I never looked back. I finally had had enough. I was able to get back on my feet with help from my parents. I got hired to a better paying job. Things were finally looking up. 
I remembered what the sweet woman said about paying it forward. I help out whenever I can. I'll go around the neighborhood and ask if the elderly and disabled need anything. I'll clean their homes, run errands and visit with them. During the holidays, I go to the homeless shelter to find a couple families to help out for Christmas. My family and I cook a huge feast and invite people over who don't have anywhere to go. This year, we are sewing scarves and blankets for the homeless. We've got a bunch of gloves, too. I love giving others a hand up. Seeing a smile on people's faces is the best. If we had more people in the world to help others, the world would be a better place.