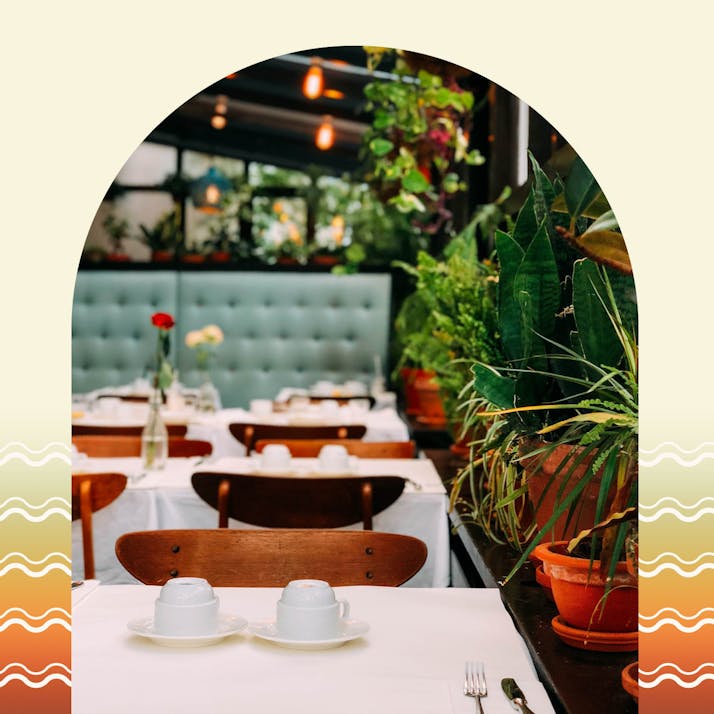 Working at New York's Trendiest Vegan Restaurant Was Bad for My Health
The food was "clean," but the culture was toxic.
/ / /
After studying Renaissance literature at a competitive East Coast liberal arts college, I decided to try my hand in the restaurant industry. I had been vegan for a few years in school and still cooked vegetarian food at home. When I was forwarded a job opening at a gourmet, raw vegan restaurant in the Gramercy Park neighborhood of New York City, I thought it would be a way to get into my hands and out of my head. 
After one "trial"—restaurant speak for "kitchen audition"—in which I made raw chocolate bars (poorly), I was hired as a pastry cook, where my primary task, rather than to whip meringue or form the perfect pie crust, was to spend eight-hour shifts making "ice cream" out of raw coconut and cashews in a Vitamix. The process involved soaking dozens of pounds of cashews the night before and hauling massive bottles of agave—the restaurant didn't use sugar—up from the basement. Once, I repeated this particular recipe so many times that I ended up in the 14th Street Ear and Eye Infirmary because a piece of coconut meat got stuck in my eye and I developed an ulcer. 
The entire pastry kitchen was lined with dehydrators, where we'd also "bake" cakes without raising the temperature over 118 degrees. The ingredients were all raw and organic, and for this reason, the desserts were also exceedingly expensive. Once, I made a custom-ordered, tiered, raw vegan wedding cake for a couple in New Jersey that cost $900. The bride carried it on her lap in the car for the entire two-hour ride from the restaurant to the venue. 
Our Customers Were Obsessed—and Sometimes Famous
Besides locals with money to bleed, the place was a kind of celebrity portal, attracting famous diners from Neil Young to Nas to Lindsay Lohan to Alec Baldwin, who met his current wife there. The kitchen would stay open hours after closing to accommodate a rich celebrity or two who wanted to throw down hundreds of dollars on raw vegan desserts or sake cocktails. I invented a raw vegan "peanut butter" sundae, using peanut oil but not actual peanuts, and served it to Stevie Wonder and his entourage one night around midnight. 
Working there also revealed a level of obsession amongst regular customers that rivaled the lunchtime salad bar at the women's college I had attended. Some of their disordered behaviors were bizarre—there was one woman who only dined at our restaurant, and her daily meal consisted of three of the same salads in a row. Another regular would pour a mango smoothie over her lettuce for "dressing." I had a customer who was a high-fashion model who special ordered our raw granola in quart containers—not something we normally sold—every week, religiously. 
I'm not trying to belittle any kind of disordered eating but rather to cast aside the "chic aesthetic" of health that this restaurant espoused. Its Instagram account was full of customers—many women—who had high-pressure jobs, like well-known models, yoga or health instructors in New York, and used the restaurant's food as a way to assure themselves they were only eating "safe" foods. They frequently posted photos of their meals on social media that betrayed many of the obsessive, anxiety-filled experiences I saw them have in front of their plates. 
The Job (and the Food) Finally Started Getting to Me
After shifts, the staff would often go to the tapas bar next door for beers and fried food, or else a dive bar in the East Village. Physically, I felt the worst I had ever felt in my life. My stomach hurt so bad from eating mostly nuts and fibrous foods in the restaurant, and as soon as my station was cleaned up, I couldn't wait to go find cooked food. 
Eventually, we started hearing rumors that the restaurant wasn't doing well, which seemed strange to a lot of us, as it had been open for almost ten years and we were serving over 200 customers on a busy night. It also had major investors from wealthy vegans in the entertainment and finance industries. At first, we brushed the stories aside, but then our paychecks began to arrive weeks late, and many employees couldn't pay their rent on time. 
The owner was aloof and sparse in her words, sending bizarre, circular emails to employees about talking with managers who could "vouch for" her "character." She was rarely on-site, often "in Europe traveling," occasionally showing up to try a dessert in the kitchen or sit in on a staff meeting. She reassured us that the restaurant's struggles were a temporary blip and that it would be back on its feet soon. Then, her husband began to fire managers who questioned the black holes in the bank statements and the strange amounts after closing shifts. He once came into a meeting and described the people he had fired as "cancerous cells" who had now been eliminated from the restaurant's walls. 
It All Ended Messily
It was around this time that a former sous chef reached out to me and warned me to leave. Something was totally up, they said, and if I didn't exit soon, I'd be working for free until the city's labor department swept in. Just a few weeks after I quit, the staff went on strike in front of the restaurant. The owner owed employees over $40,000. Then she disappeared.
By this time, she was wanted by the city for labor violations but also by the FBI for tax fraud and grand larceny. They eventually found her in Tennessee. The police had traced her to a hotel room where her husband had called in a Domino's pizza order. She claimed in an interview with Vanity Fair that she was still a strict vegan before being shipped off to Rikers Island.