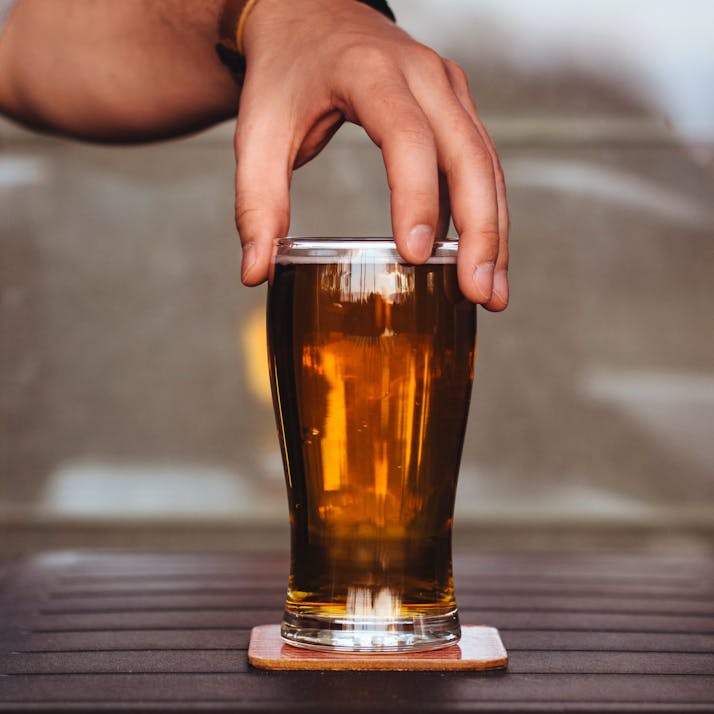 Stop Telling Me That Beer Isn't for Women
What is it about the mixture of water, malt, yeast and hops that causes such gendered attitudes?
/ / /
I've lost count of how many times I've been told, "It's cocktail happy hour," or have been offered the wine list just because I'm a woman. While my husband gets reeled off what beer is on tap, I get reminded it's two-for-one on porn star martinis until 9 p.m. Or I wrongly get my husband's cocktail plonked in front of me while he receives my pint. "Actually, that's mine," I point to the beer, smiling tightly to the flustered, often bewildered, waiting staff.
The question is: Why is drinking beer still seen as "manly"? What is it about the simple mixture of water, malt, yeast and hops that makes it subject to such gendered BS? As a female beer drinker, beer writer and beer judge, I'm sick of it. Sick of being told that "girls shouldn't drink beer," that it's "not attractive," "too masculine" or has "too many calories" in it.
You would be forgiven for being shocked to hear that women drink beer, though. For decades, beer has been brewed for men and by men. It's why we commonly associate beer with loutish, big-bellied sports fans. Beer is for the men who escape their "nagging" wives and better halves to share a cold one with their mates down at the pub. Lairy, loudmouthed blokes are served beer in thick-set, heavy pint glasses adorned with bears or wolves. Or in bottles brashly decorated with cobalt blue and silver. The only way women are associated with beer in these instances is that they're often the ones serving it.
Women Played a Historic Role in Brewing Beer
Truthfully, women invented beer—female brewers date back to Ancient Egypt and China. Over the centuries, women hired their husbands to work alongside them in their beverage businesses, brewing beer as a calorie-rich drink for the masses. Back then, beer defied both class and gender. Female brewers, otherwise known as brewsters, brewed in cauldrons and sold their home brews at marketplaces. That's not something you hear in your average history lesson, is it?
Surprise, surprise, some men didn't like it, and at the time of the Reformation taking hold in Europe in the 16th century, men began a smear campaign about brewsters. They made it their mission to spread rumors about scorned women brewing potions and poisoning men, branding them as witches and making brewing dangerous work. I'm sure I don't need to remind you what the punishment for witchcraft was.
Gender roles were indefinitely reversed, and beer became men's work. Made by men, for men. It's still glaringly, disappointingly obvious today, too. Beer commercials and popular culture rarely feature scenes of women, queer, nonbinary people or even people of color enjoying a cold one. It's all (mainly cis, white) men, men, men.
And when women are shown? They're drinking a Bud Light and smiling, their bouncing, rippling tits splayed across our screens at "the game," consuming a weak beer low in calories, presumably because they're supposed to want to look after their slender figure. The only body type deemed acceptable by generations of the body hang-up-free, beer-guzzling patriarchy.
That, or they're smiling, beaming waitresses pulling pints or wenches in too-tight lederhosen, sexualized in order to sell the beer to its rightful consumer: men. These women are placed in the line of the male gaze, and that's where they stay firmly put when it comes to beer. So it's no wonder that women are scared to admit that they're partial to a beer or two (or three)—a session IPA, DDH pale ale, dark porter, ruby red, sumptuous impy stout, alcohol-free lager or mouth-puckering sour.
The Beer Industry Is Still a Sexist Place
Just like a saison, women's relationship with beer is complex. Women are ashamed to admit to drinking beer, opting for more "feminine" drinks like cocktails, sparkling wines and pink gins in fear of appearing masculine. It's sad. What's even sadder is that if men wish to pivot from drinking beer and opt for cocktails—or anything pink and fruity—they're often branded as feminine and girly, as if it's a slur. I've heard many men in bars use an array of homophobic insults when their friend has strayed from the rigid, ridiculous gender roles and chosen a cocktail, too. It goes both ways.
Coupled with reports of some of beer's biggest global names making headlines for misogyny, discrimination, sexual abuse and harassment, (like with the Reformation) the brewing and alcoholic beverage industry is seemingly still a dangerous place for women.
I know firsthand how sexist the beer industry is, too. If I leave a beer event or a craft beer festival without being harassed—or am at the receiving end of any sort of comment about me being a woman—it's a rare occasion. Men leer at me for wearing a nice dress and lipstick at these events, watching me as if I'm there for show. Or they shower me with praise for being "so brave" as to come along as a woman.
I've lost count of how many times I've been told I'm "too pretty" to drink beer and that it's riddled with calories. It's as if I have this unwritten duty to be feminine, delicate and dainty (in both size and attitude) to make men happy. Not to mention how many men are shocked to hear that I'm a beer drinker or beer writer—male brewers included. Men still remain the gatekeepers of a drink that was brewed by women, for the masses. But now, it's exclusive. It's an old boys' club.
And I'm sick of it.
I'm Hopeful the Stereotypes About Women and Beer Will Be Erased
Thankfully, female brewsters and queer brewers are beginning to dust off their seats at the table with a pint proudly in hand, rightfully taking up space in the brewing world once more. The numbers of female brewers and beer writers are growing, with brewsters being broadcast to the population on TV shows, Instagram, podcasts and social media, taking part in significant international brewing days and collaborations with other women.
While still treated with a sense of curiosity (Forbes discovered that the number of male- to female-owned breweries is a shocking three-to-one), these women are standing tall in the face of blatant sexism. It gives female beer drinkers like me hope. Hope that one day, we can safely enjoy a pint at our local bar or pub without raised eyebrows, smirks, catcalls or misogyny in any form. 
Until then, I'll be at my local watering hole in my nice dress, wearing lipstick, brandishing a 12 percent imperial stout. I'll be smiling and waiting for the moment when a man dares to inform me that beer isn't for women. I'm waiting for the bevolution. Will you join me?