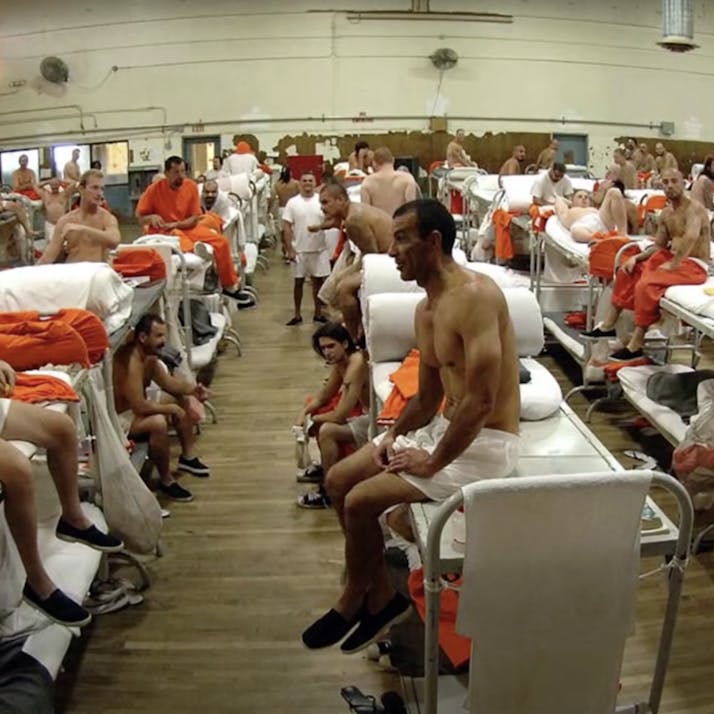 Death at Dartmoor Prison: Who Killed Dennis Stevens?
A former inmate wonders what happened to his friend, who mysteriously died in the fall of 1995.
/ / /
It was October 1995, just shy of a year and a week since I'd been released from prison. My fiancée played me a phone message. I heard my friend Rojah, a big Rasta guy with a voice of unmistakable depth and resonance, sobbing and repeating the words, "They killed him, man. They killed Dennis." I was stunned. Confused. My mind began automatically filling in details.
Dennis? Dead? How? Where? I knew nothing but what I heard on that message.
The last year and a half of my sentence was spent at HMP Dartmoor. I'd done okay. I took education courses and won some sports coaching awards, and after a few months there I was offered possibly the best job I've ever had in my life as a gym orderly "red band." It's kind of a trustee status that ensured a six-pound-a-week wage, unlimited gym access, a solid crew, food, herbal remedies, weed, tea and coffee. We even had our own little office, and smoking was allowed.
It was in that gym—a giant, cold cowshed of a place—that I first properly met and befriended Dennis Stevens. I'd seen him on his wing a few times, always quiet, a well-respected inmate, self-contained and against hard drugs. When the prison reported his death they claimed that he had hung himself and overdosed, presumably on heroin.
No way, on both counts.
Dennis's Time in Prison Was a Study in Institutional Racism
Dennis was nearing the end of a 12-year sentence for driving during a robbery. He'd already been disproportionately punished. Black men and women get much longer sentences in British courts. That's not an opinion—it's a fact. Just to put it in perspective, I was serving five years for committing a robbery. Rojah was serving a three-year stretch for burglary. We weren't the mob, that's for sure—more troubled young men than Tony Soprano.
But, who knows the inner turmoil of a young man, sentenced to 12 years for driving on a low-level robbery? It was no major bank heist. No guns were involved. For the judge, the aggravating feature was Dennis's color, and I can say that without a caveat of doubt. In the vernacular, Dennis Stevens was fucked over by a racist court system and then killed by a racist prison system. We can quibble about the fine print but that's the bald truth.
At Dartmoor, we lived serious, almost Zen-like lives. Dennis taught me yoga and Rojah turned a skinny white boy into quite a physical unit. They both contributed in equal measure to my recovery from a very dark place. I met hundreds of guys during my sentence and had numerous cellmates, but remember few names or faces. Dennis, Rojah and I formed a friendship and a bond that I can only imagine being akin to those formed in military units.
On the night my fiancée played me the phone message, I wasn't able to respond to Rojah's call, so the next morning I phoned Dartmoor prison myself. I blagged the switchboard, saying that I needed to speak to the gym staff. I got through but was answered by the one screw I didn't get on too well with. I asked him, "What happened to Dennis?"
All he'd tell me was, "They'll blame the screws." Then he hedged and muttered that he wasn't there on the night and couldn't really talk to me, being an ex-inmate and all that. It told me very little. Knowing the gym staff, and the general respect and treatment I saw them give Dennis, they would've been shaken by his death, but one of the strengths of a system is when it has to close ranks, it does.
Going Public With My Story Finally Got Me Answers
I'd drawn a blank at Dartmoor but I kept an eye out on the media, although I heard little of his case. Then one day, perhaps a year after Rojah's call, I saw an advert in the magazine The Big Issue from a BBC producer looking for stories of public interest. I phoned. The producer was outraged when I told her that Dennis had died in prison while being restrained, in very dubious circumstances.
Until I got involved with the BBC I hadn't had the kind of access—nor the research know-how—that they afforded me. Supported by an outstanding young BBC producer, we investigated Dennis's death for a two-part documentary. I did what I could, and that for his family and all concerned—me in particular—it was necessary work. I befriended Dennis's brother and sister over a period of time. They supported my efforts, be it through research or music. They wanted the question of who killed their brother to matter.
The night of his death, Dennis was restrained in a lethal figure four leg lock for over 20 minutes, stripped naked, put in a body belt and left on a floor overnight. In the morning, he was dead.
The horrific details of the damage to his body, all publicly accessible, support the assertion that Dennis Stevens's death was the result of the criminal actions of multiple prison officers and medical staff. The officers involved are all named. Despite all compelling evidence to the contrary, the coroner at official inquest into his death barred the jury from considering an unlawful killing verdict.
In all the time I spent with or around Dennis, I was always struck by his calm demeanor, his sheer physical presence. He was a handsome, proud Rastafarian British-Jamaican man. He always encouraged lads not to bother with heroin or crack cocaine. He was true Rasta—he only smoked weed, and was very careful about his diet and hygiene. He didn't even smoke hash.
In the documents and reports I got access to, it said that he was presenting to prison doctors in an anxious state, that he'd been prescribed Nitrazepam and that his behavior changed significantly after a home leave. It stank of whitewashing and the system protecting itself from the truth—a pattern that repeats to this day.
It doesn't take an expert to see, just in simple records, that this guy was having serious mental health problems. He was self-contained and disciplined, the model prisoner for almost a decade, then all of a sudden he's in fights with staff and inmates?
The Figure Four Leg Lock Killed My Friend
Professor David Wilson, a world-renowned criminologist and former prison governor—a man who actually co-devised the control and restraint techniques used within the system—put it like this: "When Dennis's behavior changed, instead of considering his mental health or wellbeing and exploring support options, he was immediately categorized as a security threat." The die was cast and the end result was his death at the age of 29. He was Black, killed by all-white prison officers.
Wilson, the only prison governor with a PhD, had resigned from the prison service, citing institutional racism as one of his reasons for doing so. He returned to academia and has had a notable career in TV as an expert commentator. For the BBC piece, he was the expert witness. His testimony was electrifying, damning and infuriating.
The primary cause of Dennis's death, based on the medical evidence and witness testimony, was the figure four leg lock. In our documentary, Wilson demonstrated the lock to give the viewer insight into the reasons why he instructed that it only ever be used for five minutes maximum. He said that 20 minutes was unspeakably bad. If you are put in that position and the leg lock is in place, the pressure on your chest makes it difficult to breathe almost immediately.
The technique, as described to me by the man who devised it for use in a prison setting was clear in purpose. It was for staff to be able to safely restrain someone who was out of control and evacuate the cell safely, leaving them locked up to cool off. The last man out would be the guy applying the pressure to the locking leg. I suggest people do a search to find demonstrations of this technique.
All involved in the BBC documentary concluded Dennis was unlawfully killed. Some of us use less generous language. Dennis's death broke his family's hearts. Rojah has carried the same conflicting memories I have. We had it good at Dartmoor for a summer or two and then Dennis ended up dead and the rose-tinted glasses start to crack under the g-force of reality. It was jail, and bad things happen in bad places. But they don't need to.
In later life, I studied criminology and ended up teaching at a university. After academia, I retrained as a counselor, working in rehabs for a few years before returning to writing and music. My journey has been long, and I know Dennis would have approved. None of this, I'm guessing, would have happened for me but for my association with Dennis and Rojah. He'd be glad to see that I've done okay, that I still make music and still read a lot. And, to this day, Rojah is a great friend of mine. It speaks well of those days and makes Dennis's death all the more incomprehensible.
I saw Rojah just the other day. We always chat about Den at some point when we talk. I told him I was going to write an article about Dennis and our friendship. He was delighted because like me, his life was changed forever by the question: Who killed Dennis Stevens?