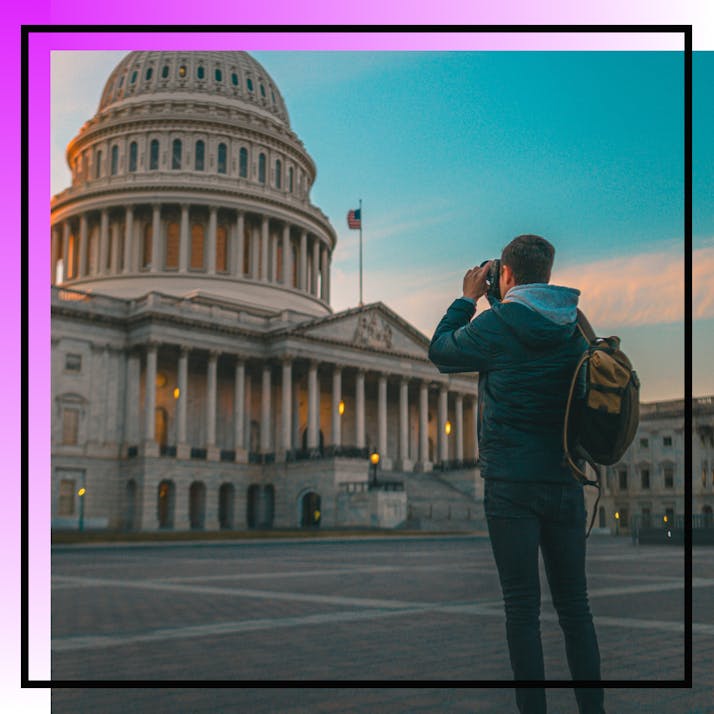 What It's Like to Work at a Congressional Newspaper
From attending operas to meeting Kim Kardashian, my first job out of school was beyond my wildest dreams.
/ / /
It took six months, but after I graduated from college in May 2007, I managed to find a job in my major—print journalism—in November of that year. I started at a congressional paper at age 23, young by any standards, especially in the cutthroat world of news. 
Since the paper covered the individuals that worked on Capitol Hill, I started soliciting senators and members of Congress for op-eds on themes like energy and the environment and transportation. I looked forward to writing the neighborhood sections, where I was sent out to explore different neighborhoods in the D.C. area. It was then I truly got to know the city. To this day, I love to check and see if my restaurant review is still hanging up outside the women's bathroom at a downtown steakhouse.
After a few years of being the special sections editor, I was given an extremely unique opportunity. The paper wanted to start a website about the social scene in D.C.—a Page Six of Washington, if you will. I was given an old Kodak point-and-shoot digital camera and a notebook, and my iPhone went with me everywhere to take notes, snap extra photos or record interviews.
It was daunting at first, to go to a party being media and not technically being invited. There's nothing scarier than walking into a fancy party not knowing a soul. My very first opportunity came at a breakfast event for Avon. I was able to interview Reese Witherspoon, as she was the honorary chairwoman of the Avon Foundation for Women. Reese had a cold that morning, but she was just as nice as ever. After that interview, I was hooked. It's hard to believe it was 12 years ago.
I Met Celebrities and Had Unique Experiences While Covering Local Events
I think the most fun I had working at my first job was getting to attend three White House Correspondents' Dinners. They were held every year at the Washington Hilton in the Dupont Circle neighborhood of D.C. Imagine the biggest ballroom you can think of draped in gold, with the finest linens and stemware. The funny thing is, the food must not have been something to write home about—I can't remember a thing I ate. Being in my early-to-mid-20s, it was the perfect time to be out late attending parties, as I was not tied down with a child, pet or husband (let alone a boyfriend for that matter). 
It was during those dinner weekends that I got to meet so many celebrities. My wall in my office at home has photos from those fun memories, including me with Kim Kardashian (she was so nice—her mom was the pushy one), Diane Keaton (an absolute delight) and Jimmy Fallon (as hilarious in person as he is on TV), among others.
I got to meet Mindy Kaling, who actually stood and talked to my friends in the media and me. I remember tracking down Paul Rudd the first year because of my love of Clueless. He looks as young as he does in photos. My youngest sister is jealous of the photo I have with the Jonas Brothers, Demi Lovato and Danielle Jonas. I am forever grateful I had such a singular opportunity at such a young age to meet all of these celebrities.
Of course, during my five-and-a-half years with the print paper, I had plenty of surprises. One of the biggest ones I like to share is when Jennifer Aniston and Angelina Jolie were in D.C. for separate events. I'll never forget that during Aniston's event, she came out for a brief minute and waved to us and then disappeared. I was annoyed that we stood in the press line for about two hours and she didn't really give us the time of day.
Jolie, on the other hand, during a premiere of her movie In the Land of Blood and Honey at the Holocaust Memorial Museum, took the time to speak to every single person in the media line. I was impressed with how she took her time to answer at least one question from every one of us. I thought it was very meaningful, especially given the seriousness of her movie, set against the backdrop of the Bosnian War.
For all the celebrities I got to meet, I was able to interview lots of people famous in D.C. I interviewed Ben Bradlee, best known for his coverage of the Watergate scandal. I also got to interview various ambassadors, which opened up invitations for me to attend opera balls, which were always hosted at area embassies. 
I was lucky that my two best friends are men, as I just alternated taking them to various balls and galas, and boy, did we have a blast. As 25-year-olds, we had no business hanging out with older millionaires, but we did. Not only did we get to try food we wouldn't normally get a chance to eat and sample cocktails with liquor that cost more than a few weeks' rent for us but also we learned a lot about how important it is to not take yourself too seriously (because a lot of the people did). We also learned more about our own tastes—what foods, musicals, operas, art and shows we liked.
I Love My Current Job, but I'll Never Forget My First One
Unfortunately, the paper closed their social site due to budget cuts. Toward the end, it got very competitive and cutthroat, and I was tired of trying to work from home before remote work was in. I would get phone calls offering media tickets to certain events and my co-workers would make up stories that I was inviting my boyfriend to things. Meanwhile, I was 100 percent single. I would be constantly in trouble with co-workers for coming in around 10 or 11 a.m. when most nights I was out until 10 or 11 p.m. and stayed up until midnight or 1 a.m. adding the pictures I took and doing a write-up of the event I attended.
When I did get let go, I was so upset. It turned out to be the best thing for me. I am now my own boss as a freelancer and have had the opportunity to interview celebs like I did when I was younger, and I get to make my own hours and choose my own assignments.
I call it a win-win, although I am very grateful for the experience I did have in my 20s.