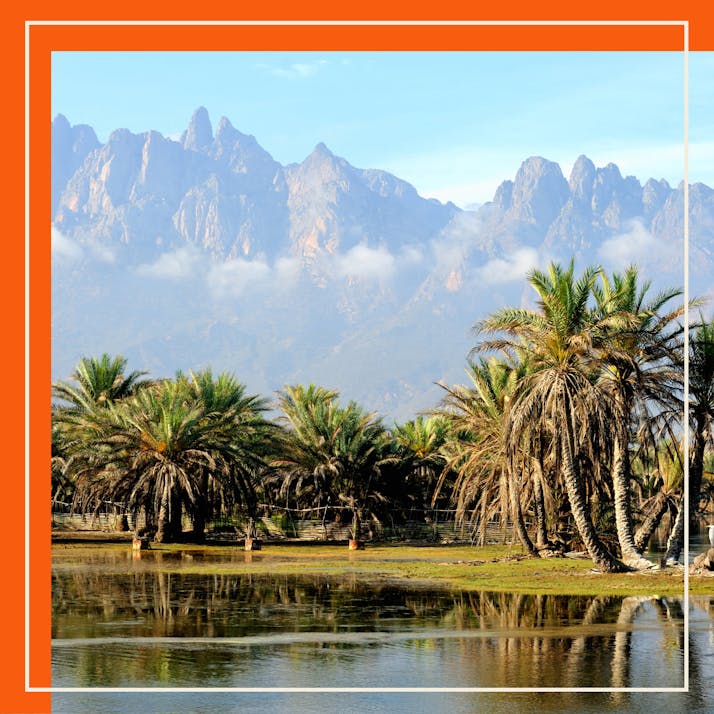 What It's Like Staying on Yemen's Remote Socotra Island
It's hard to believe the beauty and strangeness of the land until you see it in person.
/ / /
I have a thing for little-visited parts of the world, breakaway regions and remote places. 
So, in 2016, I planned to visit one such place for a week—an island which you have to see to believe its strangeness and beauty. An island like nowhere else: the Socotra Archipelago in Yemen. 
An archipelago is a group of islands, and these remote ones are home to around 800 rare species of animals and plants, which is why Socotra was named a World Heritage Site. The four islands and two islets that make up the archipelago are part of the country of Yemen, but they're on their own in the northwest part of the Indian Ocean, between Africa and the Middle East. Based on a 2004 census, there are only about 40,000 people living here and, because it's a nature reserve, most of the people who visit come for eco-tourism.
In Recent Years, the Island Has Attracted Many Tourists
Socotra has been nearly impossible to reach for the last few years because of the ongoing civil war in Yemen. But with a lot of effort and arrangement, I managed to get a tourist visa and book my itineraries. I had contacted Socotra Eco-Tours for setting up a tour of the island. I had a whole seven days to explore this amazing and lesser-known destination. 
During the flight to Hadiboh, I did get to see many Socotra people, who were going back after a visit to mainland Yemen. Most were men, in the typical Socotra outfit: a short-sleeved shirt, sandals, a turban and a fouta—a sarong-like wraparound skirt. I could only talk to some people around me in hand gestures because nobody shared a common language. 
The outside world has come to Socotra in a mediated way, through television, mobile phones and the internet, and in a literal way, through tourism. Though recent political unrest temporarily limited foreign travel, over the previous decade the island's beautiful beaches, rugged mountains, unique biodiversity and ancient culture attracted a burgeoning number of travelers.
The Wildlife on the Island Is Breathtaking
During the first two days, I made lots of friends there. My local tour guide was very fond of songs and sang a Soqotri one to me the whole day and explained its meaning. He told me that people there are used to singing because they don't have electricity outside Hadiboh, the largest town.
Before coming to Socotra, I had heard a lot about the famous dragon blood tree. Plants on the islands take on some strange shapes to adapt to the hot and dry climate, but the most famous is probably this tree. It sounds scary, but it's the dark red sap that gives them their name. The sap has been used for centuries in medicines and dyes, and the trees have large, round branches shaped like umbrellas. 
Because of its isolation over the last couple million years, Socotra is full of many endemic plants and birds found nowhere else, which is why it's called the Galapagos of the Indian Ocean. But Socotra isn't just home to plants and animals—people have been living on the islands for thousands of years. They have their own Soqotri language, and the islands have been part of trade routes for centuries, with found artifacts from sailors dating back to the first century BC. Since it's so far away from everything else, the archipelago has largely been left to itself, which is a good thing for the unique wildlife that lives there.
I had conversations with other tourists as well; they were few in number but had come there from different parts of the world–Australia, Russia and the Netherlands. At night we ate dinner together near the campfire and most of them shared that the island's uniqueness has made them want to visit that place. 
Visiting Socotra Instilled Gratitude in Me
In the following days, I got to see so many amazing beaches. Omaq was the most beautiful and serene beach I'd ever encountered. Late in the afternoon, we drove over to Hayf sand dunes to watch the sunset and then we headed back to Omaq under the lights of the moon and the stars. That evening, I sat out on the beach and talked to fellow tourists. 
I also got the chance to travel to nearby villages and talk to locals. The primary occupations of Socotra residents have traditionally included fishing, raising goats and cattle, and cultivating dates. A traditional festive meal starts with a glass of warm broth and goat bones, while the main meal includes goat meat and rice. Soccer is a popular sport on the island. Most villages have a team and tournaments are regularly organized. One night, I stayed in a village to enjoy their traditional activity in which people gather in mountain villages to recite poems in their own language. That experience was truly humbling. 
But I believe life on Socotra is tough. Over the centuries, Socotrans developed practical ways of dealing with grazing, wood harvesting, land ownership disputes between clans, water-resource use and similar issues. Conservation was the only option for survival in the harsh island environment, and it had the side effect of protecting Socotra's outstanding biodiversity.
Later, on my way back home, I reflected that the experience of Socotra had instilled a feeling of gratitude in me, towards the normal day-to-day things I get to see and experience. I can't wait for the day I can make it back and travel to Socotra again.