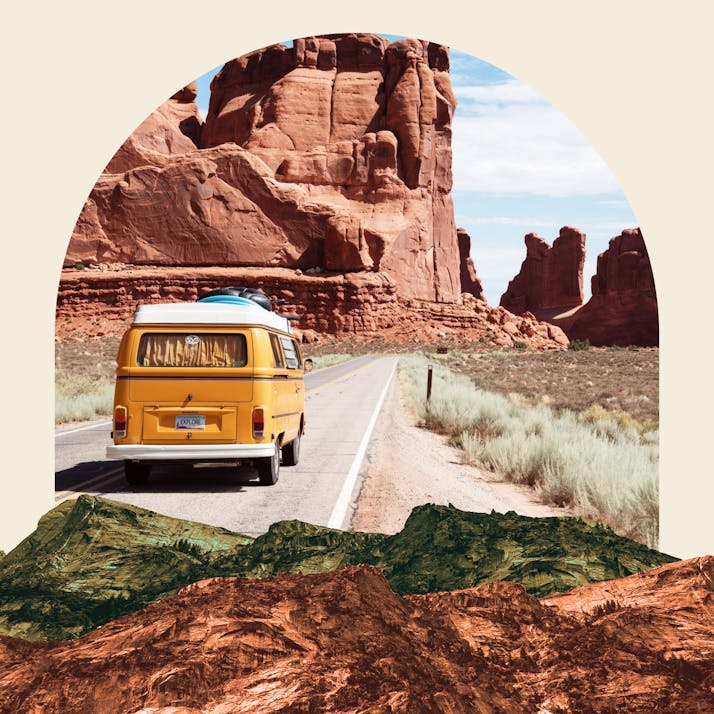 A Westward Road Trip Changed Our Lives Forever
Two retirees reflect on a camping experience that filled them with awe. 
/ / /
Five years ago, just after retiring from teaching, I was having a conversation with my good friend J, who also was retired. Both of us were in our 60s and wanted to travel and see as many National Parks as possible. "Let's take a road trip!" one of us blurted out—and our adventure began. We agreed that we wanted to camp out most of the time (that was my crazy idea) and we started looking at maps and reading about possible destinations.  
For a few months, we planned the route, set dates, made campground and Airbnb reservations, bought and gathered gear. At the end of April, we packed everything we dreamed that we'd want or need into my tiny Scion xD and drove westward for a seven-week adventure that neither of us would ever forget.
I Was Ready to Take a Trip
Traveler One:
I'd spent most of my adult life doing what a lot of people my age had done: building a career, raising a family, helping to pay the bills, acquiring "stuff," etc. And I loved it!  But now, my kids were grown, I was single, the commitments of teaching were gone, and I was ready to experience life in new ways, from a whole new perspective.
Our adventure took us from Central Florida, through the panhandle into New Orleans, across Texas, into New Mexico, Arizona, Utah, Colorado and back to Florida, making a beeline through Kansas, Arkansas, Mississippi, Alabama and Georgia. We visited over 20 National Parks and Monuments as well as a hot spring in New Mexico, a weekend music festival in Arizona, an afternoon with a Hopi guide in Navajo Nation, and a white water rafting excursion in the Royal Gorge of the Arkansas River in Colorado.
After driving through Texas and into New Mexico, very suddenly everything about the landscape changed. I had spent a good deal of time traveling up and down the East Coast of the U.S. and had flown to Western destinations, but I had never seen anything like what was around almost every turn in the Western states we visited. To say it was breathtaking is literally true. No photo images had prepared me for the spectacular beauty or the geological majesty of that part of the country. 
We Became Expert and Efficient Campers
Camping started out as a bit of a challenge. Neither of us had tent-camped in decades, and it took us a few times of setting up and taking down to get into a routine. But within a week or so we could park, unload the car, set up camp, have a fire going, dinner prepped and a cocktail poured in about 15 minutes. Then the next morning we'd have coffee and breakfast, reverse the process and have the car loaded back up in minutes as though nothing had ever come out of it. We were a well-oiled machine.
The National Parks were incredible, and because we were there in late spring before the summer tourist season, they weren't crowded. From the Carlsbad Caverns and White Sands in New Mexico to Canyon de Chelly and the Grand Canyon in Arizona, to Arches, Bryce and Zion in Utah and Great Sand Dunes in Colorado, I was in a state of constant awe. We hiked the parks most days, then went to our campsite in the evening, had a meal, and reflected on the day, sitting under a blanket of stars that filled the night sky with even more beauty. It was hard for me, I remember, to grasp it all, and I was afraid I wouldn't remember how magnificent it all was.  
But five years later, I still do. And when I'm not sure of a detail or a sequence of events, I can look through the multitude of photographs that I took over that seven-week span of time, or I can call J and we can laugh and reminisce our way through my source of confusion. Looking back on that time always brings a smile and a wistful tear.
It was the best possible way I could have begun my retirement. By doing so, I believe it changed the trajectory of my remaining years. I stepped into a brand new way of experiencing life, a world not clouded by fear of loss or failure, but brightened by possibility and wonder, and I honestly can't wait to see what the next adventure will bring.
I Let Go of My Insecurities for This Trip
Traveler Two:  
I love an adventure; I love travel and discovery. And I yearn to explore and grow as a person. So it was only natural when my good friend and I began talking about a road trip that I immediately came on board and was ready for whatever that might bring. Or was I?
Although I had camped only once in my teen years, the idea of tent-camping on a cross-country road trip for seven weeks as one of two 60-something women travelers sounded right up my alley. If there was an opportunity to see more of the wonders of our world up close and in person, count me in. I said "yes" immediately, but there's a little backstory here.
Trying new things has always been appealing to me, but my life hasn't always been so free-wheeling that I would just pick up and go. Making any important decision usually meant careful analysis of the pros and cons, weighing the dangers and the possible benefits. I was not prone to making rash decisions.
I had survived a challenging, though reasonably successful, high-stress career in marketing and advertising. In my work life, I focused heavily on developing a sense of security (I had no financial support other than what I created) and I single-parented my son following a disastrous short marriage. Suffice it to say, my own insecurities kept me from taking a lot of risks. 
So what was different now? Why and how was it that I was so immediately gung-ho to take off to places that are fraught with unknowns? That part of my story started just three years earlier following a life-changing short solo trip to Yosemite National Park in Northern California. I had booked myself a tent cabin in the park, and after winding my way through some wine country, I stopped to commune with the giant sequoias in the Mariposa Grove before I entered Yosemite. It was the perfect introduction for what was to come, though I could never have anticipated it. 
I had planned to start with a hike up the Sentinel Dome. Billed as a relatively easy climb, it would give me a 360-degree view of the Yosemite Valley. I can still taste the excitement as I set out on my hike. But when I reached the open expanse of the top of the dome, I stopped. I had to sit down. Not because I was tired and hot (though I was both), but because this monumental place with its beauty and grandeur somehow opened my heart and altered my perception of my future. I knew I needed more of this.
The Trip Cemented Our Friendship
When I got home I decided it was time to retire, to travel and to make art. It was 2013. So, yes, fast-forward to 2016 and I was ready for a cross-country drive into places unknown. I had no fear of what might happen, I just knew we had to do it. And it was marvelous.
I learned to cook over a fire and together we managed to maintain our mobile household in the back of the tiniest car on the road. We settled disagreements (usually pretty easily) and took care of each other as good friends do. We shared so many amazing times and memorable moments and appreciated the surprises around virtually every turn.