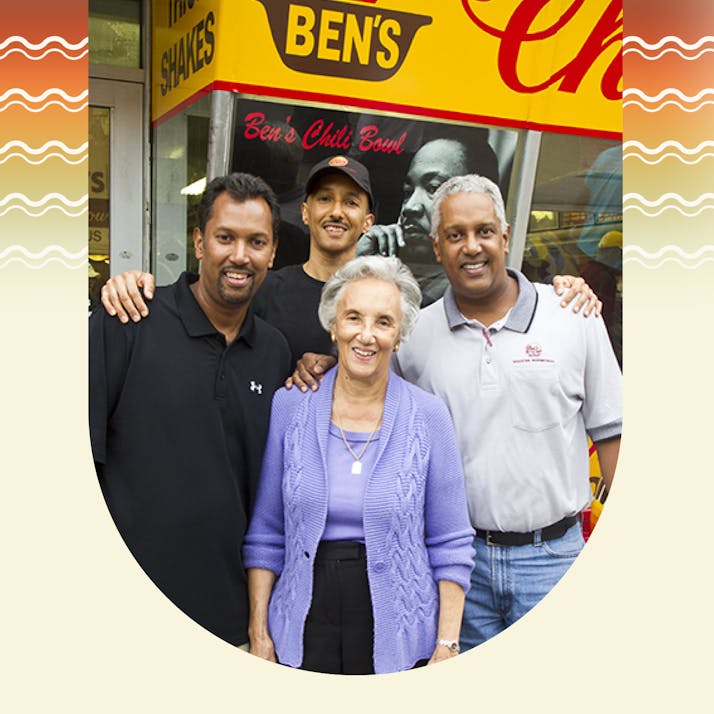 Virginia Ali: Dedicating Ben's Chili Bowl to Philanthropy
The famous D.C. food staple has seen a lot, and its steadfast, 86-year-old owner has served her community through all of it.
/ / /
I first encountered Virginia Ali when she was serving her famous chili dogs at her restaurant in Washington, D.C. Virginia is the 86-year-old owner of Ben's Chili Bowl, and has worked almost every day since it opened its doors in August of 1958. Over the years, Virginia has become an integral member of her community, and is affectionately known by many as "mom."
When I met Virginia in June of 2018, Ben's was only weeks away from celebrating its 60th anniversary. For six decades, Virginia had lovingly served locals, tourists and even a handful of celebrities. President Barack Obama was perhaps the restaurant's most famous customer—he stopped by for the signature "chili half-smoke" just days ahead of his inauguration.
I asked Virginia what it felt like to have served dozens of well-known public figures. "They're all just people," she assured me, "And they're just as important to us as every other guest who walks through our door." I was struck by Virginia's humility as we spoke and later watched her tend to each customer with the same love and respect.
Ben's Chili Bowl Is a Civil Rights Landmark
On August 22, 1958, Ben's Chili Bowl first opened on the corner of Washington's 14th and U Street. The diner served the segregated neighborhood known as "Black Broadway," the city's prominent cultural and entertainment hub for African-Americans. As the Civil Rights Movement gained steam in the 1960s, the Chili Bowl served movement leaders including the likes of Dr. Martin Luther King Jr., and donated food to activists attending the 1963 March on Washington.
Virginia remembers working at the Chili Bowl in April of 1968 when news broke that King had been assassinated, sparking a violent outbreak that razed communities to the ground. "The sadness was overwhelming and people came in in tears," she recalled. "Later on, that sadness turned to frustration and anger." U Street became the epicenter of civil unrest in the city, and within three days, 13 people were killed, 8,000 had been arrested and 900 businesses were damaged or destroyed.
Similar scenes erupted in response to the murder of George Floyd in May of 2020. Across America, demonstrators protested police brutality against African-Americans. In response, Virginia revealed her heartbreak that 50 years earlier, Black Americans had been expressing the very same grievances. "We still have problems and our basic human rights are being violated," she stated. In September, George Floyd's family visited Virginia at the Chili Bowl after attending the historic Commitment March on Washington 2020. "It was our honor and pleasure to serve them. Please know we are continuing the dream," Ben's posted on social media in response.
The U Street Restaurant Has Seen It All Over the Years
Following the King-assassination riots in 1968, many businesses on U Street never reopened. With visceral grief, Virginia remembered how her "beautiful neighborhood" descended into decades-long decline as middle-class residents, businesses and tax dollars vanished. This compounded the devastating drug epidemic, which ensued for the next 20 years, marking U Street as D.C.'s most prominent open-air drug market. By the end of the 1970s, little was left of the self-sufficient neighborhood that once boasted multiple minority-owned businesses. "That was a very sad time," Virginia lamented.
Construction of the city-wide subway proved another challenge for the family. For four years, not a single car passed in front of the Chili Bowl due to building works. When the metro system was finally completed in the early 1990s, a new era was born as businesses emerged, middle-class professionals moved in and the local housing market gained considerable momentum. Life, once again, returned to U Street.
Virginia Ali Has Kept Her Late Husband's Vision Alive
When Virginia's late husband and Chili Bowl co-founder, Ben Ali, passed away in 2009, it might have signaled the end of the Chili Bowl. But Virginia's three sons and their wives stepped in to assist with the family restaurant and carry out their father's legacy. "I get to see my children every day," Virginia told me. "I feel so blessed." The Ali family has extended this blessing to the wider community for many years. In both an official and unofficial capacity, the Chili Bowl's mission has always been to love and serve others. Whether providing free meals to the homeless, funding a child's martial arts classes or providing schoolchildren with a safe space to do their homework, the Chili Bowl has done what it can each day.
Virginia's daughter-in-law, Vida, told me about a local woman who recently walked into the diner to give Virginia a $20 bill. She had recently been employed and wanted to thank Virginia for her kindness during her hour of need. "You don't remember, but you have given me a number of meals for free," the woman told Virginia. "I know it's not a lot, but I wanted to give you this." It's not hard to believe that this woman's story is just the tip of the iceberg. Virginia's warm smile, gentle spirit and unmistakable compassion are qualities shared by her entire family, which performs kind acts on a daily basis. "That's what the magic of the Chili Bowl is," Vida stated.
Ben's Chili Bowl Has Always Put the Community First
The coronavirus pandemic has presented a once-in-a-generation crisis for small businesses throughout the United States. In March, the Chili Bowl was forced to close six of its seven restaurants, as sales plummeted 80 percent overnight. That same month, the family's request for a loan under the government's Paycheck Protection Program was rejected, and there were growing fears about the future of the Chili Bowl. Happily, their second application was successful, but Virginia admitted that she was overwhelmed by the community's support, which came from far and wide. D.C. Mayor Muriel Bowser and Senator Kamala Harris, who frequented the Chili Bowl in her college days, publicly declared their support. One customer even bought $500 worth of gift cards from the diner. "No one has to do any of this," Vida told me, but supporters were reciprocating a tradition of generosity, which the Alis exemplified for decades.
Even when things have been uncertain, the Ali family remained committed to serving others. Over the past six months, they have provided over 2,000 meals to local medical professionals and first responders, and continue to raise money as a thank you to their healthcare heroes. The Ben's Chili Bowl Foundation, established in 2010, is another testament to the Ali family's community investment. So far, the charity has distributed $50,000 each year to community-based organizations in D.C., while running its own programs to educate and inspire underprivileged children. This builds on a legacy of philanthropy, which Ben and Virginia have demonstrated from the very moment they arrived on U Street 62 years ago.
The Iconic Restaurant's Legacy Will Live on Forever
When I asked Virginia about the 60th-anniversary celebrations, she recounted the stream of people lining up for a taste of Ben's chili. True to form, she humbly bypassed details about the "Tribute to Virginia Ali Gala." I later learned that this event, as well as a press conference, was held in her honor and was attended by local dignitaries and politicians that included Reverend Jesse Jackson. It was clear that the neighborhood block party, visited by hundreds of locals later that day, remained Virginia's highlight. "It touches my heart," she recalled, "because you realize that people appreciate that little place."
From opening in the midst of segregation to serving America's first Black president, Ben's Chili Bowl has seen it all. Throughout its history, Virginia's love and commitment to her beloved community has remained steadfast. It would seem that this—along with a helping of their famous chili—has been the secret to Ben's long-lasting success.