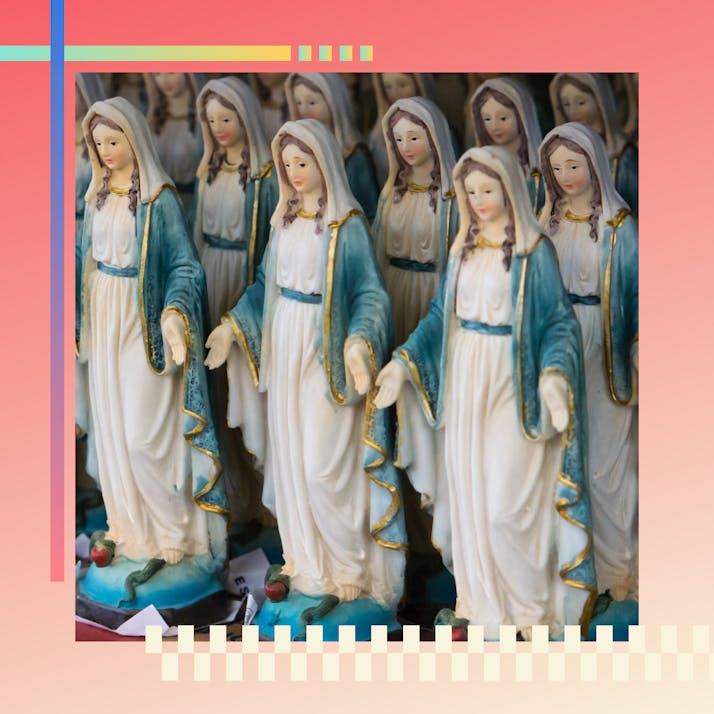 I Was a 27-Year-Old Virgin Until I Met My French Sex-Ed Teacher
After years renouncing physical pleasure and remaining chaste, I finally pushed past my mental barriers. 
/ / /
I only kissed one girl in junior high. I didn't touch lips with another until my college girlfriend, at age 23, and I spent the entirety of that nine-month relationship hiding my erection, the true picture of chastity thanks to my conservative, midwest Christian upbringing. 
We would make out and roll around on the couch or her bed, but otherwise, I always watched where my hands went. Oh, how many times I had prayed for God to take away my sex drive until my wedding night when He could hand me back the keys and finally experience it with His blessing. Like friends in college, I started challenging and unraveling many of my religious beliefs. But the intimidation, fear and shame around sexuality were embedded way deeper in my emotional and psychic tapestry, and would take much longer to untangle.
I Decided I Wanted to Lose My V-Card
My university experience was pretty straight-edged and hyper-focused academically, so it wasn't until graduating and moving to New York City that I finally started to explore partying. I would occasionally have the drunken courage to make out with women outside of bars or parties but never pushed it further than that.
Around the age of 26 or 27, I finally felt like I'd untangled enough shame around sexuality to admit that I wanted to have sex. My life from then onward mirrored much of the plot of The 40-Year-Old-Virgin. My friends to whom I'd timidly revealed my inexperience tried desperately to figure out how or with whom they could help me turn in my v-card: a friend, a sex worker, etc.
I'd never intentionally touched a breast in my life, least of all fondled any other unmentionables of a woman. Like Steve Carrell's character, I didn't touch women because I respected them so much. Since the destination of sex was never on the table, I'd become a wonderful kisser, as that's where the train ended each time. But my agnostic prayers to a God who I wasn't sure existed now focused more on how I could cross this seemingly insurmountable chasm.
I Met a French Sex-Ed Teacher
Then, I met an Obama fundraiser at a Lower East Side bar. Her accent betrayed her immigration status, but I soon found out she was Parisian and getting a Ph.D. in history at Columbia. Very French and very direct. We ignored the mutual friends that had invited us to the event, talking art and politics with each other, and found ourselves at another bar, huddled close in the corner booth. I kissed her outside. She bemoaned that she had to teach class in the morning and had a long taxi ride to Harlem. I invited her to crash at my place just a few blocks away and told her I'd be a gentleman. "But I can't be a lady," was her pained response. She put her number in my phone and said not to be like other American boys and wait three days to text. Call me tomorrow, "S'il te plaît." 
Conflicting schedules frustrated any weekend rendezvous possibilities for the following weeks, we had multiple mid-week dates with each one ending in a make-out session at a bar or on the subway platform. Always with a graduate class to take or teach in the morning. Always vocal about wanting to come home with me, regardless. Her deliberate intention filled me with the confidence I needed. I start practicing putting on a condom. Memorizing all the steps: make out, fondle, undress, go down on her, penetration, try not to come too soon, experience God.
I debated back and forth whether or not to reveal my lack of sexual experience, ultimately settling on not saying anything. The night finally arrived where she'd be able to stay over. I came home from work and, I kid you not, my roommate was watching The 40-Year-Old Virgin. I met her at a street corner and, walking arm in arm toward dinner, she revealed the subject of the class she was teaching: History of Human Sexuality. Mon Dieu.
She Guided Me Through My Sexual Awakening
We ended up at a wine bar in the East Village. I ordered round after round, lubricating my intimidation and postponing the inevitable with glass after glass of pinot noir. Finally, she said, let's go home to yours. There we opened another bottle of wine, then started making out in the living room. I started following the steps: Fondle breasts, check. Remove bra, check. Find our way to the bedroom, check. Remove panties, check. Go down on her, check.
The first time I'd ever directly touched a vagina was with my tongue. Hallelujah, I'm doing it! And she didn't know. My fear that she would think I was a virgin was completely eradicated. But after maybe 10 minutes of licking her holy of holies, she pulled me back up face to face. Looking into the windows of my soul, she asked, "Are you a virgin?" I didn't respond. She repeated, with her beautiful French accent. I stayed silent. 
Then she pushed me off of her. "Shut the fuck up! No way, no way. There is no possible way in hell that a beautiful 27-year-old man like you in New York City could possibly still be a virgin!" Her libertine, Parisian upbringing could not comprehend such a thing. "You're a virgin." Yes. "Do you want to have sex?" Yes. "Do you want your first time to be with me?" S'il te plaît. 
She beamed with pleasure at my response and proceeded to be the most gracious guide through the whole process. My fears of coming within the first 20 seconds didn't end up being an issue. I didn't come at all. She asked at the end if she could come. "Yes, absolutely," I said and smiled with relief.