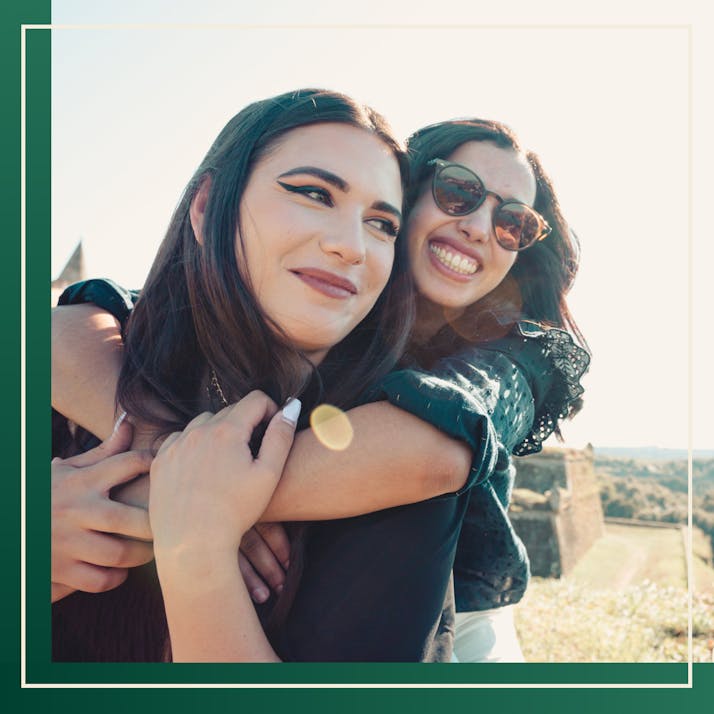 Our Unexpected Trip to Sussex Turned Into a Queer New Year's Celebration
My girlfriend and I didn't know what to expect when we entered a spooky Victorian B&B, but we were delightfully surprised.
/ / /
The visit began in the night, stepping off the train with luggage and no phone service. My girlfriend and I had only been dating four months and decided against our better judgment to book plane tickets and fly across the Atlantic Ocean, a lesbian equivalent perhaps of moving in together immediately or buying a dog while drunk after brunch.
We had never traveled together and didn't know what to expect abroad in terms of hospitality towards an openly queer couple, having only spent time together in New York City and Philadelphia. I quickly booked a bed-and-breakfast online in Sussex before flying out, pretending I had planned our sleeping arrangements for weeks. I wrote the address down in a notebook, assuming we'd easily find the place when we arrived.
Our Adventure Began at a Victorian Mansion
After asking around at the corner pub and walking up what was essentially a cliff-face in the dark for over an hour, we ran into a man on the street who directed us toward what looked like a Victorian mansion in the shadows, with looming red-orange brick, more vertical than horizontal. "There's no way that's the place. I'm not knocking on the door," my girlfriend exclaimed, standing motionless on the driveway while I walked down the sidewalk toward the front door. I held my breath before knocking, the way one holds their breath in a tunnel when they're a child, exhaling only when the light comes back.
I didn't see any lights on inside, and I kept thinking of the poet Alice Notley's "Mysteries of Small Houses," like a tape repeating in my mind. "I'm here/In the Rebel Motel, with/my grape-colored sweater/and mate tea, whose smoky odor's/bound up with first rooms and foods here/sex and snow I..." The line in my head ends with "I," because I can't possibly know what I'm supposed to do if no one comes. Finally, I heard the sound of someone walking downstairs. Soon, a man, let's call him "G," creaked open the door. 
"We've been expecting you," he said.
"Babe! We're at the right place!" I yelled.
The Virgo apprehensively walked with the suitcases towards the door, as if I were also a strange man in the dark. G led us up a flight of stairs whose walls were filled with Christian iconography—wooden crucifixes and Virgin Marys—as if we were in some kind of Catholic gift shop with original William Morris wallpaper. Bird heads peeked around the Marys, looping out of Escher-like lattices that seemed to pop out at us. "You'll meet my husband in the morning," he said, after leading us to our room and wishing us goodnight.
The Bed and Breakfast Had Its Quirky Charms
In the morning, a tray of tea and milk was silently waiting in porcelain cups outside our door. At breakfast, we learned that G and "H" (his husband) were actually Buddhists with an affinity for Virgin Marys and a singular passion for returning the house to its original interior, which had become a full-time job. This was evident in the bathroom under construction near our room, with its in-progress installation of 19th-century plumbing.
We eventually fell into a short-term rhythm, spending the days by the sea with our friend "A" and her partner, and nights and evenings wandering the house. On New Year's Eve, the four of us walked along the English Channel after midnight, writing wishes for the new year onto slips of paper and tucking them into empty wine bottles from the pub where A worked. We threw them into the ocean. It was bitterly cold, everything black in the dark: beach, sand, sea, sky, even the wind.
Later, we returned to the house and wandered the halls in the dark, stumbling into an unknown room that we deciphered to be the opium den. A boiled water for tea and we drank it on the chaise. I wanted to feel like Oscar Wilde, but I felt like an awkward, androgynous spider in a funhouse, my two fathers sleeping below our own canopy bed somewhere in the house.
The Mansion Became a Queer Gathering Spot
On New Year's Day morning, we made our way down to breakfast and War and Peace was being read aloud on BBC Radio. "A British tradition," one woman said. Another woman whipped out a bottle of hot sauce from her hiking pack, drenching her sausage, beans and overcooked egg. She exclaimed that food always needed hot sauce, and you always need to be prepared with your own, especially when traveling.
Another woman agreed about the necessity of keeping hot sauce on your person (in either a backpack or a large back pocket), and it turned out that the four women at the table with us also had partners, and that the three pairs of us, combined with our hosts, made this an unexpectedly very queer Victorian New Year's house, listening to Tolstoy and eating hot beans. "How did you find this place?" the Virgo asked later. "It's bizarre."
I honestly couldn't remember.
On our final way out, we passed red velvet chairs, like butterflies folded open, and towering lamps. We said goodbye to the massive greenhouse behind the house. I wondered if ghosts had ghosts as well, and if they were all queer living together in this house, its own universe outside of time, or if they only gathered at New Year's to listen to the radio and pour hot sauce on their Victorian breakfasts.