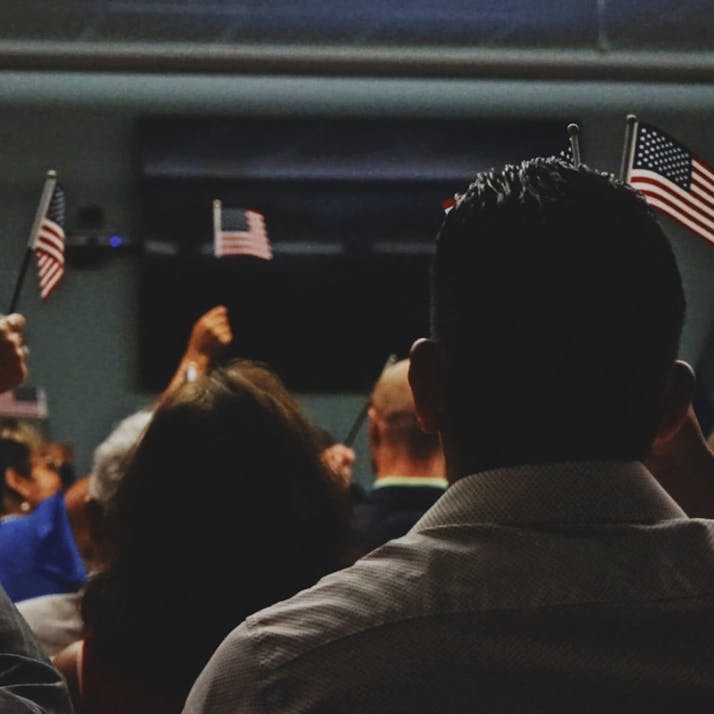 Undocumented and White: The U.S. Immigration System Is Both Cruel and Colorblind
A Canadian man outlines a life spent tangling with the bureaucratic American immigration system.
/ / /
The term "undocumented" has somehow become the typical definition of someone caught in the crosshairs of U.S. immigration. (Unfortunately, sadly, that's often both figuratively and literally!) I prefer the term "statusless American."
I'm sure it was some well-meaning attorney (who sees people as statistics) who came up with "undocumented," and not someone who has actually lived it. No one chooses to be undocumented. And for the record, no one chooses to be white, either. However, one is allowed to choose nationality, as long as they are wealthy and connected.
How I Ended Up Undocumented
I was statusless, against my will, for 26 years. I was legally married to a U.S. citizen for 18 years, and I have an American-born grandfather. I'm also white.
Statusless whites do exist. I've met a few undocumented whites and heard stories of some others being in ICE centers. When I met up with deported friends in Mexico City last year, they told me of the undocumented whites from the U.K., the Netherlands, Bulgaria, Romania and Russia. Canada has an estimated 100,000 people living in the U.S., while Germany and Ireland have the most from Western Europe. There are undocumented whites from the Caribbean, Africa and Latin America. 
I met a man, who was born in Switzerland, who was forced to leave his home in the U.S. where he lived for 20 years. The government wouldn't let him renew his green card, so he was on a bus to Costa Rica like I was. He wasn't in a position to go back to Switzerland, which was no longer his home. I felt for the guy, since my story was similar.
I came to the U.S. as a teenager in 1993, escaping a dysfunctional family and bullying back home in Atlantic Canada. I came in "ack-bassward," as they say, because I didn't know the rules. I ended up finding a place to stay in Chicago with gifted educators who were Christian Scientists. I went back home briefly—and legally—to graduate from high school, then went back to Chicago in August of 1994. One of the educators I was staying with helped get me into Jacksonville State University in Alabama. In 1996, I transferred to Columbia College in Chicago.
Immigration Hell
While people were kind, I had to do everything by myself when it came to immigration. It was not easy, although the rules were vastly different than they are now. For instance, there were no laws blocking you from becoming legal in the United States, you were expected to get your Social Security number as one of your first steps and the average American believed that if you worked hard you would become legal. Nobody saw you as a criminal for doing so.
After three years of being ping-ponged through immigration hell—while the system's operating rules changed with the Illegal Immigration Reform and Immigrant Responsibility Act of 1996—I became legal to stay in the U.S. for a year. I think I only got this visa—for free—because a friend of mine flirted with the officer at the airport. I met someone, graduated from film school and we married at the end of 1997.  
I applied for a green card in 1998. There were two reasons it didn't go through. First, we didn't use a lawyer, in order to save on expenses, and my application went to the bottom of the pile. It got denied sometime in the early 2000s. (I found this out when I hired an attorney in 2013.) Then, around that time, the Clinton administration bungled a huge number of green card applications, including mine. (The Legal Immigration Family Equity Act of 2000 came out perhaps as a result of this underreported mishap. I didn't find out about LIFE until late 2016, and it was too expensive for me to make use of.) Nobody from the INS, as it was called then, came to interview us. We decided to let a few years pass, and apply again. 
I left the U.S. for good just after Thanksgiving for a cruise ship job in Mexico that turned out to be a sham. I survived in Latin America for 16 glorious months. I'd never felt more free and dignified. COVID-19 threw me back to Canada. I am currently in the City of Toronto homeless program.
Being White Won't Save You From the Immigration System
My biggest struggle has been to convince people that being undocumented is more of a bureaucratic and economic issue than it is a racial issue. Racism can and does exist in U.S. immigration, but there are also many privileged people of color who get through it without a problem. It feels hopeless at times when those who have not lived through the immigration experience think they know more than you. Many immigration attorneys, nonprofits and the Democratic Party all have an agenda to make immigration a race-only issue. 
Undocumented whites are in danger of being deported, the same way all statusless Americans are. The powers that be do not care. I especially felt in danger of being deported while Trump was in office.
It's a struggle to even get people to pay attention to our stories. You don't hear tales like this because I think that the media likes to promote a racial agenda. It's titillating to white people, and makes them feel safe or gets them angry. Saying that white immigrants are in danger might make the issue too close to home, and the truth does not spin well.
For example, when an undocumented man from Denmark accidentally set a section of the Colorado forest in 2018, the media was full of inflammatory headlines like "Illegal Immigrant Arrested For Starting Fire in Colorado, Police Say" to start the spark of hatred toward people like us. They don't care what color we are. We don't belong. 
The primary reason I am making a big deal about how being undocumented is more of an economic and bureaucratic issue than a racial one—besides the fact that it's true—is because white undocumented people are often refused help from (mostly privileged, white-run) nonprofits and attorneys. They're told that they don't fit the agenda, and that they will be fine because of the color of their skin. I have been told that myself. It's a cruel thing to hear when you do not know where you're going to sleep that night or eat that day. I also think there is a subliminal racist undercurrent to the thought that people of color need help, while white people can be self-sufficient.
If all statuses and undocumented people were helped, there would be compassion for all of us. None of us will be denied because of anyone's agenda. I hope we can change that way of thinking, so all of us can be helped.