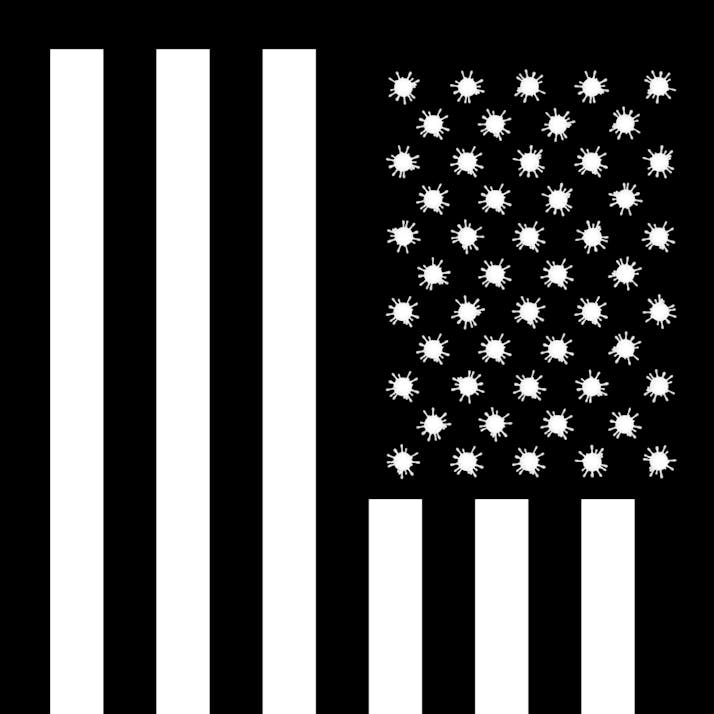 Trump's Pandemic Response Was Fine; Here's Who Really Failed
While the media likes to portray the president as solely responsible for the COVID-19 response, a public health official says real blame belongs with county and state officials. 
/ / /
For months on end, I've been watching media headlines highlighting President Trump's COVID-19 response failure. Since early this year, many outlets have claimed that Trump's response to the pandemic was a complete disaster, but multiple outlets have taken their journalistic opinion one step further, comparing Trump's response to that of deliberate genocide. If you don't believe me, take a few moments to preview any search engine and you will be overwhelmed with results either insinuating such an event or directly comparing him to the likes of a bloodthirsty Hitler. It was just recently that CNN's Christiane Amanpour compared Trump's time in office to Kristallnacht. This is certainly a mainstream thought.
Regardless of how the media wants to portray Trump's pandemic response, there is little room for personal feelings when America's public health system has multiple, clearly outlined public health emergency (PHE) response guidelines. Granted, PHEs don't come around often, and they haven't been covered by the media in such detail in the past. But when they do—and they will again—we need to have a better understanding of who is responsible to support emergency relief. Unfortunately, like college freshmen attempting to reiterate the latest chapter in their introductory 101 courses to the rest of the class, the media has no place in pretending to act as public health experts. 
In the case of the COVID-19 pandemic, the media needs to be fact-checked, and as a public health professional, I'm here to translate the data.
The President's Role Is to Allocate Funds and Provide Information
After graduating with my Bachelor of Science degree in 2015, I decided to continue my journey in pursuing health and complete my Master of Public Health degree. I found the topic of public health to be thrilling, to say the least. Public health services are greatly underfunded and underappreciated by the majority of Americans because, frankly, they aren't very sexy. While the rest of us sleep, go to work and take care of our families, public health departments work around the clock to continuously provide services we take for granted. We have access to safe drinking water, a sewer system that prevents disease in our home and environment, and vaccines that generations prior to ours wouldn't have dreamed of. We turn on the sink and fill a cup of water without a second thought.
More than just day-to-day disregarded luxuries, the public health system is also responsible for planning how to combat theoretical natural disasters or infectious disease outbreaks. Yes, our country has been planning for this outbreak for years, and that should make you feel grateful. However, not many were happy with how the outbreak was handled. Most of the time it felt like we were in the dark, confused and frightened. We turned to our leaders and our leaders told us who was to blame: Trump.
What the media failed to tell you was that Trump's role in the outbreak was never supposed to be relatively invasive in the first place. The president was never going to show up at your doorstep to personally offer you a Kleenex. His role is to allocate funds and offer information that state and local health departments can lean on to improve their current plan of action, amongst other things. If you didn't care about your local health department, you should now.
The American public health service works on a hierarchy of services provided. The Centers for Disease Control and Prevention (CDC) provides an easy-to-interpret graphic that nicely outlines the public health service pecking order and states, "As depicted in the pyramid, United States' governmental public health system represents a complex and broad range of federal, state, and local health agencies, laboratories and hospitals, as well as nongovernmental public and private agencies, voluntary organizations, and individuals. Federal agencies are represented at the top and health departments at the center of the pyramid because of their primary leadership responsibilities for developing a broad knowledge base so that policy is driven by long-range issues, ensuring that the public interest is served, and achieving a balance between individual liberties and equitable actions for the good of the community."
Note the most important piece of information here: Federal agencies are at the top of the pyramid, and the CDC describes health departments as primary leaders with heavy amounts of responsibilities. This remains true for PHEs, which includes infectious disease outbreaks. While President Trump was busy releasing trillions in relief funding to fill his role, your local health department should have been providing immediate calls-to-action and ensuring residents were supplied the tools or items they needed to safely endure an outbreak. You will notice that the bottom of the pyramid includes other team players, but all belong (with the exception of some public-funded educational institutions) in the non-government-funded private industry. Here's the kicker: Each state has large control over their public health department funds. While the federal government does partially fund health departments, it is incumbent upon your state-elected officials to determine whether or not your department succeeds with the additional funding it needs.
Washington State Governor Jay Inslee Set a Dangerous Example
I happen to reside in Washington state, the first state in the country to experience a COVID outbreak. Our governor, Jay Inslee, was thrown in the fire—many months before other state leaders—to provide a response. For readers who aren't familiar with Inslee's policy, let me fill you in on a few details that were conveniently overlooked by the media. It wouldn't be unlikely that your state had a similar discrepancy in coverage given that public health departments are often underappreciated.
Despite appearances, Inslee has been denying adequate public health funding for years. According to a Washington state budget request, the state's central laboratory that processes COVID-19 testing can't even afford to service much-needed lab equipment. Seattle and King County's policy and finance administrator for public health recently stated, "We aren't fully able to address the capacity need for this outbreak without proper funding." In 2016, Washington public health officials released a plan to boost budgets, pleading with Governor Inslee that, "if new funding is not provided to begin stabilizing local health jurisdictions, the erosion of critical public health services will continue to the point that the state and local communities will not be protected from disease outbreaks." Health officials requested $30 million per year to repair years of underfunding; Inslee left them with $6 million per year.
In 2018, the health department tried again, requesting an additional $150 million per year to address "critical gaps," specifically noting the state's likely inability to respond to a major emergency. Inslee reduced their request to a whopping $11 million per year instead. In 2019, the department made their rounds with Inslee and his team one more time, specifically requesting help for their laboratory, pointing out that "if the lack of funding continues, the laboratories will struggle with daily operations and will have challenges in responding to emergency situations." The lab's funding hasn't changed since the fiscal year of 2011. That same year, the CDC released 15 "capabilities" state and local health departments should be prepared to serve during a disaster, and laboratory testing was first on the list.
However, Inslee never skipped a beat during Washington state's never-ending shutdown to miss deflecting his actions on Twitter. Inslee often criticizes his opponents on social media. He stated, "The Trump administration knows what Washington needs right now—the resources to fight the COVID-19 pandemic. If the president wants to show leadership and that he cares about the people in this state, he should send us the PPE we've needed for months." Or, "The White House may have given up on fighting COVID, but Washington state will not."
We Must Invest More in Public Health Services
Given the clearly outlined emergency response hierarchy and straightforward financial requests from the health department, it's difficult to imagine a situation where Inslee doesn't hold a majority stake in basic emergency response responsibilities. This isn't just Washington state; the National Association of County and City Health Officials states that while the public sector workforce has grown and recovered from the 2008 recession, health departments haven't. Since 2008, health departments have lost roughly a quarter of their workforce, ridding their organizations of over 50,000 jobs nationwide. What is more disturbing about that statement? The fact that health departments lost one quarter of their workforce, or that one quarter of their workforce was only 50,000 positions to begin with?
Before you point a finger at just one person, it's fair to ask yourselves the following questions:
Who is in charge of funding my health department, and how can I vote to increase funding where needed?
What is the role of my local public health department in regard to a public health crisis?
Do I feel comfortable with my local crisis response plan? If not, who can I reach out to in an effort to voice my concerns?
What is the ultimate role of the United States' public health organization? Do I expect them to cover all of my needs, or should I work on being more prepared myself?
Remember, at the end of the day, public health is a community service similarly to the police force or fire department. While not nearly as robust, it's a beneficial public health service, not a cure-all for ultimately uncontrollable circumstances. Just like you wouldn't blame an EMT for failing to revive a loved one who had a heart attack, it's completely impossible for one single president, governor or health department to hold back an infectious disease that will ultimately move through a society. And yet your chances at receiving resources and care are much more dependent on your state or county, not President Trump.