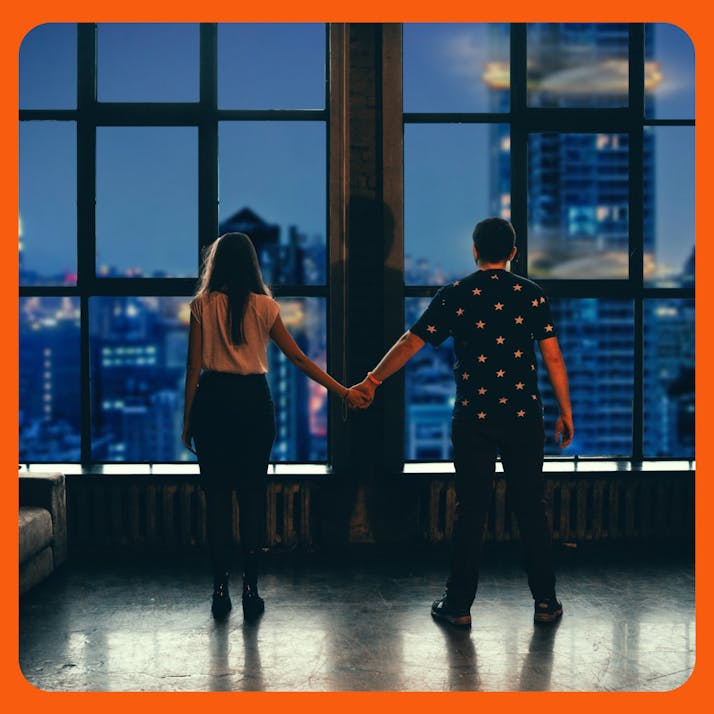 I Don't Know You, Let's Live Together: Traveling With a Stranger During the Pandemic
I didn't really know Emily. But that didn't stop us from traveling the country together for nearly four months.
/ / /
Here's a general breakdown of how a normal dating progression tends to go: 
First date, drinks. Second date, dinner. Third date, drinks and dinner.  Fourth date: dinner, drinks and an activity. 
And here is the dating breakdown of my most recent relationship: first date, drinks and more drinks. Second date, dinner. Third date, drinks and dinner. Fourth date—drinks, then casually spending 94 days in a row together, driving across the entire Eastern seaboard of America with two dogs and all of our stuff, as we attempted to navigate and survive a once-in-lifetime global pandemic.
When COVID-19 started making its way across the United States in March of 2020, there were several articles about couples who just met quarantining together and some even deciding to live together. My favorite headline came from Glamour: "Are Couples Who Moved in Together for Quarantine Okay?"
Many of those couples did it because of ease, some out of necessity, and some out of complete and utter boredom. It was both the most romantic and unromantic approach to dating, much in the vein of, "I want to spend every single minute with you—mostly because you are a body that just so happens to be here."
But if you were to ask me why I spent 94 straight days with basically a total stranger, my answer would be pretty simple: It just made sense. We never planned anything more than a week or two out, and like the rest of America and the world, we were forced to make every major life decision, slowly, day-by-day with equal parts confusion, uncertainty, fear and cautious excitement.
How It All Started
I met Emily at the end of February 2020 on the dating app Hinge. It's like Raya but for poor people. Our first date was an epic bar crawl through the Gowanus-Park Slope area of Brooklyn. We had good chemistry and a fun, bombastic rapport. She was just fresh off a divorce and I was fresh off a haircut. 
I would describe my previous dating history as a colorful contradiction of being a lifelong serial monogamist with commitment issues—kind of like a guy who joins the Army but hates war. I later found out that I was Emily's first online date after her divorce so, in a lot of ways, we were an ideal match because we both longed for connection. 
Our night ended the same way all first dates in Brooklyn end: having whisper sex in a cramped, tiny apartment so you don't wake the neighbors who can hear everything through the adjacent paper-thin walls. While your dog watches. 
We then had a second date a few days later where I went to her apartment to watch Jojo Rabbit, which has one of my favorite endings of any movie ever. Once the credits started rolling, the film shows this passage:
Let everything happen to you
Beauty and terror
Just keep going
No feeling is final.
- Rainer Maria Rilke
My Little European Jaunt During the COVID-19 Pandemic
I apprehensively decided to go through with my long-planned vacation to Vienna, Austria, where I was basically crashing my best friend's honeymoon. Like they say, "If you can't beat them, be a third wheel and pretend you just got married." Our trip was fantastic and eerie, with the ubiquitous news of a looming pandemic buzzing in every bar, museum and cafe.  
While I was in Vienna, I maintained contact with Emily, and on my very last night in the majestic city, President Trump announced that all travel to and from Europe was suspended. Because Trump made the declaration in the middle of the night, I woke up to a series of hilarious and not so hilarious texts from my friends and family saying things like: "Hey you're stuck in Europe forever, Emperor Trump has decreed it so." "Can I have your dog?" "Enjoy Vienna for the rest of your life." 
Luckily, my flight was the next morning so I was able to barely slip past the Trump travel ban by a day and make it back to Brooklyn safely. As soon as I landed at JFK, Emily picked me up. On the way home, I casually mentioned to Emily, "Hey I think I'm going to go to my uncle's house in New Jersey for a week until this blows over. I'm guessing it'll be for a week or so." OK, so I was a little off by about 63 weeks.
I asked her if she wanted to join me and used the very effective pitch that my uncle's house happened to be a fantastic, epic and sprawling mansion in the remote woods of suburban New Jersey that was also completely unoccupied at the time. Emily reluctantly agreed to join me with her brutish, yet somehow baby-like pitbull, Taco, under the guise that she had to go back to teach at her Brooklyn high school on a moment's notice. I am a comedian/actor/podcast host so I could be anywhere other than in my parent's favor.
Getting to Know Your Quarantine Lover
It was here that the reality of our situation and the pandemic started actually settling in, as we silently gazed at each other in a remote, cavernous mansion in the middle of nowhere. I subconsciously whispered a key thought to myself that I know Emily was also considering, "Oh fuck, I don't actually know you." This was hilariously manifested in several ways including going to a pandemic-barren Whole Foods together for the first time and literally uttering these words as we nervously perused the aisles, "So, what kind of food do you eat?" 
It wasn't until about a month or so of quarantine together that we even knew each other's middle names. Our cohabitation was helped massively by the fact that Emily actually brought a get-to-know-you icebreaker card game where we were allowed to ask each other questions about our personal lives. So as the world seemingly crumbled around us, Emily and I pulled out a bottle of my uncle's finest red and took turns pulling cards that would hopefully give us more clues about the stranger sitting in front of them. 
It turns out Emily was from Pottstown, a gritty but friendly suburb of Philly. She grew up as a determined, tough and chronic overachiever, and split time between her divorced parents. I was from an idyllic and boring suburb of Chicago, with a childhood riddled with joy, repression and overheated perfectionism, sometimes all at once.
Booze Helped Ease the Tension
I think It's important to take a timeout here and give a quick shoutout to alcohol. I was a moderate weekend drinker before the pandemic but during the pandemic, I discovered it was possible to consistently have wine teeth that resembled a boxer who had been punched in the face several times by an angry Russian with mob ties. There's a reason that liquor stores were deemed "essential." Alcohol calmed our nerves and allowed us to open up more quickly than if we were sober. And who the fuck wants to be sober in a pandemic other than Trump? We saw how that turned out. It makes you say dumb shit like, "Hey maybe you should drink bleach."
We spent our days in New Jersey working. She taught children and brightened young minds over Zoom, and I dreamt of new and effective ways to tell dick jokes to strangers for approval. At night, she'd cook dinner (I'm not sexist) and we had great wine and watched classic movies like Groundhog Day, Before Sunrise and Before Sunset. 
Toward the end of our first week together, my cousin and best friend Andrea started texting me, floating the idea of us driving down to Sarasota, Florida where she had a fantastic and most importantly, free house. I knew Emily was apprehensive about coming to New Jersey, so the idea of driving 1,200 miles with two dogs and a loose plan would be a stretch. So I "slow-played" the Florida trip, by casually mentioning it a couple of times. 
Since our first full week in quarantine went significantly well and without a hitch (other than her pitbull devouring one of my dog's toys), eventually, and much to my surprise, she agreed. 
Heading South
So, we packed up our several bags, two dogs, their beds and squeaky toys, and crammed into a rental car dead set on making it to Florida in less than 24 hours. We cruised through New Jersey, Pennsylvania, Maryland, D.C., Virginia. The further south we drove, the more the landscape opened up, revealing hundreds of barren miles of highway, sparsely populated rest stops and gas stations, shuttered storefronts and sparkly, flashing neon signs that read, "Stay at home." 
One particular rest stop was so deserted that several cars formed a makeshift drag race, sporadically peeling out as their tires burned rubber, scorched our eardrums and gave us the staunch impression that we were no longer under the pretense of "normal times."
Despite the palatable uneasiness of traversing a drastically haunted America, I was exceedingly grateful for leaving New York City, especially as news of the COVID-19 cases and death count continued to mount. Waking up in a Virginia hotel room the next morning, hundreds of miles away from the epicenter of the coronavirus, I couldn't help but be thankful to be safe in a warm, clean room, with Emily and the two dogs. And it was right around this time that I began to internalize one of the greatest lessons from the pandemic: When time stops, you have no choice but to look at what's in front of you and be grateful. 
The Pandemic Gave Me Reason to Reflect
When time and the world stop, as they did during COVID-19, you are gifted with the opportunity of seeing the wheel for what it really is, a man-made construct that can be easily flipped over, torn down and reimagined into something more humane. 
If pre-pandemic me woke up in that very same hotel room, my first thoughts would be along the lines of: "Email someone to try and get a job," "Get more followers on Instagram," "Is that how you look with a shirt off? You look like actual milk." Instead, I quietly gazed around that Marriott Residence Inn and thought, "Wow, a room." "Cool, a bed." "This girl next to me is very sweet." 
The beautiful simplicity of these thoughts is nothing to scoff at. We've all heard about beer goggles. COVID-19 gave us all the opportunity to have presence goggles, the intense ability to sit with our reality and find something, anything to truly feel and be grateful about. 
Florida Was Weird Yet Great
The next morning, we did what we would later term a "full company move," which meant once again packing up all of our stuff, our dogs and hopping into the car to continue our journey to Florida. Somewhere around Gainesville, we stopped at a gas station and saw a pickup truck full of pit bulls in cages and thought, "Oh this is the batshit Florida everyone talks about." After hearing two different people with no masks on and very few teeth say, "I don't care what the government says, they ain't shutting my vape store down," we made the sound decision to not stop again. And the even better decision to never vape. 
We eventually made it to Sarasota, dropped the dogs off and met my cousin on a boat that her boyfriend owned. To go from the COVID-19 hub of New York to the cool ocean waters of Sarasota is like going from a jackhammer to a back massage. The ocean air was a welcomed assault on our senses, as the teal, translucent intercoastal water lightly splashed at our feet, politely informing us that there is actually an easier way to live. 
And we did live that way. Here is our breakdown of how we lived for the next three months of our quarantine: seven different Airbnbs, five rental cars (changing them so many times that it began to feel like we were in the witness protection program), 120 coffees, one George Floyd rally, 14 trips to Publix, five boat rides, 25 trips to the beach, 30 straight nights of drinking, five dolphin spottings, a month of watching the documentary, The Last Dance, endless nights of card games, connection, laughs, incredible sex (some in a hot tub—sorry Emily's body), one very negative Airbnb review and an odyssey unlike anything I've ever experienced or probably will experience again. 
We Couldn't Escape the Pandemic Completely
But our stay wasn't without tragedy. Andrea's dad, my uncle, was admitted to the ICU due to COVID complications. Fortunately, he made it through, but the same couldn't be said for her mom, Ronda, who passed away in July of 2020. 
One of the last nights of our time in Florida, I got an urgent text from my sister while I was on a boat in the middle of the coast, saying that my grandma was dying and I had to say goodbye over the phone. This was extremely unsettling for so many reasons, including the fact that I was completely hammered. So Andrea and I stood at the edge of the boat as it was anchored by a nearby island, and we told our grandma we loved her and thanked her for the eight amazing children she brought into the world. During the boat ride back to shore, the sky ripped open in a reddish, purple haze, a color I never knew was possible. All you could see for miles was the horizon and the possibility of endlessly more. And at this sacred moment, maybe the most important lesson of the pandemic hit me: Somehow life continues. And the poignant words from Jojo Rabbit were replaying in my head on a loop, "Just keep going." 
Now that the pandemic is seemingly coming to end, I can't help but marvel at the fact that humans always manage to do that, they "just keep going." Or in the words of Dr. Ian Malcolm in Jurassic Park, "Life finds a way." And it's my biggest hope for the world that when the pandemic is finally over, we all realize we have no choice other than to dance.