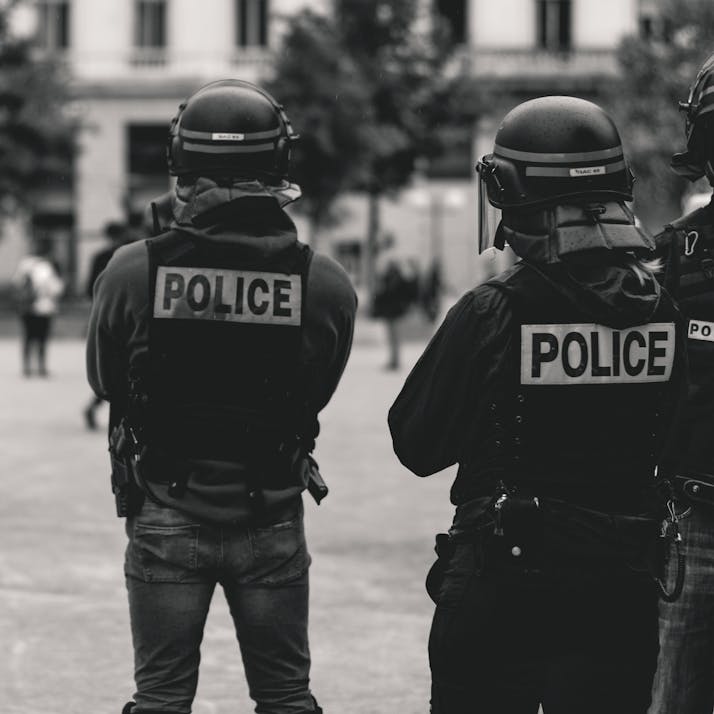 I Was Traumatized by the LAPD; It's Happening All Over Again
A woman watched her friend's murder. The aftermath was almost as difficult.
/ / /
I was walking to the liquor store to get some snacks when my friend Victor was recklessly killed in front of me. 
My life was completely changed forever.
I hoped the police would ease this experience and protect me from harm, but they did the opposite: The Los Angeles Police Department made me feel worthless. They treated me like I committed a crime rather than having survived one. I was traumatized, hoping for resources, but I never received them. I was hoping they would make me feel heard and safe, but minutes after losing my friend, they treated me with aggression. 
I really did not deserve any of this. 
I have been a Latina woman living in South Central my whole life. Because of this, I've had quite a few encounters with the LAPD.
I've seen and experienced police brutality and overall discrimination.
My Friend's Murder Changed My Life Forever
When I was 22, my life was flipped upside down. Victor was taken away from this world by men in South Central. As my friend laid lifeless on the ground, my other friend, Mike, held Victor in his arms while his body was convulsing. I tried to help. I told Victor that everything was going to be okay. 
I soon saw a police car driving by, and I flagged it down to help us. The officer immediately got out and flashed a light on our faces. He ordered me to step a few feet away and I did; he soon called for backup. It soon arrived and they began to pull me away from the scene by force. I am 5'3" and I had four adult male cops pulling my arms and yelling at me to get away from my dying friend. I was shocked and mortified by what I had just witnessed. That wasn't taken into consideration once. 
They antagonized me and kept asking me what had happened. I told them and they asked me to repeat myself a total of ten times. They also took my purse without my permission and went through it looking for a form of identification. I was not once asked for my purse: It was taken from my hands while I was in shock. I felt taken advantage of, I felt, at this moment, as if all of my rights were taken from me. They found my ID and were asking about Mike and who he was. 
They asked me several times if we were gang members, and I always responded with "no"—they were not listening. I felt as if they were trying to use a tactic to manipulate me into saying "yes." I know they didn't care about my mental state; it made me feel very small. While I was being interrogated, Mike was also being antagonized by the police. Mike later told me that they told him to calm down—he was crying hysterically—and, if he did, he would be able to ride in the ambulance with Victor. He soon realized that was a lie: They took Victor's body in the ambulance without us.
The Los Angeles Police Department Must Do Better
Mike and I were taken to the police station for questioning around midnight. They left us alone in a room and we held each other and cried for hours. We were waiting for detectives to arrive to question us—they arrived at 7 a.m. the next day. Mike was questioned first. Then it was my turn. I told them everything I knew and had witnessed. Because Victor was shot in the head, Mike held him up in fear he would drown in his own blood. Because Mike and I had held each other and cried, I had Victor's blood on my shirt. The detective told me he needed to collect my shirt for evidence but I did not have a shirt on underneath. I asked if he had anything I could wear and his partner brought me a jail jumpsuit. I was humiliated and disgraced. 
I didn't have time to process what I had been through, I was done being questioned and I waited for Mike. I soon began to feel overwhelmed and I began to cry. A different detective saw me begin to cry and rudely asked me, "Why are you crying?" I responded with defeat in my voice, "Because I'm worried about my friend." I was worried about Victor.
We were both released from the police station at noon in jail jumpsuits. And we went to the hospital. They didn't ask us once if we were okay or needed anything. I felt as if we were treated like trash. Since they had asked us everything they needed to know, they didn't need us anymore. So off we went into the public with our jail suits—treated like suspects instead of survivors.
The days after his death were not easy. I knew I was a victim but I had no idea what was to come: I'd never been in an incident this serious: It was a murder scene. I met with two detectives several times and they never offered any resources. I was told by a friend that was I was a victim and could be offered benefits. I asked them about this and they didn't point me in the right direction, give me a phone number to call or anything. As a victim, I felt alone and confused. 
Had the police car been driving by five minutes before, everything would've been avoided. Two weeks after my friend's death, we held a rally. The police and detectives were present. Their demeanor was aggressive, which was not the point we were trying to get across. I didn't feel safe with the police there: I felt judged and watched.
It's hard to fathom what's been going on these past few days. All I know is we are all watching history unfold. Police abusing their power has been coming to light. This is very personal to me, everything about this: black death, police brutality and everything in between. George Floyd was a victim of police abusing their power and he didn't make it. I acknowledge my privilege: I am here to tell my story. He is not. I want to be change. I would do it all over again if my story could somehow make a difference. I hope you think about George Floyd, Breonna Taylor and Trayvon Martin while reading this and wonder: What can I do to change this?