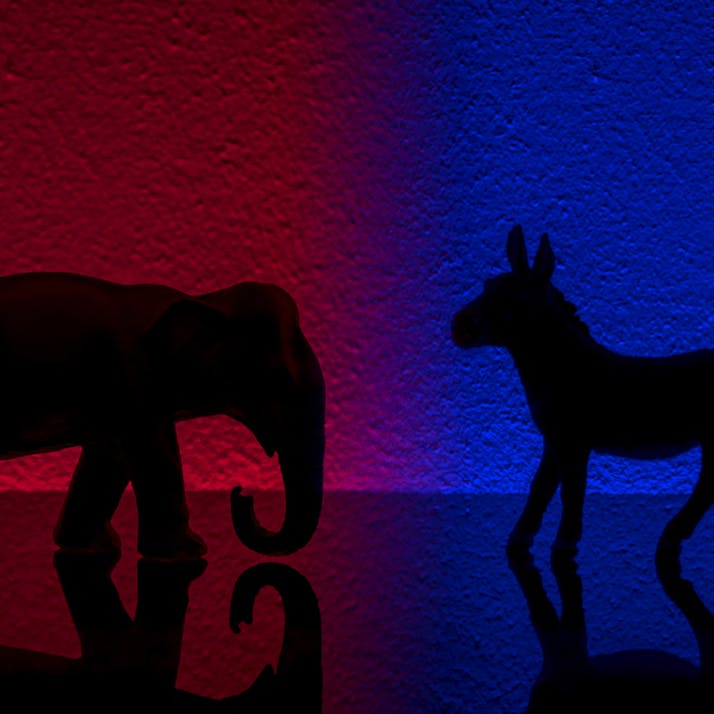 By:
Lifetime Resident of Upstate NY & NYC
Millennial
/
Socialist
/
People Gatherer
The Two-Party System Must Die: Why I'm Fiercely Independent
An outline of the author's myriad reasons for upending the Democrat vs. Republican cycle.
This Narrative Belongs To:
In 1992, I was a ten-year-old fifth-grader living outside of Cooperstown in rural, upstate New York, son of Boston Democrats, and I'd grown up during the Reagan and H.W. Bush era. I could see them filled with the kind of muted hopefulness I'd come to learn is a hallmark of many citizens' relationships with politics. I remember my mom pinning a Jesse Jackson button to my jean jacket in 1988, though I had no real understanding of who he was or what it meant. 
By '92, though, I thought I was finally starting to get it. My parents had had their hearts set on local politician Paul Tsongas for the presidential nomination, and I remember watching the primaries and their results the same way I did the Braves, who I followed as a way to set myself apart from my friends who were fans of the Yankees and Mets. I experienced joy with them as Tsongas won the second and third primaries, then watched as their excitement collapsed into crestfallen disappointment as he fell out of the race. Eventually, I saw them come around to Bill Clinton, who they told me would be a good president, despite some of the things we'd seen in the news. The third guy, Ross Perot, was probably better than Bush, but not that different either, they said.
On Election Day that November, my teacher held a mock election in class during social studies to show students what participatory democracy looked like. I don't remember us students conversing about politics much before then, but I do recall concretely what transpired that day. After results were tallied, it was 13 for Bush, 11 for Ross Perot and two votes for Clinton—myself and Ismael, one of only a few black kids in our school. 
I couldn't believe the results when the right choice was so obvious to me. My parents told me that Bush was a bad president and that Bill Clinton would be a better one. How was that not clear to others? And why so many votes for Ross Perot? My parents said he was an outsider with "no chance," and that no one gets elected who isn't a Democrat or Republican.
How Party Affiliation Becomes Indoctrination
I felt a weird mix of pride and shame as I revealed my vote to the class and they started to belittle and bully me over it. I don't remember exactly what they said, but probably nothing more than, "My dad said people who vote for Bill Clinton are idiots," or, just as likely, "You're gay!" I was smart and thoughtful but also just ten, so I won't pretend to have had much depth to my thought process—except that it hit me like a freight train that none of us had real opinions of our own. 
We were simply doing whatever our parents did, aping and echoing, and probably even realizing it.
By the time of the 2000 election, I was 18, a college freshman and an aspiring adult. The '90s had seemed good enough, but eight years of Bill Clinton, with his constant scandals, his lying and his support for the Defense of Marriage Act, had already started to jade me on politics. When I could finally vote, I didn't want W. to win, but the idea of voting for Al "Lockbox" Gore—a joyless Clinton supplicant with zero personality, married to a woman who drove a campaign to censor American art culture in the '80s and '90s—didn't excite me either. 
Enter Ralph Nader, another third party candidate, and seemingly one with integrity and personality. I studied how much of an impact Ross Perot had had on the 1992 race, how his appearance swung the election and how he carved out a profile that was truly neither that of a Democrat or a Republic. I was also a college student at a liberal arts college, surrounded by other excited young liberals. It was easy to get caught up in the spirit. I registered to vote but didn't register for a party because I wasn't even sure I'd vote for the Democratic candidate.
The Two-Party System Is the Opposite of Free Choice
When Election Day rolled around in November, I remember the excitement of getting into the actual ballot box. I also remember that I knew few of the other names on the surprisingly low-tech paper ballot, except for Hillary Clinton's Senate run. It occurred to me, in that early internet era, that most other citizens probably knew little about the candidates except the biggest tickets, and that most people would simply vote down a party line.
I started ticking Democrat boxes, I saw that one of the New York state senate Republicans was a guy my family knew and said was decent, James Seward. I decided to vote for him. (Although it's not a vote that I'll defend in hindsight). 
I decided that day that I wasn't ever going to decide my votes based on party affiliation alone. 
As I aged, matured and thought more about it, I came to see that political parties are antithetical to choice and free will, and I just couldn't be a part of one, even though I generally voted Democrat. Aligning oneself with a party is the best way to increase your own biases and blind yourself from truths you might not otherwise see. Not to mention the fact that the world changes, and political parties do too: Democrats were once the party of Southern racists and Republicans were once the party of Lincoln. Why would I want a badge saying I supported something that has a shifting meaning?
If We Don't Want Another Trump, We Need to Move Beyond Political Parties
Right after college, in 2005, I was dating a woman from Pennsylvania whose parents were Republicans. They delighted in telling me how their best friends, who were liberals, had registered as Republicans so they could cast a primary ballot for Arlen Specter, a Republican candidate who seemed to them the lesser of two evils in a state where only a Republican would get elected. I remember thinking, "Okay, that's logical, but also…depressing." I couldn't get behind it.
I have always, since a young age, felt that having one's own system of beliefs was important to feeling good about yourself—probably the result of being a child of two transplanted New Englanders in rural, pre-internet America. I saw how people around me who I got along with otherwise would suddenly seem like aliens, impossible to communicate with, when we'd come across an opposing "encoded belief." I vowed to seek more common ground and understanding, and from there I just continued a belief set that led me down a path where political independence seemed like the only possible choice—the only way to feel free.
I voted for Nader again in 2004 (I'm okay with that one), and then Obama twice (with glee, the first time at least) before eventually casting for Hillary in 2016. That was the first time I'd voted for a presidential candidate I didn't feel great about, and the first time I felt really conflicted about missing out on the Democratic primary. But in the end, Donald Trump is not a political candidate—he is a craven, narcissistic man with no real beliefs. The last four years have been an obvious product of that fact and the country has been torn apart by us-against-them-ism.
The world needs leaders, but it also needs citizens—thoughtful, engaged people with convictions who don't accept everything at face value and aren't afraid to make hard decisions by going against the grain. The next time we go to the ballot booth, let's actually make America great again.