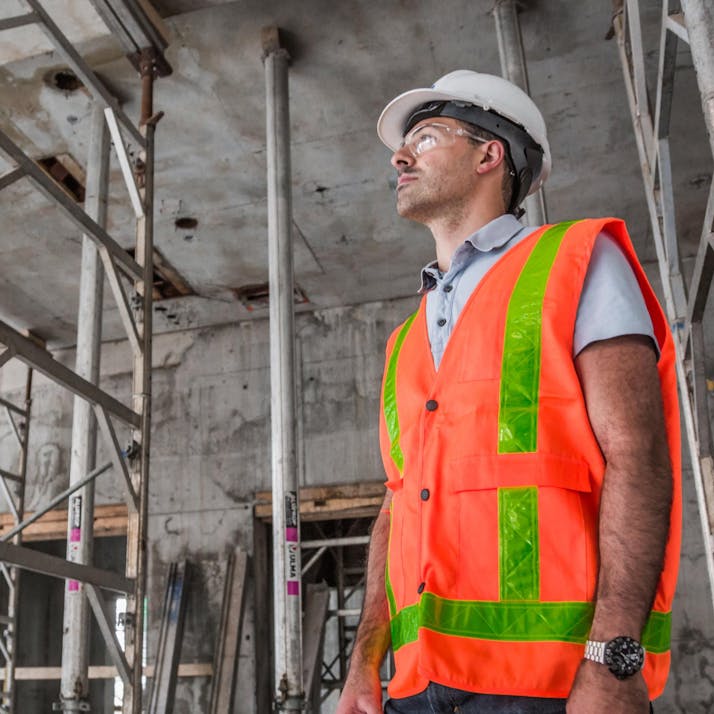 I'm a Structural Engineer: The Surfside Condo Collapse Never Should Have Happened
The recent tragedy in Florida is a product of building engineers putting their personal interest over the public's.
/ / /
Take a number, sit down and wait. When your number is finally called, you're greeted with disdain and any request you make is treated like an inconvenience. They know you need them, and they don't need you; they certainly aren't there to serve you, but you're at their mercy. Is this a description of a trip to the DMV or to your local building department? The same building department that is not only funded through your permit fees but also the one that is responsible for enforcing the building code and ensuring the safety of the buildings we occupy daily?
As a structural engineer, I have designed hundreds of buildings, creating construction documents for permits and construction. So I may have had more encounters with building departments than most, but I find this to be my experience at most building departments. Now, as a forensic structural engineer, I investigate building failures to determine the causation and duration of the failures, and unfortunately, as you are about to find out about the Surfside condominium collapse, they are always rooted in negligence or incompetence of some kind.
Water Leads to Rusting and Severe Damage
On June 24, 2021, the Champlain Towers South building, a 12-story beachfront condominium with an underground parking garage, located in Surfside, Florida, collapsed. At the time of posting, 60 have died and 80 remain missing while rescue efforts are—after heroically searching through unpredictable piles of rubble crumbling under every step—coming to an end. This collapse is not typical in a developed nation and can be attributed to many factors, including subpar construction detailing and poor building maintenance, along with an incompetent condo association and a negligent building official.
Water flows downhill, steel rusts and concrete cracks. Some things in life are fact and, in this tragic and avoidable accident, all applied. In the State of Florida, with the high water table, basements are not a common occurrence. But if you ever had to find parking in Miami, you will put a garage anywhere you can, even underground at a beachfront condo. With an underground parking garage and second-floor pool, the need for waterproofing the structure is imperative. 
For some time prior to the collapse, there were reported pool leaks and standing water in the underground garage at the Champlain Towers South building. The building was constructed with reinforced concrete, a heterogeneous combination of steel and concrete, which can last a long time under one condition: Proper maintenance of the structure is performed. When the concrete cracks, as it inevitably does, it then exposes the rebar to the outside elements of water and salt. Continuous exposure to these various elements ultimately corrodes the steel and it expands as it rusts. During the expansion of the rusting steel, it pushes on the brittle concrete, which ultimately breaks off in a phenomenon called spalling. Spalling not only increases the exposure of the rebar to the elements but also reduces the area of concrete available to support the structure above. 
With enough spalling, the structural integrity of a reinforced concrete member is compromised and it will fail. With proper maintenance, the effects can be slowed or mitigated to ensure a safe structure lasts long into the future. But proper maintenance requires at least a basic understanding of the needs of a concrete structure—an understanding a resident-led condo association may not have.
Public Buildings Need to Be More Transparent About Inspections
The Champlain Towers South building was constructed in 1981, and as such, it was due for its 40-year recertification this year, a process that focuses on the structural integrity and electrical safety of the building. While elevators require an annual inspection, the building it services, and ultimately is supported by, only requires an inspection after 40 years and every 10 years thereafter. It is also important to note that U.S. government buildings, state buildings and schools are exempt from this recertification. 
Something to consider when deciding to file a permit online or go into the office directly: it may be safer to do so from home. Portland, Oregon, for example, has many old buildings made of unreinforced masonry, construction that performs extremely poorly during seismic events. As such, the city is pushing to require these buildings to be retrofitted to better perform in seismic events and require owners to hang a plaque explaining the dangers inside. I believe buildings, especially public buildings, should be more transparent about when they've last been inspected for structural integrity and, more importantly, the dangers that have been discovered during previous inspections that have not yet been repaired. 
You may see a large "C" in the window from the health department if cockroaches are roaming in the back, but what kind of warning do we get if the foundation is failing? I want to know what risks I am taking when entering a building since it is now apparent it may cost you your life, as it has for many in South Florida.
Building Officials Must Be Held Accountable
In 2018, the Champlain Towers South condo association hired an engineering firm to perform a structural evaluation of the building. During this evaluation, it was found that there was "major structural damage" to the concrete slab and failure to make repairs would cause the "concrete deterioration to expand exponentially." The condo association provided the report to the Surfside building official, Ross Prieto, and invited him to attend the next association meeting where he, according to meeting minutes, reviewed the engineering report and stated, "the building is in very good shape."
This is a building official directly contradicting a licensed professional engineer—and not contradicting the engineer to be more conservative and safer, but just the opposite: taking on more risk and alleging that a 12-story building with significant cracking and spalling in the basement foundation was "in very good shape."
Why would a building official ever do that? Is it incompetence, negligence or just a complete lack of accountability? Prieto had filed for bankruptcy in 2002 and then again in 2012, telling the court he had accumulated $1.7 million in debt. His previous employment also reports that he was frequently late or missing from work. In 2013, the city of Surfside decided that was their guy to be the building official. But why not? They have nothing to lose. The town ordinance directly states in regards to liability, "The building official…or employee charged with the enforcement of this code…is hereby relieved from personal liability for any damage accruing to persons or property as a result of any act or by reason of an act or omission in the discharge of official duties." Or in layman's terms, they have no accountability for their actions during official duties. 
As engineers, we are taking on liability for every email we write, calculation we run and report we stamp. One of the biggest costs of running an engineering company is the professional liability insurance due to the high risk of work and the responsibility to society to design safe structures. I am OK with that responsibility and the faith put into me as an engineer; it keeps me up late reviewing work or studying material so that I can ensure that I am putting out safe and efficient products. But that liability needs to be applied to all parties in the process—not just engineers and contractors but also building officials. We must demand higher-caliber public servants in our building departments. They are not just pushing paper; they are ensuring that the buildings in our neighborhood are safe to use. 
Long before the wind blows and the ground shakes, engineers, contractors and inspectors are protecting the public. Appreciate them, but also hold them to be accountable for their actions. Our lives depend on it.