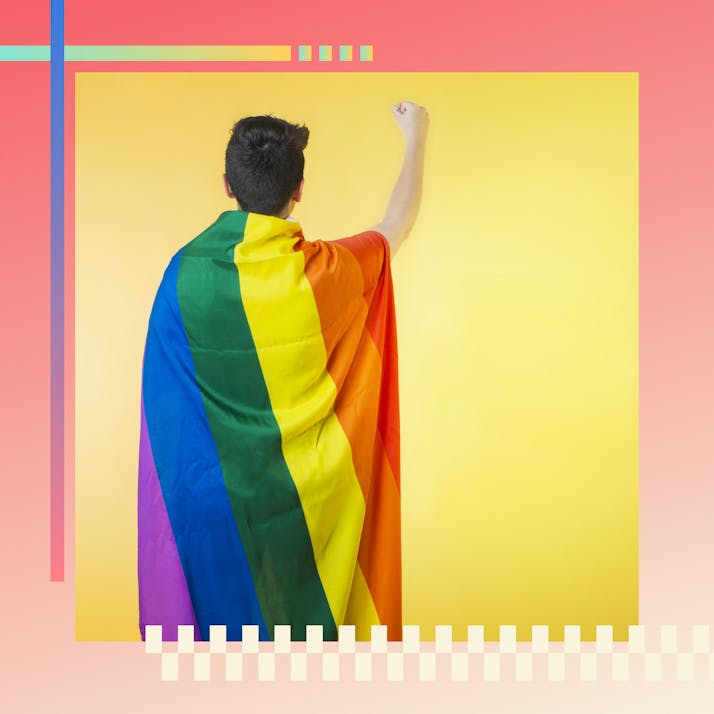 I Found My Superpowers in Queer-Inclusive Movies and TV
Growing up in Nigeria, screens were my only contact with the queer life I wanted.
/ / /
"Have you seen Glee?" one of my high school classmates asked my friend and me as we sonorously sang "Telephone'' by Beyoncé and Lady Gaga. We both shook our heads. "How can you not have seen Glee when you look so much like some of the characters?" But wait! I look like an actor? As in someone on TV? Unbelievable! 
At the time, as an effeminate man in an extremely conservative and femme-phobic country, people like me were being raised to constantly question what we thought and felt, and dismiss any ideas that there were others like us. This had, in more ways than one, put an image in our heads that we were alone regarding certain things, and that we'd be alienated from all environments and rewards if we didn't "act right." 
On my way from school that evening, I hopped into a movie store to purchase the DVD. I needed to see that person who looked like me. It felt important. Why? Well, I was a really young but not-so-naive boy who was just trying to play and navigate through life, subtly fighting for acceptance and against the insecurities that came with being young, effeminate and Nigerian.
Movies and TV Showed Me Who I Was, and Who I Wanted to Become
At home, I slotted the disk, and there it was: a very beautiful young man who sang to the admiration of everybody. He was effeminate, struggled with toxic masculinity, had a very supportive father, didn't make very close friends (at least until later on in the series), lied to stay invisible, and had a relationship life that didn't quite fall through (at least until the story further progressed). I was stunned by how the scenes made me feel. Every piece and play was a reality I'd struggled to live with in my early teen years—a total reflection of all my experiences, so much so that I could not tell the difference. Too good to be true!
The next day, I went to school feeling refreshed after watching about eight episodes. I honestly couldn't stop, but there was really no way I was going to skip school. Because why would I? I needed to show these verbal bullies—since physical bullying had strict rules—that I had found strength in something, and this might just be the birth of a bolder, stronger person. (Also, because my mom would literally sweep me out into the street if I'd refused to go to school.) That was indeed the end of it—or if not totally, then at least to a reasonable extent. It felt brand new and refreshing.
As I grew older, into a season of newness and awakening, I began to seek out movies that had a level of cultural inclusion and expression to them: Black, indigenous, queer, marginalized. I found that these movies projected the courage and knowledge I needed to wedge into an argument—critical arguments, I mean. 
My next queer-dedicated movie was Freak Show, based on the book by James St. James, where Alex Lawther effortlessly plays Billy Bloom, a nonconforming teenager who pays endless tribute to the words and life of Oscar Wilde. Freak Show was such a great watch. I obsessed over Billy's androgynous style, how he wore a wedding gown to class and ran for homecoming queen. He had the level of confidence and awareness I needed. I googled his looks and the designers he wore, learning what that style was and how to boldly pull it off. In doing so, I inadvertently found the power of fashion and realized that we're limited only by our minds. I found confidence in the beauty of expression, and I totally needed it.
Screens Showed Me Queer Struggle and Introduced Me to Queer Joy
Because Nigeria is a country filled with very dense ideas of what should and shouldn't be, it was difficult to not conform. Here, there's a template of how to live, how to react, what attitude to show, how to process and how to receive information. Anyone who doesn't show the desired level of conformity is harshly shoved to a corner. This way, they kept everyone on their desired tracks, and in so doing, purposely kept the keys to expression, exploration and nonconformity. No one wants that, especially a growing teenager. 
Although I do not remember sequentially all of the queer movies that came in after that, I do remember that Alex Strangelove and Love, Simon—and the beautifully talented actors Daniel Doheny, Nick Robinson and Keiynan Lonsdale who starred in them—made me find strength in love and communication. I played more than a few scenes in my head about my crush after seeing those movies. There's so much beauty in queer love and culture, and I truly cannot wait to have a genuine lasting experience.
Also, after 24 years of existence, I am finally finding true strength in the power of family and friendship after seeing the movie Boys in the Band and the TV series POSE. I'm pretty sure these were the first times I saw and understood what a ball or a house mother was, and now I'm all the more intrigued by how queer culture experiences and celebrates itself. I didn't even think we cared so much about ourselves to organize hangouts, parties and houses just to rejoice in our existence. Those movies and shows had a lot of twists and turns, but they were exactly what I lived for: the untethered, unscathed truth, the very raw and unrefined exposure, the renderings of queer life. They are everything for me.
These things need to be displayed more on our screens. Young queer folks and the successors of queer ancestors need to have some sort of guidance because whether or not these truths are accepted, all of these things we see on-screen are like a life manual for us. There's so much to learn. A lot of us are finding ourselves, defining our own paths and feeding off the experiences we see represented. There's an obvious truckload of experience, and it is up to everyone to follow through. It's inspiring, to say the least. Please do not stop!