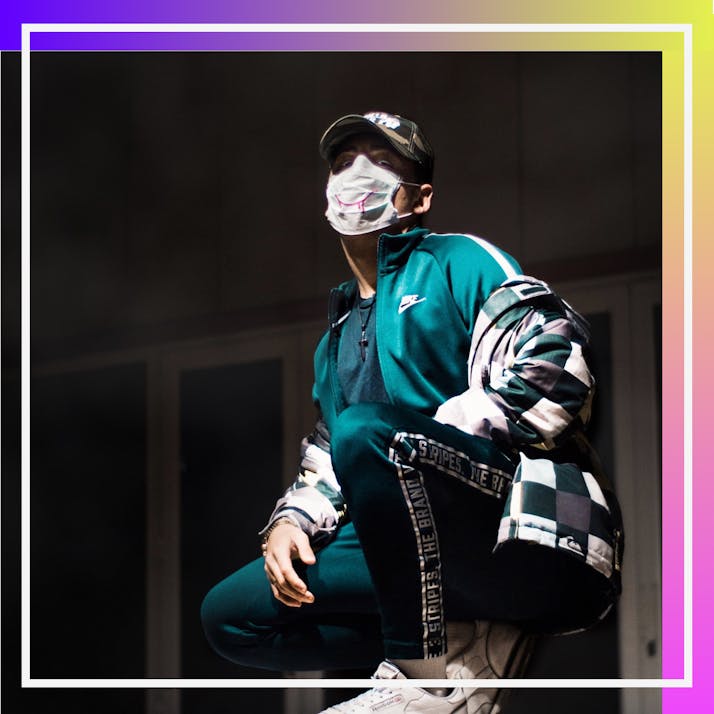 As the Pandemic Fades, Street Style Is Back: I Couldn't Be Happier
Throughout quarantine, I sorely missed dressing up and looking presentable— for more than one reason.
/ / /
Slipping into shoes other than my go-to casual sneakers has been a rare sensation as of late. Heck, seeing anyone do the same has been, too. When I watched Rihanna bounce confidently into an L.A. grocery store in March this year in towering heels, along with a designer mini fit, Versace sunnies and a neon green face mask to match, it was almost too much to take. I was glad to see the style queen return to form. Witnessing more and more moments of people enthusiastically dressing up again signified something deeper to me. It got me buzzing, especially since lockdown reared its ugly head.
This past year, the fun approach to fashion got lost in the serious concerns of the pandemic, and I've missed it. As restrictions ease and we find purpose in being presentable again, some have returned to showy stylings outside of the house. But while some might have favored the switch from suits to sweats in March 2020, for me, being confined to home for endless months (with no need to fix myself up to go anywhere) left me with a sense of lost identity. I fell deeper into the cycle of putting on a hoodie for the next errand run, and my mourning got heavier as I tried to remember the essence of who I was before this pandemic began. 
I Missed the Creativity and Self-Fulfillment of Fashion
This past year, the enthusiasm to put on a presentable outfit was dampened by not only the removal of social engagements but job losses brought on by businesses shuttering in lockdown. Aside from work uniforms, the detachment of purpose from ensembles altogether in the earlier period of the pandemic made fashion suddenly a foreign interest and ultimately seem pointless even to me, someone who has worked in the industry as a copywriter and journalist for many years. Considering my innate love for fashion, I was concerned with my initial detachment and for the industry itself, as shows and collections stopped and design schools shut down, crushing students' routes to career success.
It just felt like there wasn't a place for it all in the midst of the pandemic's chaos, and I felt guilty even directing worry toward the industry as people were, if not dying, getting seriously ill. In this general rejection of fashion that occurred, it became simplified as superficial, which made sense. Certain aspects of it are. However, I realized this was not the part of fashion I missed—it was the creativity and personalization behind it. These factors fuel the element of style, which has led me, along with countless others, to discover our identities and find true self-fulfillment. Here lies the difference between happiness and depression for some, and in more dramatic cases, life and death. 
Losing grip on self-identity can be detrimental to mental health, which I discovered battling this throughout lockdown. For many working from home, the temptation to live in sweatpants never sat well with me. My mood was tied to how I dressed, and so, having worked from home since before the pandemic as a freelancer, I made sure to dress presentably in my routine—visiting the gym, attending meetings or working in the coffee shop. With all these appointments wiped away by restrictions, I succumbed to wearing joggers like everybody else, letting a melancholy steadily arise within me as my proactiveness waned. Paired with not seeing people parade their personal styles out on the way to somewhere, I was left feeling uninspired and stagnant creatively.
Fashion Holds a Sense of Discovery That I Never Want to Neglect
There's an energy in expressing style that people draw from, that boosts positive attitude. Through style—defined as a unique way of arranging one's appearance—we seek references of individuality that inspires an inner confidence I've long been chasing. Rihanna emotes this best, taking to the streets unapologetically dressed, as she establishes looks that aren't subservient to trends or people's opinions of what's "hot." Seeing her strut into that grocery store not long ago reminded me how I'd neglected my own sense of style, associating it with an occasion or destination, when it should really be about how it makes me feel and how I identify with myself.
For some, it might not be an important part of life—irrelevant, even. I even thought I was supposed to consider it meaningless during this pandemic. It's perhaps why I've felt so low at times, casting aside something of personal value to me. Fashion has led me to a sense of self-discovery, happiness and escapism in the trying moments life has thrown along the way, which has made me realize that, if it holds such importance to me or anyone else reading this, then it's worth preserving. 
Seeing style return to the streets as more people reconnect with themselves through fashion has been a positive development. It's also reminded me not to neglect my own self so deeply as we rediscover a life that we've all been so desperately deprived of this past year.