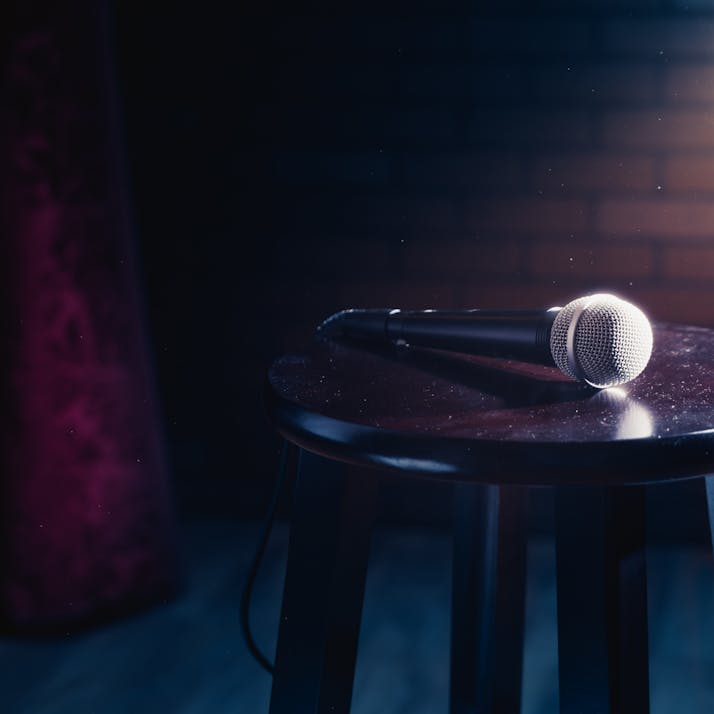 Stand-Up Comedy Is Dead, Except for Rooftop Comedy in NYC
In the shadow of the global pandemic, which ended large indoor shows, one stand-up comedian admires the way his industry has pivoted. 
/ / /
On March 14 of this year, as the coronavirus started to spread all over the East Coast, and a slow, methodic panic began to settle into the greater Brooklyn area where I lived, I was on stage at the Crystal Springs Resort in Hamburg, New Jersey, telling jokes about anal sex to middle-aged soccer moms drinking tea out of tiny, porcelain saucers. 
That was my last "normal" stand-up comedy show of 2020. 
One of the many reasons why stand-up comedy is so intoxicating is that much like 2020, you never actually know what's going to happen, and you have to prepare and be on guard for the fact that literally anything can happen: chaotic talking, clanging dishes, unexpected music piping in from the ceiling, microphones breaking, ornery hecklers, happy hecklers, supportive hecklers, horny hecklers, patrons screaming drink orders across the room, sound systems short-circuiting, cappuccino makers that sound like NASCAR engines and, oh yeah, more hecklers. 
And what makes dealing with this alchemy of insanity even more challenging is that you can never predict what kind of response you will get from the audience. No matter how much you think you know, an audience will prove you wrong just as much as it will prove you right. 
The Last Comedy Show I Did IRL
Right before I went on stage at the resort in Nowhere Fuck, New Jersey, I took one look out into the crowd and said to myself, "Well, this isn't going to go well." The show took place in a dimly lit, giant unused ballroom, (venues of this stature are categorically terrible for comedy), and making matters worse, it was impossible to find and completely tucked away in the corner of an even bigger and more sprawling resort.
Think The Shining with a sick hot tub.
We were also competing with a professional magician, who just so happened to be performing at the same time in a nearby, extremely well-lit and easy-to-find ballroom in the hotel. Spoiler alert: In the comedian vs. magician same-night show standoff, magicians win 90 percent of the time, especially with the clientele at a hotel in Nowhere Fuck, New Jersey. And oh, by the way, there were also some minor rumblings of a global pandemic coming our way.
To add even further drama to the mix, I brought Emily, a woman I had just met on Hinge a few weeks prior, as my date. We had been out a few times to some slick Brooklyn bars and restaurants and I thought it was time to up the ante for our third date. "Hey, you wanna come out and watch me beg for stranger's attention in a deserted golf resort filled with magician-hungry tourists?" And as a massive credit to Hinge and dating app matching accuracy, she said, "Sure!" 
The World Still Needs Stand-Up Comedy
The host went up and did 15 minutes on smoking weed and video games to a very tepid but expected response. Then it was my turn. As I approached the stage, I glared out at the 13 or so 60-year old women, scattered throughout the cavernous ballroom, all of whom just so happened to look like my mom, and winced to myself, "Fuckin' magicians." 
I go onstage and open with my standard jokes about having a dad bod and getting older and the crowd is giving me a light smattering of laughter. The best outcome for a comedian is a riot fest of boisterous laughter, the worst outcome is silence, especially dead silence. The kind of silence where you can hear yourself think so much that your mind actually travels back to a time when your parents told you to go to grad school. As a comedian, nothing is worse than silence. So I'll gladly take a few charity chuckles.
I then launch into my joke on modern dating and relationship bases and even before I start the joke, I'm convinced it's a huge mistake. "These women are all married and probably think 'sex bases' is the name of a new boyband," I thought. I initially got a lukewarm response on my joke but it wasn't until I uttered the word "anal" that the crowd completely erupted. And I mean a Def Comedy Jam meets The Golden Girls-style eruption of laughs. I was floored and shocked and thought, "Even with everything going on in the world and in this room, people are still laughing." 
The Future of Comedy and Humanity Share the Same Philosophy
In Dave Chappelle's November 19 appearance on the Joe Rogan Experience podcast, they ended with a philosophical discussion about the implications of COVID-19 on society. And the two comedy icons basically came to the same conclusion about life in a pandemic: "You find a way." 
And "finding a way," is exactly what the New York City comedy scene has managed to do since the onslaught of the coronavirus pandemic. In mid-to-late March, all comedy clubs, bar shows, rock venues and arenas announced the cancellation of all comedy shows. I personally had several dates on my performance calendar completely wiped out. 
The Upright Citizens Brigade Theater, the comedy Mecca and central pipeline for famous comedic talent, announced its closure on April 21. Indie stand-up venue the Creek and the Cave soon followed suit, announcing its closure in mid-November. 
But despite the pandemic's massive blow to the live stand-up and improv comedy world, comedians quickly adjusted, starting a series of virtual shows via Zoom and Instagram. In late March, I performed on an Instagram Live show for the Stand Comedy Club with anywhere from 20 to 30 fans logging on to see me perform from my uncle's toy room in Scotch Plains, New Jersey. 
Brooklyn comedian Aaron Kominos-Smith continued the tradition of his weekly stand-up show at the Postmark Cafe in Park Slope, Brooklyn, by hosting it live on Zoom at 8 p.m. every Friday. Kominos estimates the weekly show gets up to 100 views per week, an impressive number considering the live show would net anywhere between 20 and 40 attendees.
"It's amazing that we can have comedians from across the world all performing for an audience that couldn't otherwise make it to a little coffee shop in Brooklyn. We try to keep that same vibe and have a lot of repeat audiences who chat before the show, almost as if we really were in a coffee shop right before a show," Kominos said. 
Manhattan-based comedian Lance Weiss decided to put his live stand-up comedy dates on pause to focus on performing "Zoom bombs," where Weiss would crash corporate Zoom meetings to bring in some much-needed humor to spice up the endless cycle of dull and dreary online work meetings.
Rooftop Comedy Shows Epitomize the Spirit of NYC Comedy
Once the weather began to turn warmer in mid-spring, comedians started producing their shows in outdoor environments and venues. Newark comedian Justin Williams hosted a few shows at outdoor venues in his city and was thrilled with the response. "The vibe was great," he said. "Both of the shows were sold out and people in Newark were happy to see things return for a brief moment."
As many comedy clubs continued to struggle, moving shows to the front of their establishment or, like the Stand-Up New York Comedy Club, producing events in Central Park, comedian Sam Morrison found that outdoor post-COVID comedy was ripe with a whole new slew of challenges. "Comedy was too easy for me. Paying audience members in buildings? No, no, no. Give me six strangers spread out over 40 yards and a Sheepadoodle barking over us all. That's real comedy." 
Comedian Tyler Fischer described the impossible challenge of making several spread-out strangers in masks chuckle. "Doing shows during COVID was like going back to being a brand new comedian when you really didn't know what was funny. That's because most people have masks on so you aren't able to read their faces or see if they are smiling. You have no clue if they're enjoying you. That's how most Tinder dates are for me so I was kind of used to it," Fischer said.
Maybe Stand-Up Comedy Isn't Dead, After All
But despite myriad fresh obstacles, live comedy in New York has persisted quite successfully. New York Comedy Club has seamlessly moved its performances to the Midtown Penthouse in Gramercy, and the Hudson Penthouse at the Hudson Yards. The Tiny Cupboard, an artsy rooftop comedy club located in Bushwick, Brooklyn, is producing as many as 15 shows each week. The alternative space is an indie comedy fan's dream with admission costs ranging from free to ten bucks a show. 
While many comedians are appreciating the fresh opportunities for unconventional stage time, they still long for the days of jam-packed, audiences roaring in laughter. "Comedy is the opposite of COVID," Fischer said. "You want to infect everyone with laughter and have it spread to as many humans as possible. It has been rough for sure. But, hey, it got me out of the house," 
And maybe the need to get out of the house is all it took for comedians to find a way to continue to bring laughter to the world however damaged it might be. I just hope my first "normal" show back isn't in front of a bunch of people looking for a magician.