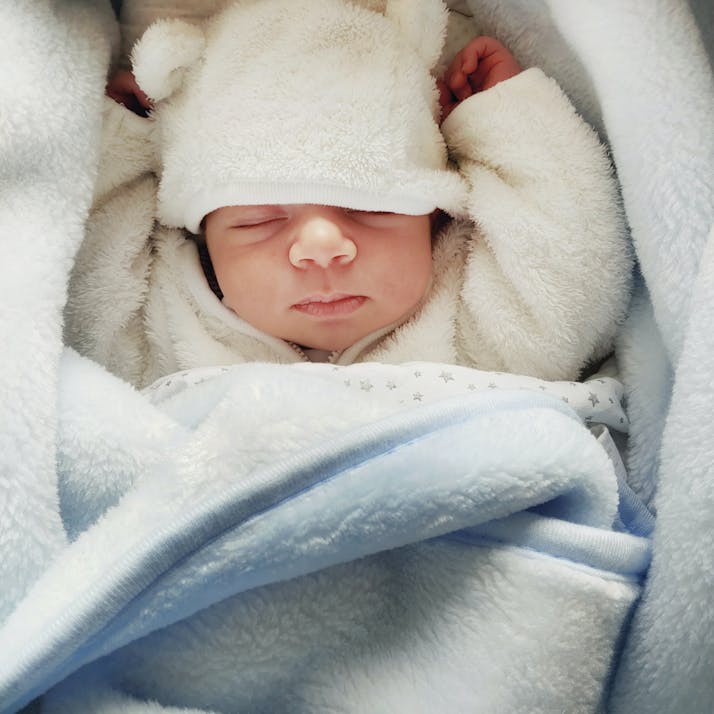 As My Son Fought for His Life, Other People Made All the Difference
When her newborn took a turn for the worse, her friends and family stepped in.
/ / /
Jesse was meant to be a straightforward, no drama delivery. After already birthing two previous children, both with traumatic emergencies, our third little boy was due to be born via Caesarean section—predictable, safe. The National Health Service midwives prepped me with a spotty gown and razor, and I was wheeled into the sterile surgical room to be injected with a substance that would numb my body from the shoulders down.
Within minutes, Jesse was placed in my arms and we were taken into recovery. Then, in a flurry that I can hardly recall, a midwife noticed he wasn't feeding. Instead, he was gurgling, trying to breathe. She picked up the phone. Before I knew what was happening, they had taken my boy. 
Apparently Jesse's lungs weren't working as they should, weren't giving him breath to inhale. He was taken to the Special Care Baby Unit (SCBU) and I was taken to the communal room where the mothers hold, feed and sleep with their new babies. All I could do was weep. He should be here with me. I should be feeding him, dressing him, cuddling him. Instead, I have to be pushed by a midwife to SCBU to meet my baby. The first time I saw him on the unit, in a plastic enclosure, I rained tears. He was sedated, tubes everywhere, wires, beeping machines. I held a pillow over my incision wound and struggled to catch my breath between sobs. 
This was the start of his journey. And this was the start of overflowing kindness amid trauma—kindness done out of duty and expectation, but kindness nonetheless.
People Simply Doing Their Jobs Became My Heroes When They Saw My Pain
That first night, a night I had expected him to be keeping me awake, I lay behind my curtain in agony. As pain meds wore off, the incision pulsated pain throughout my body. Between the trapped wind from the surgery and crying each time I heard a mother talking to her baby, I could scarcely breathe.
A sympathetic midwife heard me and pulled back the curtain to ask if I would like a private room. It was a powerful gesture. It's her job to make sure I'm safe and comfortable, not to go out of her way to spare me the pain of hearing babies cooing. She didn't have to, but she did.
The next day, the doctor who delivered Jesse came to visit. He assured me that he was checking on Jesse and looking after his care. The doctor had become our friend over the course of the pregnancies and births of our three boys. Knowing we shared the same faith, he asked if he could pray for us and for Jesse's lungs. Following up on Jesse, praying with us—he didn't have to, but he did. 
In the middle of the night, I couldn't sleep. I wanted to go sing to Jesse. A midwife on her nightly rounds saw that I was an emotional mess. She made me a cup of tea and asked if I wanted a wheelchair ride to SCBU. She had other patients to tend to, other tasks on her to-do list. Yet she took the time for me. She didn't have to, but she did. 
We were told that Jesse wasn't getting better and that he needed intervention at a hospital an hour away. My husband's mum and dad stepped up. They moved into our house for the entire time we ended up being away, acting as parents to our lively boys. I'd expect them to care for our boys, of course. That made it no less kind. They didn't have to, but they did. 
You Never Forget the People Who See Your Struggle and Decide to Help
In that time, my husband and I lived in a flat financed by families who'd had premature or very ill children in the NICU of Jesse's new hospital. People we would never know gave us the opportunity to stay near him during treatment: kindness. The doctor who let me take Jesse out of his incubator for the first time, with all of his wires and tubes, to have skin-to-skin contact with me: kindness. The nurse who let me phone in at 2:30 a.m. to make sure Jesse's oxygen levels were normal: kindness. The desk clerk who gave me free meals to support my constant pumping of breast milk: kindness. 
Amid those many memorable gestures, nothing surpassed the "NICU necessities" gift bag our friends drove nearly two hours to deliver to us. They'd had a little boy born far too early, requiring them to be back and forth to the NICU for months. With all their experience, they dropped a bag full of unexpected lifesavers: Chocolate and sweets to be eaten when we needed a pick-me-up. A portable phone charger for when we had nothing to do but sit beside his incubator and flick mindlessly through Facebook. Hand cream for our dried hands that had to be washed upon entering and leaving the NICU. And coffee to provide energy to fight when we had none. Our friends knew the road we were walking and went out of their way to make sure we had their love, support and empathy. 
So much of the kindness we experienced after Jesse's birth was what you might expect. Nurses, doctors and midwives are paid to do a job. My in-laws are grandparents, after all, and should be ready to step in during an emergency. Friends are supposed to have your back when the going gets tough.
Their duties, or my expectation of them, doesn't change the fact that I accepted all that they did as kindness. They made my husband, my children, and me feel safe and loved. Recognizing and appreciating those kind acts gave me life during the weeks that followed a period of trauma. And that feeling, I admit, I did not expect.