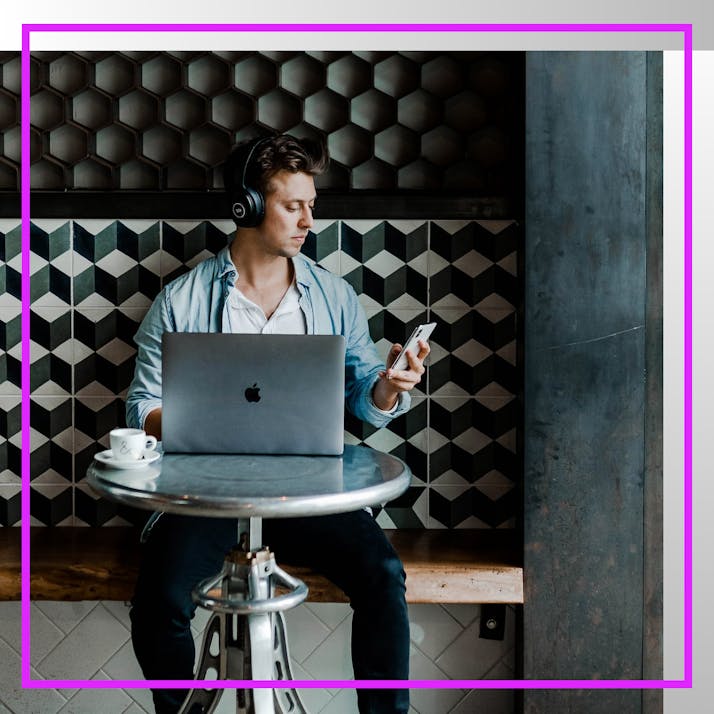 Social Media Addiction Has Poisoned My Writing
I've been glued to my phone since I was a teenager, and the repercussions are affecting my career.
/ / /
It's early January and I'm preparing to return to work after the holiday break. The world of freelance journalism is fragile even at the best of times; workers are underpaid and underemployed, forcing them to support their writing with more predictable forms of employment. But one of the few benefits this anxiety-ridden situation offers is a near mandatory two-week holiday for Christmas. 
Editors, possessing a semblance of job security and union-backed, non-work perks, are certainly not willing to let the editing process creep into their well-earned holiday break. For anybody who relies on pitching ideas out of the blue as part of their livelihood, everything slows in December to a near standstill, jolting back into action on the first Monday of January in alarming fashion.
That fallow period means a lot of time for writers to twiddle their thumbs, as those who spend a not insubstantial amount of time living in their job face down their sudden incapacity to work. Naturally, the default reaction is to open Twitter and contribute to annual, community-wide trends. All manner of round-ups appear, and onlookers gaze bemusedly at this new form of Christmas window shopping: Writers share their good writing, then their favorite writing from other writers, then a smattering of professional recaps, then some cute, festive photos for good measure. 
At a time when in-person festivities feel stranger than ever before, the flurry of this sort of content signifies the start of the Advent period. In a relentless profession driven by well-meaning if ruthless competition, it's nice for that community to finally, collectively exhale and shut up shop for the year.
However, not content with publicly packing down between Christmas and New Year, declarations that this year will be the year when the phone stays switched off over the holidays quickly appear. The decision implies self-love combined with a handy out-of-office. For some, guilting themselves into quitting is the only way to take that digital detox (just as it's very easy to announce a break from social media, it's also very easy to publicly break that promise). But it also comes with a hint of smugness: "Now that I've shared all my successes, I'm going to go one better and quit this thing that you all can't shake. See ya!"
My Social Media Job Gives Me an Excuse to Keep Scrolling
I'm very much part of that trend. Having shared my final article of the year, I tweeted my own "I'm logging off for some quality time" notice on December 23. That principled stance lasted a grand total of 22 hours before I began firing off angry 3 a.m. tweets about sports. Forget the first hurdle. I'd barely made it out of the blocks before succumbing to temptations.
It will come as no surprise that I'm addicted to social media. The addiction is not platform-based; I've been glued to my phone since I got my hands on a brick-like device at 13 years old. But social media's capacity to seep into the cracks between work and pleasure means it's a more astute adversary than, say, Snake.
Nowhere does this exist more than in work. During the pandemic, I took on a social media job, average pay for when journalism was quiet. It was a self-destructive move borne of economic necessity, but the most damaging aspect was its just-about-passable justification for doing nothing about my addiction. "I'm working!" I'd claim to my friends as I sat on the sofa, reposting the occasional bit of content for work but mostly just scrolling endlessly.
Online Engagement Is the Only Way I Judge My Work
It was only when I eventually quit my job that I realized my behavior was bordering on psychotic. Attempts to deal with it had just meant I'd found more creative ways to entrench the addiction. Turning off notifications meant I'd circle the internet, checking my tweets for engagements, seeing if anybody had tweeted me, followed me, unfollowed me, read my messages, mentioned me in an article. It was horrid.
That addiction has had a knock-on effect on my writing. In place of an unshakable belief in your own ability, these days, ways of judging the "quality of work" comes through online engagement. The more people that engage with it online, the better it is, right?
It's part and parcel of today's media landscape. The race-to-the-bottom nature of news journalism, in particular, has led to a whole value system based on clicks, engagement and digital populism. A few months ago, a person on my feed announced she'd secured a job she'd dreamed of since she was a child—as an SEO journalist, charged with pumping articles full of internet-friendly buzzwords to ensure people click on her article, not somebody else's.
My Goal Is to Stop Sharing Everything All the Time
Social media is embedded into the process of writing at such a level that it's easier to imagine the end of everything than a world without social media. Work-wise, in place of face-to-face meetings, professional relationships are fostered online, and it's the prime trading ground for work callouts, scoops, trends, subjects, breaking news and insider gossip. On a wider level, ideas are formed because of stuff that's happening online; it's then written (usually online) and shared online. 
How can we make this healthier? One way is by targeting focused communities of people interested in niche things on subjects, not personalities. Reaching a thousand people might not seem like much, but a thousand passionate people are certainly more supportive than a hundred thousand onlookers. The second is to log off for shorter periods, more regularly, without telling anybody.
And that's the final thing. My New Year's resolution is simple: Stop sharing everything online! In the new year, I will be tweeting less, browsing less and hopefully learning to be more like myself, away from my internet disguise.