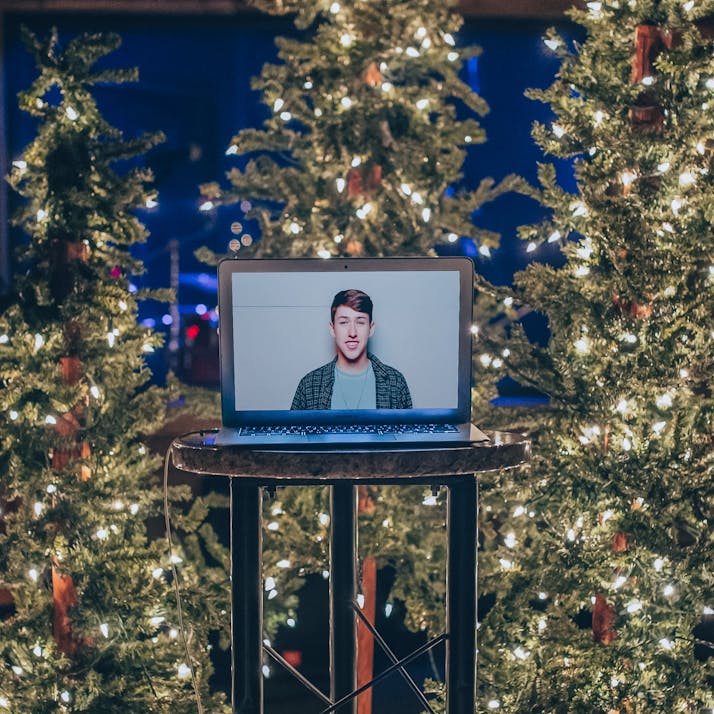 This Year, Let's Be Grateful for the Chance to Have a Virtual Christmas
Nothing can replace in-person connection, but video technology allows us to celebrate the holidays with loved ones, miles and oceans apart.
/ / /
The year 2020 will go down in history as the one in which Zoom dominated the world. As COVID-19 forced millions into lockdown across the globe, online communication became an essential part of daily life. But after months of e-learning, virtual hugs and video conferences, it seems we've all had just about enough of living our lives through the internet. 
Zoom fatigue is real, and our reliance on technology amidst this pandemic has exacerbated what was already a love-hate relationship. The need for physical connection has never been greater.  As 2020 hurtles towards the Christmas and holiday season, many are confronted with the prospect of their first "Virtual Christmas." The usual family get-togethers will be postponed, grandparents will be shielded from their grandchildren and loved ones will rely on an internet connection to feel close to each other this year.  
As my own family prepares to be separated for its first Christmas, I can't help but remember a time in my life when technology kept me close to my beloved grandmother who lived some 6,000 miles away. 
My Last Conversations With My Grandmother Were on Skype; I'll Never Forget Them
In 2016, I was living and studying in the United States during my year abroad. Half a world away, my 80-year-old grandmother was living on her farm in Ireland. She bought a laptop and learned how to Skype for the sole purpose of keeping in touch with me. Every Wednesday for six months, we met at 5 p.m. her time (and 9 a.m. mine). Invariably, she had returned from an afternoon walk with her dog, while I was waking up to another glorious day in sunny California. We were worlds apart, but for that precious hour a week, I was transported back into the home that I knew and loved so much.
She was my cheerleader and had supported me throughout my life. After I told her my plans to move to America, she would send me a letter through the mail each month with money saved from her part-time job. She was servant-hearted to the core.
My grandmother was born in England during the 1930s and later evacuated to Ireland as World War II broke out. She was a dutiful mother and wife but capable of so much more than the role society asked her to play. She is the reason I believe women of my generation owe so much to those whose shoulders we stand on.
She unexpectedly passed away at the end of my time in America, and we never knew that those weekly virtual conversations would be our last. Losing her left a huge void in my life, but I will forever be grateful for the gift of Skype for helping us share some precious moments together. Thanks to the miracles of the internet, we had six more months of conversation before unknowingly saying goodbye. 
It goes without saying that virtual communication is no replacement for real-life contact. But what a blessing to be able to listen to a loved one's laugh and see them smile one whole continent and ocean away.
This Christmas will be like no other, but that doesn't mean we can't still feel close to those we love. The year 2020 continues to teach us valuable lessons about gratitude and appreciating the small things in life, and this virtual, festive season presents the perfect opportunity to practice just that.