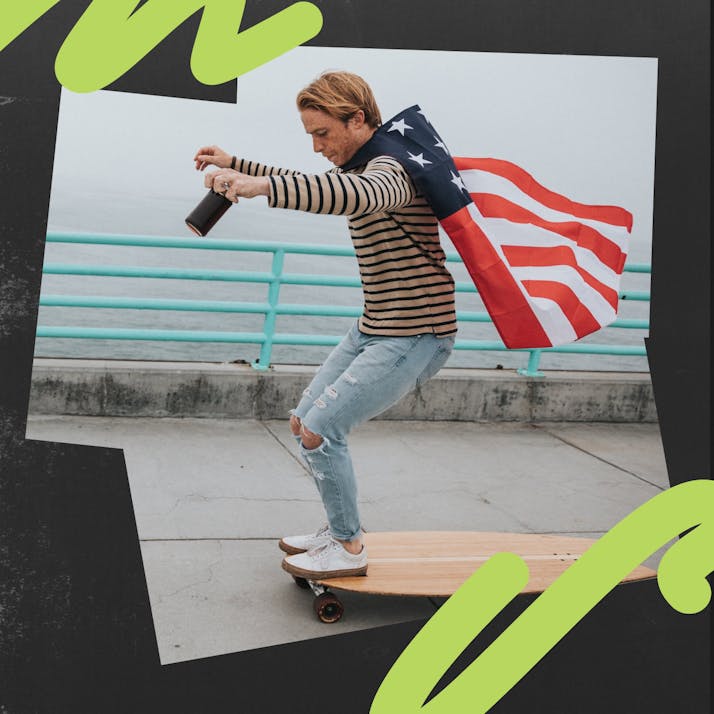 Kickflip Diplomacy: How Skateboarding Programs Erase Borders
After retiring as a professional skateboarder, I saw how the sport could transcend religion and country. 
/ / /
My first reaction was surprise. During a meeting with the U.S. State Department to promote skateboarding for their sports diplomacy program, I asked officials why it hadn't already been incorporated like ping-pong, gymnastics and so many other less popular sports in the global landscape. The response was simple: "Nobody from the skateboarding industry has ever contacted us." 
I had retired from my professional skateboarding career at the age of 40 and it was my mission to pass the sport's gifts and creative flexibility onto the next generation.
I was brought into the meeting, which took place in 2011, by another advocate working on a skateboarding program in Israel that connected local Palestinian and Israeli youth on the border. Soon, I found myself in front of ten suits from the Department of Defense on down, giving a PowerPoint presentation on how to incorporate skateboarding into our diplomatic relations with the Middle East.
Skateboarding Offered Evidence That a "Cool" Thing Came From America
That meeting was initially inspired after my friend and I had launched a skateboarding program for a New York City high school P.E. class. There was a mosque next door to us that had a community garden, and the Muslim children became invested in it and helped us build a mini ramp in their playground. That's when I realized that this was something that could build friendships and bridge gaps across cultures. At the time, America had troops in Afghanistan and Iraq, and I saw skateboarding as a push for peace. To these Muslim kids, it was like they saw skating as a magic carpet. 
The imam, the head of the mosque, was thrilled to see his own kids pick it up and have fun for several hours day after day. Girls in hijabs riding skateboards in Lower Manhattan would have never been imaginable 20 years ago, but right before our eyes, we were seeing it. At that moment, with skateboarding being such an American creation, I realized it would help us promote our culture in the Middle East without having to slap a flag on everything. The simple act of skateboarding itself showed that a cool thing came from America. "Cool" was the keyword, the most powerful thing we export.
Skateboarding Gave Me a New Way to Look at Ordinary Things
Before I was a professional skateboarder, I would see things that weren't recognized by regular people around me. A simple curb, smooth ground, rough Florida asphalt, unpaved road—it was all an opportunity for fun. Whether it was being kicked out of local city halls and college campuses, or getting in trouble for trespassing or destroying public property, all we wanted to do was explore the terrain on our skateboards. It was a means of knowing. It was a place where walls could be ridden, railings could turn into balance beams, ledges could become slides. Through the lens of a skateboarder's eyes, I experienced the struggle of failure in learning new tricks, and the feeling of success learning one for the first time.
I remember the moment I realized I was flying off the ground, only three inches above it, just by standing still on my board. It felt like a gift to have the ability to sense the textures of the ground, like braille, beneath my feet. Even with my shoes on, being able to feel the difference between a rough concrete floor and a smooth marble plaza provided hours of endless fun.
I didn't make a lot of money off of skateboarding, but I did make a lot of friends around the world, and friends are the gold that can't be bought or sold. In London, Paris, Milan and New York City, I made vast networks of friends at skateparks built by the cities to serve a community of future creators and designers. Now, 20 years later, people in cities and governments understand that skateboarding is an asset to the community at large. By investing in outdoor spaces, cities allow the youth to get away from the day-to-day stresses of life.
The skatepark in many cities is the de facto teenager park. Most cities spent money on dog parks, playgrounds for small children, tennis courts, basketball courts and nature trails for the elderly. But the group that is most overlooked is the group that needs the investment in recreation the most. Whether you skateboard or not, the skateboard community is inviting and accepting and gives the most at-risk youth in our society a healthy release in an otherwise stressful time in life.
The Global Expansion of Skateboarding Is Imminent
Today, one of the largest Middle Eastern skateboarding facilities, Skateistan, is in Afghanistan, where Muslim children are able to take classes in reading, writing and math. When they're finished with their education for the day, they get free time to skate in the facilities. The park is separated by gender, and it's one of the only athletic activities that the country allows women to continue doing after puberty. It's been funded by the Danish government, Nike and the International Olympic Committee, just to name a few.
Skateboarding's acceptance into the delayed Olympic Games of 2020 signals that the global expansion of the sport is imminent. It's great to see cities all over constructing urban plazas that actively engage with consulting the skateboarding community. Seven years after our proposal meeting, the U.S. State Department included skateboarding in the sports diplomacy program under an umbrella called Sports Diplomacy (formerly SportsUnited). I can't think of a better way to win hearts and minds than with sports and arts. 
This little simple wooden toy that started in the United States has now transformed into a global culture that has helped countless numbers of people find lasting friendships and share a common passion and imagination.