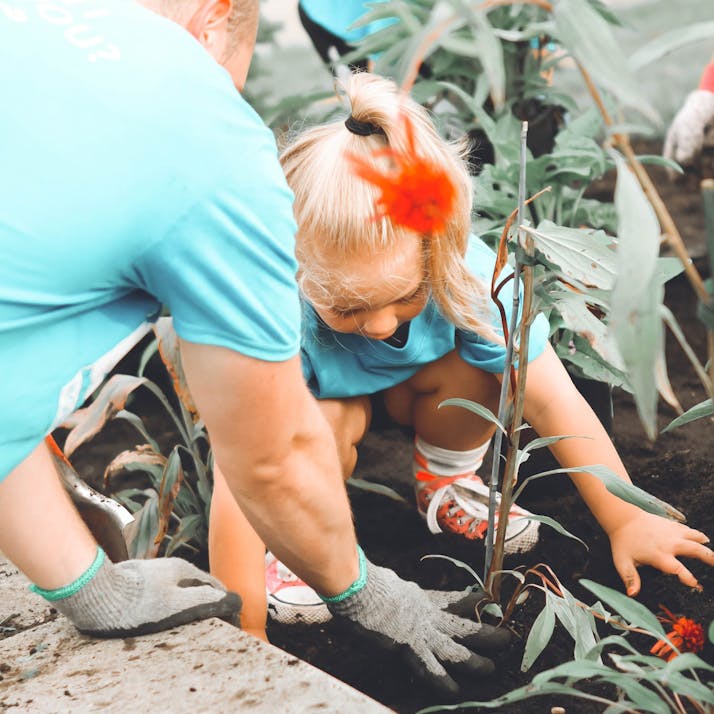 We've Come a Long Way Since the First Earth Day
Until 1970, there hadn't been any major initiatives to address humanity's impact on the world. Thankfully, that changed.
/ / /
When I was 17 years old, I worked at a Los Angeles insurance company where I punched numbers in a calculator the size of a Fourth of July watermelon. On the day before the very first Earth Day, I went to the president of the company and asked if we could celebrate. I didn't understand, at the time, why it was OK for me to walk into anyone's office at any time. I was pretty, I wore miniskirts and I had world-class legs. That said, no one in the building except me knew about the book Silent Spring by Rachel Carson. Or about Earth Day. I tried to explain to him about conservation and pollution.
I could have mentioned that four years attending high school across the street from Disney Studios was like playing miniature golf at Three Mile Island—there was more smog than air. When a wayward skunk got run over on the Ventura Freeway, the smell was refreshing. We all believed that we had to stop the Vietnam War, but there were precious few people on that first Earth Day who rallied for clean air or saving trees and streams. I cared, but I didn't have any idea at the time that my blue-sky childhood would return thanks to regulations, new flight paths and amazing automotive engineering. 
Nobody at My Job Cared About Earth Day
Outside, we lived in a yellow atmosphere version of Blade Runner, while inside this downtown L.A. skyscraper, it was Mad Men on steroids. The president poured himself a Scotch and got an erection somewhere between me talking about making a poster of "the earth" for the lunchroom and how trees make oxygen. He only had one question for me.
"What are you going to wear?" he asked. "Everyone got a kick outta you in that Santa jacket without the pants. What are those tights called? Oh, yeah, fishnet. Sexy. Fun. Good for morale!"
I went back to my desk, right next to another desk where a woman named Beth, who should have been named Lois, chain-smoked and, hourly, pulled out a bottle of gin from the bottom drawer of her desk and took a couple of shots. She was training me. Lois explained that the reason there were no women executives (something I hadn't noticed) was the same reason there were bathrooms for men and for women. I chose to believe she was being very deep.
Lois taught me how to do a job—one I would quit a couple of months later—that would one day be done exclusively by computers. She also taught me how to dodge any sticky sexual situations."Tell the rat bastard you have cramps." Men and menses—incompatible. Her take on Earth Day was simple: "Will there be free cupcakes?"
Young Mothers Urged Congress to Care About the Environment
So, what made Earth Day happen?
The sheer number of environmental issues in the late 1960s and early '70s are historically well-documented. But the love for clean water and air, not so much. I think a lot of people who worked in the same office as I just thought the environment would get better or…it wouldn't.  
But the Cuyahoga River in Ohio repeatedly caught fire due to floating debris and oil. It blazed out of control in 1969. An oil rig leaked millions of gallons of oil off the coast of Santa Barbara. The bald eagle was dying out due to DDT poisoning. Whales were hunted nearly into extinction.
Senator Gaylord Nelson and environment advocate Denis Hayes (Mr. Earth Day) honored that research. Although college campuses were preoccupied with ending the war, the bulk of mail being sent to Washington, D.C., was from young moms, with one or two children, noting their frustration that nothing was being done to protect the environment for their children. These two wonderful men, with a nexus of American mothers behind them, organized and created Earth Day.
In 1970, the first Earth Day was observed by 20 million Americans and is now celebrated by over 200 million people in 141 countries. The concept of taking a day to honor and protect our planet not only hit a nerve, but it stuck around and has grown to include things like Fire Drill Friday. In 1970, we loved James Bond. Now we love Greta Thunberg. Jane Fonda was huge in the '70s, and now, Jane Fonda is still huge. Fire Drill Friday is here to stay and weekly reminders from Greta and Jane help us understand that everything, even our sun, has an expiration date. So, life is more precious, even the life of a ferocious salmon fighting its way upstream to spawn. Props to salmon.
Earth Day Remains an Important and Progressive Tradition
Why did Earth Day stick around?
The 17-year-old in me still believes that human beings care about nature, even if they don't understand the science. Sunsets are breathtaking; wild animals are fascinating; the ocean—don't get me started. I love the ocean. The day I got my driver's license, I drove to Zuma Beach to watch dolphins bodysurf. Years later, the VP of Greenpeace asked me to write a film about the remarkable journey for one of their most adventurous "Save the Whales" expeditions.
Back when San Francisco Mayor Joe Alioto proclaimed the very first Earth Day, Northern California partied in the streets for two days and nights. You've got to love California. I mean, even President Richard and First Lady Pat Nixon planted a tree on the South Lawn of the White House. 
And back at our generic insurance company in downtown L.A., I made a truly atrocious poster and dressed as Mother Nature in a sheer ballet tulle skirt and pink tights with flowers stapled in the right places. I didn't make the news, but the president of the company had one classic (not classy) comment.
"Pink tights aren't as sexy as black fishnet, but the flowers over your boobs were real fun and good for morale," he said. 
Sometimes it is nice to take a moment to reflect and realize that we've come a very, very long way.
And, yes, there were free cupcakes.