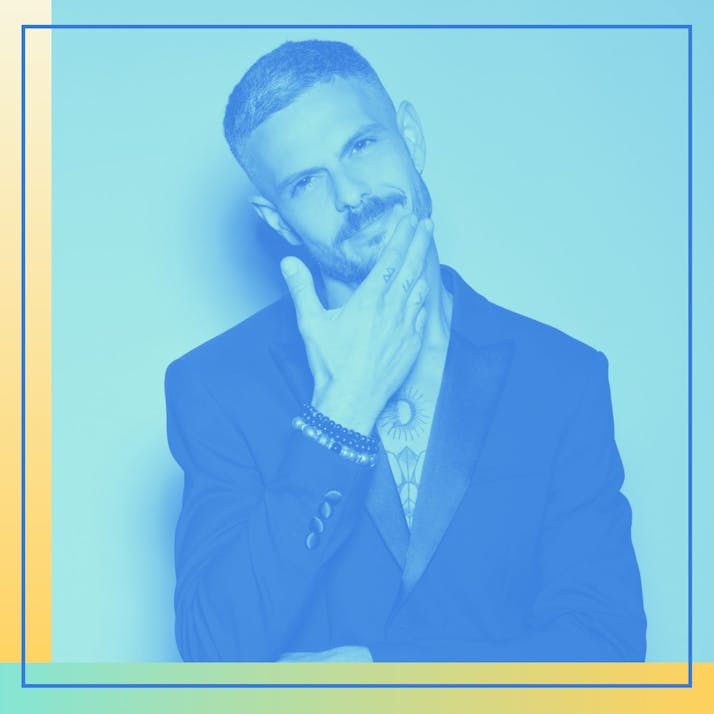 My Relationship With an Older White Man Made Me Question My Identity
I was his latest exotic fixation—but who else was I?
/ / /
When I joined Tinder, I wasn't looking for a serious relationship. Perhaps it was the seeming endlessness of COVID-19, or maybe I was just going through a lonely period of my life.
Either way, I'm getting ready to go on a date with this guy. 
It's a bright summer's day in June. I'm bored and want to try my luck. He pulls up in a black Tesla X, wearing a nice fitted blue shirt. Cute. White.
I've always been interested in power dynamics, growing up looking for a place to belong, both culturally and socially. He looks superficially like a well-rounded person: blue-collar job, well-traveled and a much better communicator than I am. But if you look closely, this appearance of safety is not the same as stability.
We go on a couple of dates. Over meals, he tells me about places I've never been to, and I can't help but be fascinated. When my birthday comes, he wants to take me to a spa out of town. He tells me my calm demeanor helps him fall asleep. 
It's strange how a man with so much experience doesn't necessarily have the same level of understanding of love, intimacy or romance. Small things irk him, how I remind him of his last husband. I am not his ex, but he still sees those qualities in me. 
He Wanted to Sweep Me Off My Feet, but I Just Felt Unstable
After knowing each other for just a couple of months he sends me a detailed email explaining why he loves me and why we should live together. This is a red flag for so many reasons. Having a man proclaim his love for me is validating, but I can't help but feel uneasy about his overexcited willingness to commit. It's apparent that this is not based on actual love, but more like a forced idea of it. 
His recent lovers all looked something like me. Brown-eyed, dark-haired ethnic boys. There is something about the way he eats chocolate as a way of flirting that is, in its own special way, almost perverse.  
He gives me the keys to his apartment after knowing each other for just a couple of days. Bright, blue eyes and a deep voice saying, "I trust you with this."
I start to feel trapped, both emotionally and physically, when we're seen in public together. The awareness of my brown figure next to his, and what that would mean for others culturally and socially.  
What I've been looking for is a challenge or a way to learn. Intimacy has always been an issue for me since I could remember. It's not that way for him. He has been married before while I am fairly new in the dating game. 
He is good-looking and idealistic. I am a young, creative and pragmatic being. He is a white man, clearly in a state of depression. I can't help but feel bad for him. 
"This was good timing," he says, but for me, it might actually be the worst timing possible. I am newly single and just ready to meet people again. 
"I am not ready to date as seriously as you want us to," I reply. "I mean this is becoming too much, too fast."
His Gaze Was a Trap That I Needed to Escape
He makes me quite aware of my appearance, my exotic looks. I enjoy our acts of intimacy and feel good about seeing my appearance seen so desirably. But there is something else in this external gaze of myself. 
My ethnic body is being seen as foreign, other, and because of that, desirable. He dresses me up in white pique shirts and colorful shorts. (We clearly have different tastes in style.) When he walks in on me showering, I feel reduced.
He admires how I can talk about the arts, culture or absolutely nothing for hours. I can't tell when he zones out or just doesn't know what I'm talking about. He compliments my dark eyes, tells me they look just like the buttons on a teddy bear. 
I've always tried to stand up against stereotypes. Victimhood is not something I am proud of. But maybe what makes me uneasy in the relationship is how it perpetuates these differences. Latin stereotypes equal spicy housemaids; temperamental. I can't escape the notion of being looked at as dirty. He says he loves me, but every kiss he gives makes me feel ice cold.
To keep me in this dynamic is almost disrespectful to me. I tell myself in the mirror, I have to leave him, there is no other way now.
I take one of his cigarettes and walk outside to the balcony to think. The weather doesn't make sense. Through our differences, I still see myself in him. How we both cling to things for dear life. But we are not a couple, and this is not love. 
How do I leave a man who has decided I'm the love of his life? How do I leave a man that needs me around every day, but has only known me for two months?
The exoticism narrative that I feel is in one way oppressive and unjust to my being. On the other hand, it is a great source of my identity. There is something with being looked at as exotic that I take as a compliment. This is where my power lies.
Standing there, the gentle breeze makes me realize how utterly unhappy this relationship was making me. I turn around and slowly go inside the three-room apartment. The key to the apartment must be in the bathroom. I remember I saw it there. 
I open the door, knowing full well he's in the shower. 
"Babe, do you love me?"
I don't answer. He asks the same question again. 
"I can't hear you. The water is too loud." It's the best lie I can come up with. I mumble to make it believable. 
"Jump into the shower and kiss me, babe."
On the counter I lift up the pants he was wearing. Correct. The keys are underneath.
Being Objectified Made Me Lose Sight of Who I Am
There is a sense that my ethnicity is preventing me from coming across as genuine or real. When I communicate with men through social media, their view of me is much more controlled. I make myself into a character for their benefit and mine.
In certain situations, I am not exotic enough. My knowledge of food, language and culture do not always reach where they're expected. I am ashamed of my ethnicity. But having it be seen in a positive light, even though it might feel degrading, still gives me some notion of value. 
I've become quite aware of my own physical appearance. Am I pretty now? Am I desirable? Am I being looked at? In bed I am passionate; being wanted gives me that extra edge. 
In ways, it helps to think of myself as an object. Not a human being, but something more decorative.
I know what I have to do. I undress and jump into the shower with him. This is erotic power play, where I present myself as just as clean and just as equal as him. Still holding the key in my hand, I look into his bright blue eyes. His face expresses something between shock and lust. 
I know getting wet like this is counterproductive, but it's a decision I only could make if I was sure of my case. I am leaving him, no matter what it costs. 
I stop the shower and hand him the keys. 
Before he understands what this gesture means, I exit the shower, grab my belongings and get dressed. Another power move, as I escape out of the door.