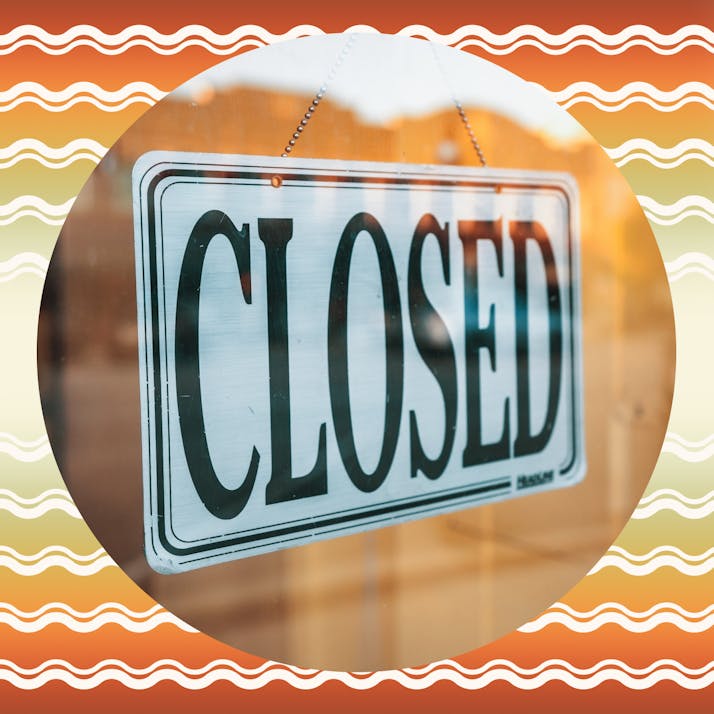 I Ran My Own Restaurant—Into the Ground
I never dreamed of working in the food industry, and it turned out to be a nightmare.
/ / /
Cooking was a huge part of my childhood. My mother was an accomplished cook, and despite having a very busy career as a doctor, she loved to wind down by creating elaborate meals on the weekend. I was raised on a steady diet of Indian food, which she learned to cook during her college days, along with a range of other dishes rarely seen in most Irish kitchens at the time. My love of cooking stemmed from these experiences, and as I grew into a young adult, my sister and I spent more and more time in the kitchen perfecting our own skills. 
But cooking was not something I ever considered as a career. As I waded through my final year of high school and considered my college choice options, I was disgusted when my father suggested that I consider a career as a chef. I thought it was beneath me. To my mind, cooking was a hobby, not a career. I did it for pleasure. I had no intention of turning something I loved into an actual job. 
Cooking Was a Pleasure for Me, Not a Career
As I grew older, still struggling to find the right career path, I began to reconsider. I knew I didn't want to be a chef, but the idea of running my own small cafe held immense appeal. I visualized myself spending hours designing menus and researching niche suppliers to create something unique. Eventually, in 2015, the opportunity to open my own cafe with a financial investment from my partner presented itself. Despite my misgivings, I hastily jumped on the bandwagon, caught up in the momentum and excitement around the project. 
The cafe was located in a college town just outside Dublin. With 10,000 students living in the town and a wealthy population, everything looked good on paper. The previous owners had put a lot of time and money into it, creating a business that was both profitable and successful. The cafe was the place to go for the wealthy ladies who lunch, and the day I received the keys to the business, it was packed to capacity. It was also the day that the head chef quit with no notice, leaving me with junior staff trying to hold it together. 
I froze. It suddenly dawned on me that I had no idea what I was doing, and my fear was palpable. The staff viewed me with suspicion, and I knew that they sensed my inexperience like blood in the water. My first day in charge was a blur, and at my tiny desk in the makeshift office above the cafe, panic flooded through me as I realized there was no going back.
I Was in Over My Head, and Everyone Knew
Things fell apart very quickly. I had no confidence in my ability, and it was obvious to all around me. I struggled through the first year with a rotation of staff who never stayed long enough to learn the necessary skills. Those who had worked there prior to my taking over resented me and any changes I tried to make within the business. They knew better than me. The customers, too, were resistant to change, and when I eventually revamped the menu, it was met with disdain. They didn't want a new menu and, time and time again, I was reminded of this. 
Through all this mayhem and confusion, the crowds started to dwindle, and the profits began to fall. Stress became my constant companion. I began to hate the cafe and all that was related to it. The bills began to mount up, and it wasn't long before my taxes became overdue. 
I had taken on the cooking duties, churning out a seemingly endless stream of bread, cakes, scones, soups and salads, all the while hiding from the world in the steamy confines of the kitchen. I took solace in cooking, but my lack of confidence and business acumen was taking a deadly toll on the business. Every day was a struggle to make ends meet. My responsibilities weighed on me heavily, while the staff viewed me with growing contempt and suspicion. I began to hate going to work.
My dream had become the ultimate nightmare. 
My Cafe Quickly Reached Its Messy End
Through all of this, my partner looked on aghast at how I was handling things, yet offered little or no support. Anytime I tried to bring up the subject of how I was struggling, he told me he didn't want to know—"Just sort it out." I stopped trying to talk to him and retreated into myself more and more. The bills were becoming unmanageable, and I knew I was on a path of complete destruction, yet I felt powerless to stop it. It was like watching a car crash in slow motion, powerless to avoid the inevitable collision. And when it finally came, it was spectacular. 
My landlord had become increasingly frustrated with rent being late, and our relationship had soured, to say the least. When I arrived to work one fateful day, I plodded up the stairs to the kitchen, weary already, although the day had barely begun. Turning my key, I was baffled for a moment when the door refused to give way. Suddenly, it dawned on me. I had been locked out. The landlord had come overnight and changed the locks on the premises with no warning whatsoever. My mind went numb, and my body followed as a panic attack consumed me. I also felt awash with a strange sense of relief. The worst had happened. I had hit rock bottom, and the only way was up—or at least that's what I hoped. It was finally over. 
Of course, I was wrong about that, as I had been about so much. What followed was a long, drawn-out legal battle with the landlord. We tried to recoup some of the money that my partner had invested in it. He could barely look at me, and I couldn't blame him. His life savings had been obliterated in a matter of weeks, and I was the only one to blame. For a time, I was convinced we wouldn't make it through, such was his disdain for me, but eventually, the wounds began to heal, and we found our way back to each other. We were scarred for sure, but we lived to tell the tale—although he won't be investing in any business with me anytime soon. And that's just fine by me.