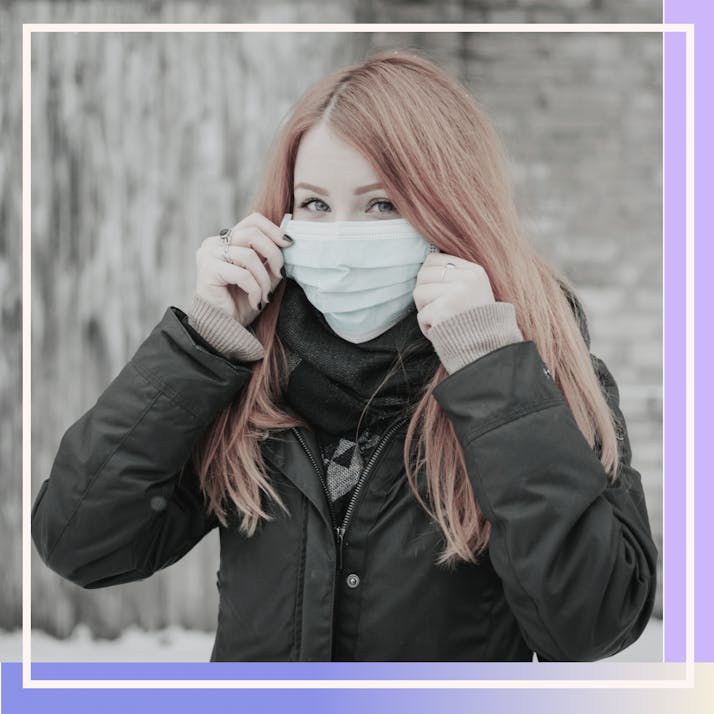 How the Quarantine Brought Me Closer to God
A Christian woman from Britain explains how she found her true religion again during the COVID-19 pandemic.
/ / /
I was raised into a Christian home, and my upbringing ticked off just about every Christian-culture, woman-of-God cliché in the book. I was the daughter of a church elder and sang in the worship band. I ran Sunday schools and led church socials in my "house group." I went to church camp every summer with my friends until I was 19, then spent my gap year traveling around the Solomon Islands as a missionary. I shared the gospel with strangers and prayed with people on the street. My faith was genuine and strong, and integral to every decision I made in life.
My relationship with God wasn't just one part of me—it determined the whole of me. Religion always made me switch off, but faith made me feel alive.
But like any relationship, ours has had its ups and downs: not on God's part, but mine.
There have been times where I haven't made the effort to listen to him, spend quality time with him or even simply check in. Our relationship isn't too different from a human one. Unlike any other relationship though, God has never let me down. He's always been there with unfailing love, wisdom and strength to lean into—something I've learned even more about during the course of this pandemic.
Distracted, I Lost Track of My Faith
Over the past year, my prayer life dwindled. I got consumed in days of work and allowed many things—things that in the big picture really don't matter—to take up my attention. That's the funny thing about our most cherished, important things in life: We think they'll always be there, so we often put them to aside to prioritize things that simply aren't as valuable.
My faith was always there, I was just distracted. It's easy when we feel that way to call it a momentary lapse in concentration, but then the moment stretches into a week, a month, six months, a year. As I drifted away from prayer and God, I'd tell myself, I'll come back to those important things in a second.
That time where I wasn't putting God first was lonely, unfulfilling, confusing and frustrating. Materially, I was getting on fine, but life didn't feel like it had much life in it at all. When we feel that way we often know instinctively what the best things are for us—exercise, good sleep, eating well, calling a friend, meditating—but that doesn't always mean we do them. I knew for sure that the best thing for my soul would be to simply talk to God again, but just like relationships in life, the longer you go without talking to someone, the more awkward you think it'll be when you finally do. So you put it off more, until so much time has gone by that you feel embarrassed, and wind up just putting it off for even longer.
Before quarantine, my life was on a treadmill, between starting up my own business, moving back to my hometown after switching jobs and all the stresses those transitions brought. When lockdown happened, it forced me to stop and reflect in a way I hadn't in a long time. The pandemic wasn't just coming for our health, but our well-being, livelihoods and families. I felt seriously afraid of what the future held.
The Quarantine Became Sacred
The past months have turned out to be a sacred time of real closeness with God for me. I have never needed him or leaned on him so much. God was faithful, even when I wasn't, and since being locked down my faith has had a growth spurt. I've not only spoken to God on my bad days, but also on the good and exciting ones. I've shared with him all the joy in my life, as well as my woes. I once thought my life would be fuller and richer if I kept on adding things to it, but I've learnt during quarantine that the key is actually subtraction. I've stripped things back to simplify them. I've put God at the center again, and in the course of doing so I've come to realize that the things I was chasing were only a distraction from the pure joy that my relationship with him gives me.
As Zoom-ed out as we all feel by this point, watching church online has revolutionized my faith, and become far more special to me than I first expected. My focus is different over video. I'm no longer going to church so much for the social aspect, or to bump into my crush in row three. (Not that there's anything wrong with that.) Now I'm tuning into church on Sunday because I want to put that time aside for space to read the Bible, pray and meditate on God's word. It's been said that during quarantine, one in 20 adults have started to pray for the first time in their lives. I would guess that there are many more of us who've simply rediscovered how powerful it is.
In times like this you come to realize which things in your life you really care about and which ones you don't. The noise of petty desires starts to fade into the background. I've started witnessing things within my spirit that I hadn't experienced before. New feelings, and a new fire in my heart. New thoughts bubbling up in my mind. New desires I needed to prioritize.
In this dark time of heartache and hardship, positive, amazing and loving things are still happening.
Unfortunately, the Government Has Shied Away From Engaging Faith
At times, this pandemic has shown the best of humanity. I've been struck, though, by the fact the word "prayer" hasn't been mentioned once by the Queen or the British government this entire pandemic—in any of their speeches, daily briefings or live talks to the public. I find that to be a huge oversight. For so many people in this nation and around the world, the power of prayer to bring hope and uplift has been game changing. Many of us have relied on our relationships with God to be their rock and help get us through. It would be so bold and wonderful if the Prime Minister and Queen encouraged us to pray in their speeches, along with advice on washing your hands, distancing yourself and being kind to others.
A lot of people have been talking online about their "quarantine glow-up." I think I've had one of my own—not in terms of new abs, glowy skin or a smaller waistline, but in my faith. My God is the God who restores, and I feel my faith has been to the Glow Bar for a much-needed shake up. This time has changed my relationship with God for the better. When self-isolation is over in the U.K., I'll emerge with a renewed relationship with him, a more grounded faith—with faith muscles that are stronger than ever.