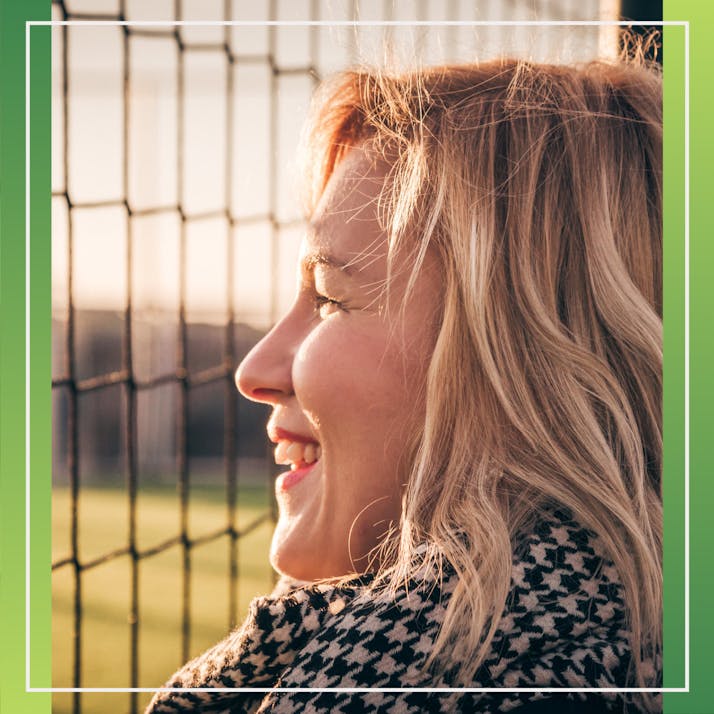 Parenting Young Athletes: What I've Learned Raising Three Daughters
A former collegiate gymnast and mother explains her philosophies on parenting athletes and preparing them for the future.
/ / /
My whole life has revolved around sports. My father played tennis and my mother ran track, and they always had a philosophy of keeping our family fit. Having two older brothers (and later, a younger sister), I wanted to do everything they were doing, and just keeping up with them naturally pushed me to become a better athlete. They played basketball and lacrosse and wrestled, while I participated in softball and swimming. But the sport that stuck with me was gymnastics. As a kid, every piece of furniture always turned into some type of gymnastics equipment. At seven years old, I started classes, which is extremely late for gymnasts now (many start at two or three years old), but it provided an everyday challenge that let me work my hardest to accomplish something and progress along the way. 
As I got better, my parents learned to juggle a lot. My father was an attorney with his own law practice, so he had the flexibility to take me to practices. I trained in the mornings and the afternoons. When you're an elite-level athlete, there's a high level of commitment—you have to know this is the sport you are going to do. Then you manage your time around it. A lot of times we practiced at 6 a.m., then went to school, then practiced again from 3 p.m. to 8 p.m. Homework was done in the car or late into the night. Gymnasts don't really have much relaxation, so you learn how to manage your time really well. I competed all the way through high school and then got a scholarship at a Division I school for four years. I would eventually train with the U.S. Olympic team, and several years after school ended, I embarked on my college gymnastics coaching career. 
Today, I have three daughters. All three are athletes. My approach to raising them was modeled after my parents—and even though I'm coaching and am away a lot, I feel I owe it to my daughters to take an active role in everything that they are doing. Every competition that they have that I'm around to see, I attend. It wears me down a lot, but I know that I'm not going to have these moments for very long. I want to make sure that their memories of their sport include me as a mom and my support of them. I want to be there whether they win, whether they lose or whether they come in last. I want to be there for it all.
My Husband and Me Already Believed in the Value of Sports
I met my husband in college—he was also an athlete and would eventually go on to play in the NFL. We bonded over our shared level of commitment, the time that goes into having to participate in a sport and were able to encourage each other in a way that non-athletes probably wouldn't be able to. We got married after I graduated, and when our daughters came along, they were high energy. We knew immediately we were going to need to channel it somewhere.
I realized I had to put them into any activity possible, otherwise, we would have gone crazy. So, from the time they were six months old, we were doing the "mommy and me" swim classes to introduce them to sports. Gymnastics soon followed as they started crawling, and at three we started putting them in other sports. We did t-ball, we did soccer, and then once they got to be five, seven and nine years old, we put them into track (because we weren't exhausting them enough with sports), which has stuck with them ever since. 
Three Girls; Three Different Attitudes Toward Sports
Our oldest is a senior in high school and just ended up getting a track scholarship for college. That was a proud moment for her because, until last year, she didn't buy into the idea that she was an athlete. We always told her, "You have such ability," but she didn't have that mindset when she was younger. Thankfully, she drives now, so she can take our middle daughter to high school track practice. At 15, she is our strongest track athlete. Since the time she was nine, she was making it to USATF and AAU Junior Olympic Nationals, doing multi- events like triathlons, pentathlons and, now, heptathlons. High jump is her specialty sport, and in the winter, we drive about 45 minutes to take her to a train with a coach. 
Our youngest is doing club soccer and starting track. She tried gymnastics competitively until she was nine, but I realized that wasn't going to be her strength. The one thing about being a coach in gymnastics is you know if your child has potential. All three of them are wired extremely differently. We have to nurture the oldest one a bit more and encourage her, while our middle one is a complete competitor and wants to win all the time. The youngest one hasn't quite gotten there. I'm sure her journey and her thought process will change as she gets older, but for now, she sees sports as, "Oh, this is fun, I'm with my friends."
Not Putting Pressure on Our Children Has Been One of Our Greatest Challenges
As parents, we've been extremely careful to not compare our achievements to theirs. We were very clear with them that we were not the norm, that what we were able to achieve—with my husband being an NFL football player and me being a collegiate All-American gymnast—not everybody gets to experience. That was our path. But they need to create their own. I think sometimes that they did feel that pressure, being around our friends and watching our return to alumni events. My husband has even been inducted in multiple Hall of Fames. They've seen it, they know what we've accomplished. But we don't want them to ever feel as though we are pressuring them to achieve our level. We try to be as careful as possible.
A few years ago, my husband was trying to get on them about not trying hard enough. I had to tell him to take a step back. When we were coming up as athletes, the world was very different from theirs. They have a lot of things to distract them from focusing just on athletics. His mentality is a little different than mine. I just step back. If they really want it, they will do it. 
Parents' Role in Youth Sports Is Part Coach, Part Teacher
One thing that defines us as parents of young athletes is that we're strict on technology. We knew we wanted our daughters to be physically active, that training your body was just as important as training your mind.
Let's face it: This generation would probably be sitting at home, watching TV or scrolling on phones all day if we didn't get them outside of the house. In that vein, my husband and I are a little sterner with our daughters. In middle school, our daughters had to get straight-As before they could get a cellphone. The only way to keep one in high school was if they participated in a sport. My mindset was: You're not gonna sit at home on a phone. You have to do something. You don't have to be great at it, but the moment you are not doing something physically active with your body, you can give the phone back, because you don't need it. We have stuck with that rule from our oldest to our youngest. It gives each of them something to work for. 
Of course, we didn't have the materialistic things that this generation of kids has. We didn't have laptops or cellphones. My husband and I were just wired in a way that we didn't like to lose. You should see a game of bowling between the two of us—it's a competitive event. I can't let him win, he can't let me win. It's the same way with playing cards or a board game. We tell our daughters that we worked hard to achieve what we have right now, and we want them to achieve things for themselves, too. 
We don't want them to think they could have everything given to them. Maybe because we were athletes from athletic families, we wanted to instill in our daughters that you have to earn things, you have to work hard for them. If you want a good job, you're going to work hard for it—nobody's going to give it to you. You are going to have to get good grades and show you're deserving. Those are the little lessons we programmed into our daughters from the time they were little. For the most part, I think they get it.
Youth Sports Parenting Is All About Learning and Adapting
It's not always easy parenting a child athlete. I think the first step is getting a taste of a sport and seeing if it's one that your child likes. Then you start asking people at the highest levels of those sports where to put them. My youngest daughter had played a year of rec soccer with our township, and we wanted to go beyond that level. So I stopped into the women's soccer coach's office at my university and said, "I don't know anything about women's soccer. I need you to help me. What direction do I need to go in?" He gave me a list of club teams in our area, and at that point, I left it with my daughter. Now, after every season, I sit down and assess with them, "How do you think it went? Do you like where you are? Is this a team we want to continue with?"
It's always about asking the right people—talking to those who know the sport. That's the biggest thing, especially if you know nothing about it. My daughters went into three different sports that we didn't really know anything about, but we wanted to make sure they were going to a place where they would get good training, especially if we were going to pay for it. Being able to go and observe, to see how the coaches talk to their athletes is important. Is their approach an approach you want your child to be working under?
As they've gotten older, I've loved stepping back and watching the direction that their lives are taking. I love knowing that what we did for them at a young age has helped catapult them into a positive direction, helping them to grow and be prepared as adults, too. I cannot imagine not having sports involved in our life. It's made them well-rounded, strong individuals. It's given them a work ethic, drive and a desire that will continue to motivate them throughout their lives. What more could you ask for?