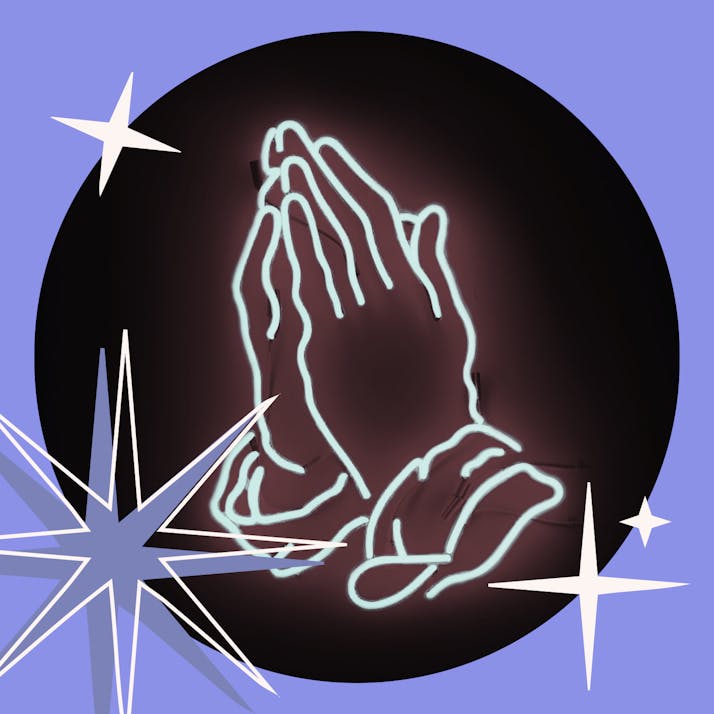 Life Has Been Difficult, but My Prayers Have Been Answered
A woman describes how she believes that God has helped her navigate tumultuous terrain.
/ / /
Growing up on the wrong side of the railroad tracks had its share of struggles, but there were unexpected blessings too. Having little, and expecting little, gave room for large and small acts of kindness. Some may call the good things that have come my way in life a result of my manifesting my desires or using the law of attraction. I simply call them answered prayers.
When I was young, you might have not seen my life as blessed. I lived on a street full of crime and children who were rarely checked on. The floor of our home gave you splinters if you walked on it barefoot. The backyard was a small-scale garbage dump. My father was an abusive alcoholic who rarely kept a job. I lived in fearful anticipation of the day we'd be evicted. I lived off of canned chili and rice, when we had food at all. 
God Answers Prayers, but You Have to Ask for His Help
The prayer was my mother's. She walked into the kitchen and looked at the empty shelves and prayed because she didn't know how she would feed us that night. Twenty minutes later, a woman from our church showed up at our door, having had a premonition that we needed help. She was the church's Relief Society president, which meant she presided over the welfare of the women in our congregation. She told my mother that she felt that we needed help and could use an order of food and hygiene products from the church's storehouse. Within the next couple of days, my mother could get a month's worth of food. In the meantime, the woman handed her a $20 bill and encouraged her to buy what was most pressing.
That winter, a slightly built woman with hair that matched the snow showed up at my door. She held two boxes of oranges that looked to weigh a little more than she did. When I answered, she asked for my parents, but I told her they weren't home. She thought for a moment and then set down the boxes inside the door. She asked me very seriously to make sure my parents got the oranges. I promised her that they would. I thought her concern over the oranges was strange. Then I noticed the folded green paper tucked inside the top box. This unassuming old woman who looked to have little material resources of her own had put $200 inside, a fortune for us at the time. I never saw her again, but I will never forget her.
After seeing these answered prayers, I grew up with a strengthened faith and fortified hope in God and the goodness of people. Some people regarded me as the happiest person that they knew. 
The Lord Has Been There for Me Countless Times
About a decade later, when I was a senior in high school, I was walking home from church the day after prom, wearing my turquoise prom dress. I had acquired this treasured gown through hard work and small prayers answered. Though prom had been wonderful and wearing my gown made me feel elegant and beautiful, my mind was on much less glamorous thoughts. The deadline for the deposit to keep my college housing was fast approaching. I had no money left and knew that I couldn't ask my parents for help. As I walked deep in thought, a man from my congregation greeted me and began walking beside me. He was on the board of admissions of a regarded university, and therefore was often asked for advice about college. I told him of my crisis, and on the spot, he had offered to pay the deposit. Without him, I truly do not know what I would have done.
When I was 21, I felt called to a voluntary service mission for my church. It meant I would put my life on hold for 18 months and go to wherever the church leadership told me. I ended up at a mission that covered all of northern Nevada. My first winter, I was desperately in need of winter boots and a coat. The church was paying for my mission, along with all of the savings I had and a bit from my parents. I lived off a monthly allowance from the church that couldn't cover my winter clothing needs. I prayed constantly for guidance, and walked many miles each day in the snow with numb feet.
My companion and I were only able to shop on the one day a week we were given for weekly preparation. Once, on a different day of the week, we went to a JCPenney to meet someone. I saw a beautiful coat on an incredibly deep discount. I wanted it so badly. I didn't know what to do, and not wanting to break the rules, I decided to pray silently to myself right there in the store. Seconds later, a store employee came up to us and asked if there was anything she could do to help. I asked her if she could hold the coat for me, and she said she would hold it as long as she could.
The next day, she called and asked us to meet her at the women's clothing department. When we met her, she was beaming. She asked us to follow her to the parking lot. Confused, we followed. We arrived at a rusty old camper van and the woman excitedly swung open the door. I was startled at first, then quickly overcome with surprise. The woman was holding the coat I had wanted, along with one for my companion. She refused to let us pay her, and confessed that she saw me praying and knew that she had to help.
Soon after, a woman at church who I had never spoken to before approached me and asked if I needed any winter clothing. I told her of my need for boots and she took us shopping the next day. I have wide calves, which meant my options were limited and expensive. This was of no concern to her. She bought me $200 boots and refused any payment in return.
He May Not Answer Right Away, but God Hears Our Prayers
The last answered prayer I have to share happened overseas, in Cornwall, England. I was in a program where you exchange volunteer work for room and board. The people I'd been working for told me I wasn't working to their expectations, and the environment became negative and tense. I had one day left with them, and was desperate to stay anywhere else. Since it was Sunday, I took a taxi to church. Too proud to beg, I prayed instead. Without my history of miracles and answered prayers, I would have been a nervous wreck, stranded without hope of help. Knowing that God had always taken care of me, I believed that somebody would help. 
I sat through all three hours of church, and though people were kind, no one inquired about my situation. As I stood up to call a taxi and leave, a woman named Allison asked if I wanted to have dinner with her and her family. Though not the rescue I had hoped for, I was grateful. On our drive to her home, she asked the right questions and learned of my circumstances. Having a spare bedroom, she quickly offered me a place to stay and even drove me to collect my things. This added a couple of hours of driving, but she said she was happy to help.
Faith Has Given Me the Strength to Help Others Too
I have found that faith is not a comfortable principle. Trusting in what you cannot see, control or predict is scary. Skeptics may even call it risky. This is true to some extent. I do believe that some common sense is required. I knew someone who put sand in their gas tank and prayed for God to turn it to gas.
There are some rewards that come with not having all of your needs provided for. Being in desperate circumstances left room for God to show his hand in my life, and for me to develop a sense of gratitude. With all of these answered prayers, I've done my best to pay it forward whenever possible. A big part of that is following promptings from the Spirit. 
Sometimes I do things I feel prompted to do with no apparent reason or reward. Being an answer to someone else's prayer sometimes makes no sense. I felt prompted to invite a girl struggling with a chronic eating disorder from my church to eat dinner with me, which seemed like the last thing I should do. I came to find out that dinner was the hardest time for her. She told me that having someone with her was what she desperately needed. 
Rather than worrying about where these impulses come from, I would rather follow a prompting, knowing that there was a possibility it could lead to an answered prayer. Whether you call it manifesting, the law of attraction, or an answer to prayer, goodness is out there, and I have been blessed because of it.