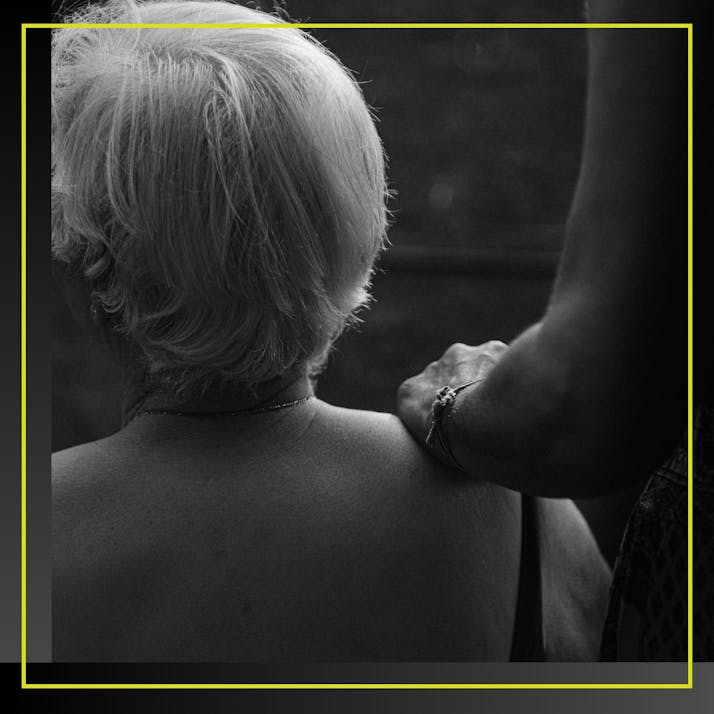 Millennial
/
Socialist
/
Writer
When My Mother Got Dementia, I Put My Career on Hold: I Wouldn't Do It Again
As a caregiver to an aging parent, I feel as though all my peers have left me in the dust.
This Narrative Belongs To:
At this point in my life, I was certain I would be a successful TV writer and actor. Of course, success means different things to different people, but I imagined I would be nominated for an Emmy, which I would surely lose. I would receive DMs from my idols, telling me they liked my work and were excited to see where my career was headed. Shit, I thought I would have at least hooked up with some hot actor I had always crushed on and been disappointed by the experience but secretly happy to have a story to tell my friends back home about.
But life had other plans. In August of 2020, my mother was diagnosed with dementia. She and I had always had a really difficult relationship, but I had no clue the incredible toll I would soon be paying for all of the resentment I had caused her over the years. Looking back, I don't regret the time I've had with her, but I do regret putting myself in the position of being her main caregiver and pausing my career when I did. 
I recently celebrated my 30th birthday, and I find myself trying to reenter an industry that is infamously ageist and misogynistic. Just a few years ago, I was so certain I would have much more than the nothing I feel I have to show for myself now.
My Mother Was Diagnosed With Dementia, Putting My Move on Hold
In 2017, I moved to New York to finally pursue my TV-writing dreams. After two years of training in acting, writing and improv at Second City in Chicago, I had had enough of trying to climb a ladder to success that only had room for white performers and writers at the top. With no job lined up, I answered a Facebook post from an improv acquaintance searching for a roommate in their small, railroad-style Astoria apartment. I had no connections to the industry, no experience and a huge rent to pay. 
A networking event landed me a job at Anthony Bourdain's production company, where I worked as a production assistant on a diverse, all-female crew. It was a dream role that paid decently, had normal hours and, for the most part, was low-stress—a unicorn position as far as working in the industry goes. I moved on to a popular late-night talk show but eventually quit what turned out to be a toxic workplace. With money running low, a frustrating roommate situation and no experience writing for TV, I set my sights on L.A. 
Around this time, my mom began complaining of a sharp, mysterious pain in her head and had feelings of being submerged underwater. She could no longer handle loud noises or daily tasks. For the next two years, she continued to suffer mysterious symptoms: She went deaf in one ear, developed Meniere's disease and vertigo, and could never quite shake the feeling that she was "wearing a helmet." We took her to the state-run hospital, but after all sorts of tests, ranging from sleep studies to a spinal tap, my family and I were deeply unsatisfied with the care she was receiving and decided to eat the cost of an emergency room visit at Rush hospital in Chicago. 
Within five hours of admission, we finally had answers. It turned out she had suffered a stroke silently, which eventually led to dementia. The temporary relief we felt was soon replaced by dread. For the first time in my life, I fell into a depression. Trying to grasp that our mom had a disease that everyone is afraid of watching a loved one suffer through was daunting. I remember not sleeping that first month post-diagnosis and having constant anxiety for the first time in my life. 
My Siblings Weren't Prepared to See Our Mother Like This
Suddenly, L.A. took a back seat.
How long would it be until my mom no longer remembered who I was? At this point, I still hadn't come to terms with the fact that our troubled relationship would now always be troubled, with no room for improvement. I was able to make peace with this at first because I loved my mother deeply and unconditionally, as good daughters in Middle Eastern and Hispanic cultures are taught to do. It's ingrained in us early that our parents sacrificed and gave up their homeland to ensure we had a future. It gave them a free pass forever. There were no punishable offenses and no expectations for apologies or therapy, especially if you're a woman. 
But starting at 12, I refused to spend my summers indoors cleaning while my brothers went swimming with their friends. I went away to university and slept in a dorm. I studied abroad. I worked three jobs and liked it. I had no desire to give up my independence, settle down and get married. I was being punished for breaking that unspoken agreement. Things only got worse after my parents' divorce. My siblings and I refused to cut our father out of our lives to punish him for hurting our mother after it had been revealed he was having an affair with a colleague for years. She turned to us for the emotional support she had never received from him, and I was always unable to meet her demands because of our already-strained relationship. 
I was naive in those first few months and thought they were my opportunity to redeem myself. Now I could be the dutiful daughter she had always accused me of not being. I never realized what my staying meant for my family. It led to them slowly but surely moving along in their own lives. Their visits to my mother became more scattered and shorter as my mom's dementia progressed. They weren't prepared to handle the emotional, verbal, mental and sometimes physical abuse that unfortunately can follow a dementia diagnosis. Gone was the doting, sweet mother they were used to—here was someone who more closely resembled the mom I had grown up with.
I Should Not Have Put My Career on Hold to Be a Caregiver
Of course, the pandemic being smack dab in the middle of my journey didn't help. Still, I feel I should have left sooner. If I knew then what I know now, I would have gone to L.A. as soon as it was safe. I would have only seen my mother occasionally, instead of staying and allowing myself to become the focus of her frustration, as is normal for people with dementia. I would have run. 
Now I feel like I'm moving into my 30s and watching everyone I was working with achieve milestones. I feel so behind and, to be honest, it wasn't worth it. I have taken a beating for choosing to stay and mend a relationship that was so far gone before any of the hard shit even came along.