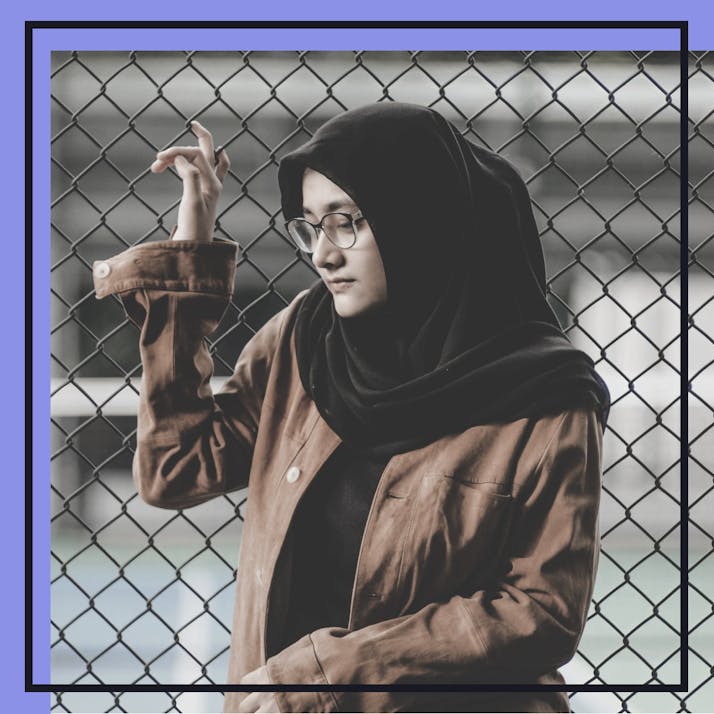 I Hid the Man I Loved From My Family Because of My Religion and It Destroyed Us
A Muslim woman explains how her relationship failed because of her family.
/ / /
Until the age of 22, I had never so much as kissed a boy, let alone had a boyfriend.
I'm Muslim and grew up in a very conservative and religious household where dating was very much frowned upon. As a teen I fancied boys and watched friends go through boyfriends, knowing that would never happen for me. And I accepted it. I accepted that dating would come later in life for me, and would be focused on religion and marriage.
Then I met Joe. He was a mutual friend at university I met at a party. I liked him instantly. He was attractive, funny, smart and kind. He had a girlfriend at the time, so we began as just friends. That friendship blossomed into more, a whirlwind of a romance that pulled me into something at odds with my beliefs and family background.
Early on Joe and I made a running joke about how "doomed" we were as a couple, and how the odds were stacked against us. There was my religion, my family. And we were graduating that summer, so the relationship would have to go long-distance. The joke took the place of real discussion. Avoiding the hard subjects became central to our relationship, and eventually to our demise.
Even When He Said He'd Convert for Me, I Couldn't Bring Him Home to Meet My Parents
As graduation came and went, Joe and I were still together. We decided we'd give it a proper go, maybe even be that couple who would make it. We moved back to our respective hometowns and became a long-distance couple. We discussed what our future would hold, and how we'd tackle the issue of my family.
We'd been together around six months, and even though I'd gotten to know many of his family members, Joe still hadn't met my family. I knew my parents would disapprove of him. It didn't matter that he was intelligent and polite, or that I loved him; they would only see him as someone outside of our religion. And that was an instant rule-breaker. I had to keep him a secret. For three years.
Maintaining a secret relationship involved a lot of lies. I made up names of friends when my parents asked what I was doing on weekends when I saw Joe. I went along with blind dates my mother arranged, just so she wouldn't get suspicious. Joe had to live these lies too. When he came to visit, he parked his car at the bottom of the road, so that my parents wouldn't see if they looked out the window. If my parents called me up and I was with him, I'd make him leave the room, in case they heard his voice in the background.
We couldn't go on holiday together. We couldn't move in together. Yet we were serious about each other. Joe even considered converting to Islam, so that we would have a future. We talked about conversion and marriage. Through it all, I really believed that we'd make it.
Meanwhile, we once again were avoiding a hard topic. We didn't talk about the huge strain the secrecy imposed on him and our relationship. It was difficult for me too, don't get me wrong. But I've had a lot longer to get used to living this kind of double life. Over the years it's how I went to parties, hung out with male friends and drank alcohol. Keeping Joe a secret was easier for me than it was for him.
He Never Met My Family, but They Were Still Too Much for Him
This wasn't normal for him. He was used to openness and having bonds with his partner's family. Towards the end, this became quite an issue. I was frustrated that our relationship wasn't moving forward, especially once Joe expressed reluctance to convert. He was frustrated that I had a huge side to my life that he simply couldn't access.
Joe became distant, less affectionate and less communicative. We still spoke on the phone every day and met up once a week, but something was different. It felt like he was physically present and mentally detached. This lasted for months until we both needed a break. The break became a breakup.
It turns out keeping a secret is not a healthy base for a relationship. It leads to emotional strain and barriers. I really did think Joe was the one. I thought we'd work it out. In hindsight, this was blind optimism. Deep down, I knew our relationship had a time limit. I just didn't know when it would arrive.
I don't regret my time with Joe. We made many happy memories, and he taught me a lot. But maintaining a relationship away from my family is untenable. The problems creep in early and grow over time. When I'm looking for a future partner, I'm going to make sure he's from a similar religious and cultural background as me. I don't want to get my heart broken. And I don't want to break anyone else's heart again.