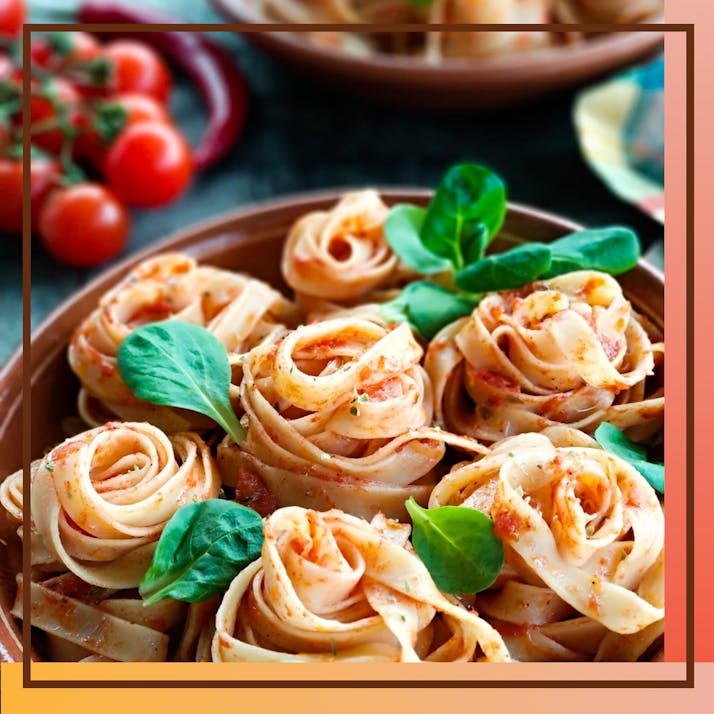 I Married Into an Italian Family: Here's What They Taught Me About Food
Dinner used to be something I rushed through, until I met my husband's relatives. 
/ / /
As a child, my hardworking and slightly stressed-out mom hated cooking, and my dad just didn't think that it was his job. This annoyed my mom immeasurably, as it meant that the responsibility of feeding the family fell solely on her shoulders. She'd crash around the kitchen, angrily whipping together a semi-nutritious meal while noisily putting saucepans away and dropping things on the floor.
The resentment was palpable.
On the very rare occasion that my dad was left in charge of dinner, we'd end up with some weird mishmash of whatever he could find in the cupboard or freezer. It was the 1980s in England, so convenience and speed were top of the agenda, and cooking with a microwave was seen as quite sophisticated. Birds Eye Crispy Pancakes, boil-in-the-bag cod with parsley sauce and overcooked vegetables were regulars on our table. Suffice to say, I did not love family dinner time. 
As a grown-up, my relationship with food changed. I loved making dinner with my housemates at college, and I became slightly obsessed with watching cooking shows. We spent many happy evenings trying out new recipes and recreating cheap yet wholesome meals, such as shepherd's pie and sausage casserole. We'd wash them down with cheap red wine and go to bed feeling full and happy.
The Four-Course Meal That Changed My Life
Then 21, I met my boyfriend, a second-generation Italian who came from a big extended family where food was quite literally life. The first time I was invited over to meet his clan, we sat down for dinner on a very long dining table where olives, prosciutto and cheese complemented glasses of crisp prosecco. I remember greedily tucking into the appetizers before my boyfriend whispered in my ear that there was plenty more food to come, and I would definitely need to leave some room. And man, was he right.
A five-inch-high piece of lasagna packed with boiled eggs, pork and beef mince and sweet tomato sauce was served as a starter, followed by grilled chicken and pork with salad and deep-fried courgette flowers. Just as I thought I couldn't fit another morsel into my mouth, a platter of cheeses, bread and nuts was laid out before pushy relatives would quite literally load my plate with food, no matter how much I protested. I'd never known a family to eat in such a way on a Friday night. It wasn't even a special occasion. 
Then came the dessert, the course I quickly realized was every meal's crowning glory. My mother-in-law, as it eventually transpired, excels in all types of Italian food, but her desserts? From sweet pavlova with whipped cream and tart raspberries, to white chocolate and ginger cheesecake, to birthday cakes of all concoctions and indulgent brownies, they really were to die for.
I've Learned to Slow Down and Savor Every Bite of Dinner
Fifteen years later and I'm now married into the family and have learned the art of pacing myself so I can enjoy every element. I've also garnered a newfound appreciation for dinner where frayed tempers are left at the door, the TV is turned off and all plans are abandoned for the evening. Meals this good should not be rushed or seen as something to just get out of the way as I had believed they were for years. 
While I can't say that I'll continue the tradition of four-course dinners in my own home, I know that food will always be important in our house. Meatballs and red sauce have become a family favorite, and my husband has just about nailed his mom's famous sky-high lasagna. I'm sure my young sons will also come to appreciate their extended family's amazing dinnertimes and recognize them for what they are: the ultimate gesture of love.