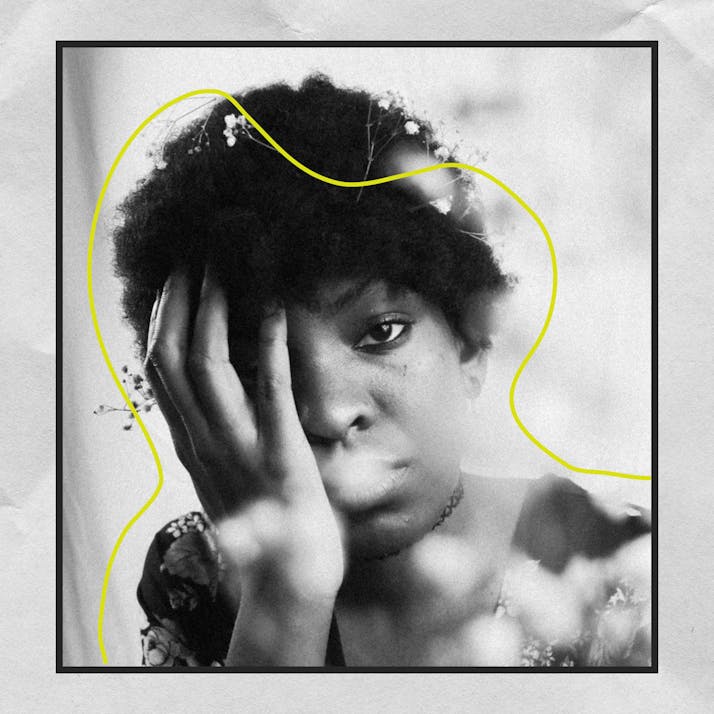 I Lost My Dad to COVID-19: Rewriting the Stages of Grief
Since his passing, I've followed a nonlinear path that's allowed me to manage life and loss.
/ / /
Grief is a strange, albeit commonplace, sensation that continues to overestimate my coping mechanisms. It overwhelms me and certainly leaves its mark. There are supposedly five stages of grief, but I challenge that. Grief is individual and unique in each instance. We must consider all of its forms. 
I am currently in the process of documenting my own experience of grief, which concerns the following stages: denial, pain and guilt, written expression, sexual curiosity. While the denial stage first occurred in isolation, the other stages I experience simultaneously. 
I lost my father to COVID-19. Born on a Friday in then-colonized Ghana, my dad was one of ten children who grew up in Offinso. Determined to build a new life, he left work in the Ashanti region to study on British shores. On January 29, he sadly passed away. Since then, I have learned that the sadness that accompanies loss cuts like a knife that leaves a gaping wound, easily reopened by the slightest thought. 
I'm rewriting the stages of grief to dress my wounds and carve out my own path to healing. The aim here is to acknowledge my suffering, make sense of it and lessen it. If you, reader, have experienced loss, I offer you my condolences. If you, reader, have not lost something or someone, then I merely offer you an insight into what the aftermath could be like. In the end, we all come out with thicker skin and a few lessons learned.
Denial
One of my first Google searches after the passing of my father read something like, "My dad died but it doesn't feel real." I felt as if he was going to walk through the front door of our house. I held onto that hope even though, deep down, I knew it wouldn't occur in an earthly plane. 
This feeling makes up the first stage: denial. Simply put, it's when you cannot grasp that your loss is, in fact, a loss. His death was hard for me to process. Once he was admitted into a hospital, I had gone from seeing him daily to not at all. I briefly adjusted to him not being around for some time but I expected him to return home. I felt robbed when that time never came. 
Symptoms:
Disconnected from truth 
The hope that what is lost will return 
Pain and Guilt
Coming to terms with not having said goodbye has been difficult. On the morning my dad left for the hospital, I was sleeping. You'd rarely see me awake before 9 a.m., especially as we drifted in and out of lockdown. He was meant to have a routine check-up but ended up needing urgent care with a heart-related issue. I often think back to our last telephone conversation on the evening of the day he was admitted, in which he told me not to worry and that everything will be "alright." Laughable, isn't it? Is death a decent resolution to everything? 
Restrictions meant that we could not visit him, and when given the chance to see him in the flesh after his health rapidly deteriorated overnight, I was discouraged from doing so by the nurse and family members. My dad had been sedated during the week leading up to his passing, so he wouldn't have been able to speak to me. But at least he would have heard all that I had to say. He was pronounced dead not even 20 minutes after I gave up my final opportunity. 
I began to think about my relationship with my father. I felt as if I had not given him much during my 23 years of spending his money and living rent- and expense-free. He was the family member I felt closest to, the only one I called (weekly) when I moved away from home for university and lived abroad in Spain. We weren't that close though. Through his death, I learned character-defining information about the man I thought I knew, which mirrored the way that he barely knew the real me. 
I didn't say goodbye and, even though the funeral has passed, I don't feel like I ever will. 
Symptoms:
Feelings of remorse and guilt
Considering countless what-if scenarios 
Written Expression
I write to address this lack of closure that COVID-19 and slight emotional unavailability robbed me of. I like to think of it as pain and guilt relief, along with the following stage. 
As a lover of words and creative expression, this stage had to happen. I find it easier to write than speak, so picking up my pen came easily. The benefits of creative expression are undeniable. Writing helps to bring feelings to the surface. Creativity helps alleviate pain by reliving and releasing it. I cried while I wrote sections of this but it's all part of the process of healing—allowing yourself to feel at all times. 
I didn't have a grief journal as such, but I have a notes folder titled "Dear Dad" with messages I address to him. I write to him about anything and everything, from the music I hear him in, to the times I've dreamed of him. My last entry was about a song he liked called "Working My Way Back To You," covered by the Spinners. We sat on the steps in the hallway listening to it late one night while Spotify played my "liked" songs on shuffle. It brought up a host of feelings. 
Symptoms:
Writing to or about the lost one (to say what has not been said)
Sexual Curiosity
The sexual curiosity stage is self-explanatory but extensive. Let me be clear: My motivation behind this stage wasn't to go wild by having various sexual partners. Much of my sex life had tended to my bondage-loving submissive streak. I'm not saying that my dad's death sparked my sexual revolution, but it certainly intensified my desire to stray from the conventional. I simply want(ed) to satisfy lingering desires. Life is fickle, subject to constant change, and these latter two stages are my attempt to gain control and grow out of these changes. 
I ditched Hinge and signed up for a new app that catered to couples and singles. I created a profile under an alias (as instructed), uploaded three pictures and threw together a scanty bio detailing my height, my love for weed and music, and a few kinks.
One of the first-ever encounters that I arranged using the app went like this: I got on the Northern line for half an hour, walked for seven minutes and ended up in the flat owned by a 31-year-old lawyer. Let's call him Badger. Badger and I had been texting for no longer than a week or two. He wasn't physically my type, but that's why I chose him. We sat and talked over a bottle of champagne. He only ever bought "the good kind" from small vineyards. In time, over about an hour, the conversation revealed an insecure man who overworked himself because he didn't feel good enough. He was the kind of man who parades his self-hate with self-deprecating humor. Disclaimer: I'm not the type to reassure people, so his comments were often met with awkward silence.
Badger had a picture of his father, who died when Badger was a teen, on the wall in his living room. He said that he had no family anymore—I sensed he was a lonely man. We spoke about loss and death; I questioned how he coped with it and he asked if I was actually OK. It was an unusual exchange for two strangers meeting in person for the first time. Not long after, I ended up being slapped, rimmed and rammed on an expensive couch. Oh, and in the recently renovated bathroom, too. He'll never hear from me again. 
Anyway (yawns), now tired of single men because I find them sadly desperate, I've exclusively set my sight on sex-positive couples. Yes, I'm putting my submissive tendencies on the back burner to explore being a "unicorn," someone who dates couples. I describe my sexuality as heteroflexible, mostly straight, but I may dabble in same-sex encounters. 
Sex with multiple people isn't a fantasy of mine, but I'm intrigued by the couple dynamic. I think it's endearing to share a sexual experience with two people who are bound by love rather than lust, but I'll soon test how true that statement is.
Symptoms:
Endless scrolling through mind-numbing apps
Seeking new sexual experiences
Denial, pain and guilt, written expression and sexual curiosity are the stages I've been darting between. Although, it's still early. Some stages may combine, multiply or cease to exist. I feel that I will be grieving forever, which is not to say I will never be happy. I will just always recognize the loss. I won't be caught in a loop of these stages. Why? Growth. I question where my loss sits concerning the bigger picture of my life. I find that I've experienced greater luck since my father's passing, even though times have been difficult, and I feel as though it is because I now have someone behind the scenes who is fighting in my corner. Lucky me.