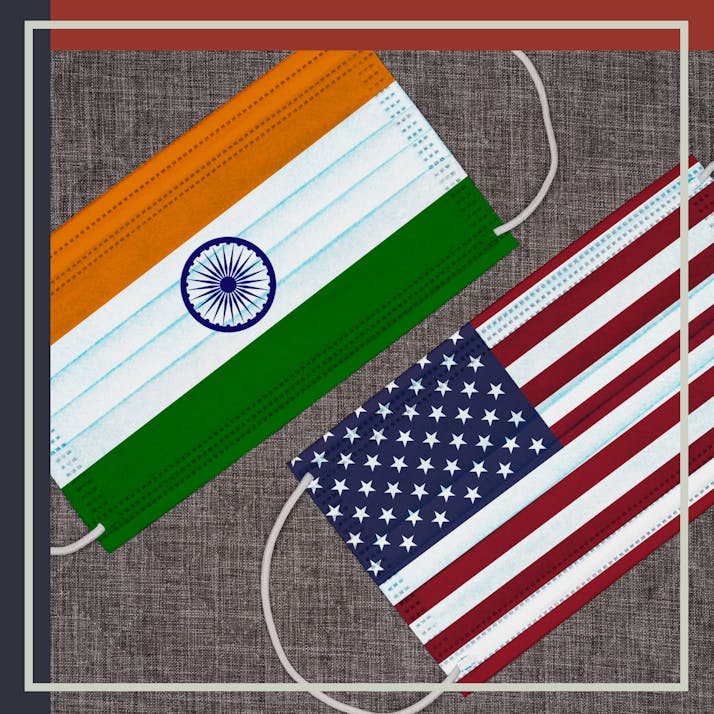 I Lived in Two Countries During the Pandemic: Both of Them Failed to Solve It
India and America both seem doomed to repeat each other's mistakes.
/ / /
I was sitting squarely across from the large digital signboards at Mumbai International Airport, a nervous mess. It was February 2021, and the pandemic was raging worldwide. Amidst this unyielding crisis, I was shifting base from India to the United States, the world's most powerful nation, which had also faced the worst brunt of the COVID-19 pandemic. But my home country, which was predicted to have a worse landfall of cases, had missed it by a decent margin. The irony of the situation was not lost on anyone, from epidemiologists to statisticians to journalists like myself.
I could still see the last vestiges of my parents' reflections outside the airport windows, and it made my heart sink a bit deeper. This new world seemed vastly different from the old one, masked and faceless, full of extreme uncertainties, while I left my loved ones behind.
I Upended My Life in the Middle of a Pandemic
I was leaving behind a steady journalism career reporting on Asia's third-largest economy, multiple fellowships and a news startup to attend grad school amid a pandemic. Taking the plunge and moving to Boston to study diplomacy in my maiden visit to the U.S. was anxiety-inducing already, and the pandemic made the entire journey much worse.
I felt deeply conflicted about my decision. I was leaving behind a decent journalism career and moving to the United States, which had recently seen a deeply polarized election, an attack on the Capitol and an out-of-control pandemic that was barely seeing signs of receding. I was also leaving my folks behind despite predictions of a brutal second COVID wave hitting India. But there was a long-awaited dream waiting in the wings, and pandemic or no pandemic, I was encouraged to fulfill it. 
As a gender nonbinary individual with remnants of childhood surgery marring their self-expression, this opportunity meant the world to me. It meant being able to live life openly and freely, away from the prying judgmental eyes of the regressive Indian society. I meant asserting my own duality and gender identity after over two decades of my life being a chaotic, confused mess. And in my heart, I just knew it was time to set sail and leave.
After landing in the U.S., I was ecstatic but cautious. After months of soaring cases and saddening casualties, the world's most powerful country seemed to be following protocols. From airports to supermarkets, there were masks and sanitizers everywhere. I was tested twice a week on campus and accessed public spaces sparingly.
Adjusting to my new home was challenging for a first-generation immigrant student but equally exciting. Everything seemed to be packaged in epic proportions, from gallon-sized milk bottles to the enormous food portions at restaurants to the bevy of American flags everywhere. I attended a podcast recording session in a Black-owned hair salon where the hosts dissected race relations and Joe Biden's popularity. I made friends with random people who loved my red socks and assumed that I was a Red Sox fan. 
Life in Boston was strangely calming and slow. Everyone had seen and faced the horrible brunt of the pandemic and was just emerging from what could be termed a COVID-19-induced stasis. Over the spring, vaccinations picked up pace across the U.S., and things seemed much more optimistic. Maybe because the pandemic had taken so much from us, it felt cathartic to experience life in the smallest of ways.
It also felt cathartic to be living openly, the way I wanted to. From asserting my gender identity and pronouns to adapting to local dating norms, life felt new and fun. I was transported back to the feeling of being a teenager, with all the associated anxieties and perils of acceptance and rejection. 
I Felt Optimistic About America's COVID Response—Until I Moved Here
But while things seemed to be in an upward swing for the U.S. under Biden's presidency, India was in the throes of a second wave under right-wing Prime Minister Narendra Modi's leadership. By April, Indian social media swirled into a cesspool of emergency messages, images of burning pyres and pleas for oxygen tanks. Indian students like me living around the world were crushed with a sense of deja vu and survivor's guilt. We felt helpless. We tried our best to organize funds or aid in arranging for resources, but the mammoth scale of urgency was too intense.
At night, I stayed up crying and helplessly wondering if things would ever go back to normal or if my family would come out on the other side of this unscathed. It was the same helplessness my American friends had shared with me just a year ago.
I had already lived through India's first COVID wave, when the country went into a sudden lockdown that left millions of migrant workers stranded, some of them who struggled, or even died, trying to make it back to their villages. As a journalist, I had reported on the pandemic, at times crying while taking notes about people and their lived experiences.
The first wave in India was nothing compared to the mass hospitalizations and skyrocketing cases the U.S. witnessed in 2020. Now I was on the other side of the world and seeing a repeat of U.S carnage in India's second wave, despite the presence of vaccines. Modi had bungled the vaccine response, similar to how Donald Trump had bungled the mask mandates. Both the right-wing leaders failed repeatedly on the COVID-19 front while personally trying to assuage their public image with gimmicks.
The COVID-19 pandemic has altered our lives in ways we can still hardly comprehend, as the story continues to play out in real-time. Imagine a nation of 1.3 billion people struggling to breathe while health care systems collectively collapse. From migrant workers in Asia's largest slum, Dharavi, to frontline healthcare workers and the elderly, the cost of this wave is inhumanely tragic. In 2020, India narrowly escaped all predictive models that claimed it would face a humanitarian disaster exacerbated by the virus. But by March 2021, the country's luck seemed to have run out.
I have been traveling across the U.S., and I've seen the caseload for the Delta variant rising, especially in Texas and Florida. There are over 90 million unvaccinated Americans, widespread opposition to mask mandates and a desperate hope that the pandemic will wane naturally and gradually over a period of time.
I am worried.
Can the U.S. and India Learn From Each Other?
India's laxity in the face of the pandemic has cost it millions of lives. My home country was mired in a cesspool of agony and helplessness because of a lack of preparedness both on the political and personal front. We made diplomatic mistakes and tried leveraging vaccines as a tool of diplomacy—an ill-wrought gesture that has gone terribly awry.
My adopted homeland, on the other hand, managed to vaccinate people rapidly, at times even offering people money to get vaccinated, but failed to evenly distribute excess vaccines worldwide. The gains that have been rapidly made in the last few months—the freedom to travel, operate businesses or even simply spend time with family—can be overturned if we don't act quickly.
The new variant is spreading rapidly, and the only antidote is to increase the rates of vaccination while adopting mask mandates in high-risk geographical areas. Without a swift and smart response, the U.S. might repeat the same mistake India and Brazil did, and the cost could be heartbreaking.
My hope is that we are smarter this time around and that both my homelands—the one of my birth and the other one I have chosen—manage to evade the catastrophe and save millions of lives. It is the righteous and capable (humane) thing to do.