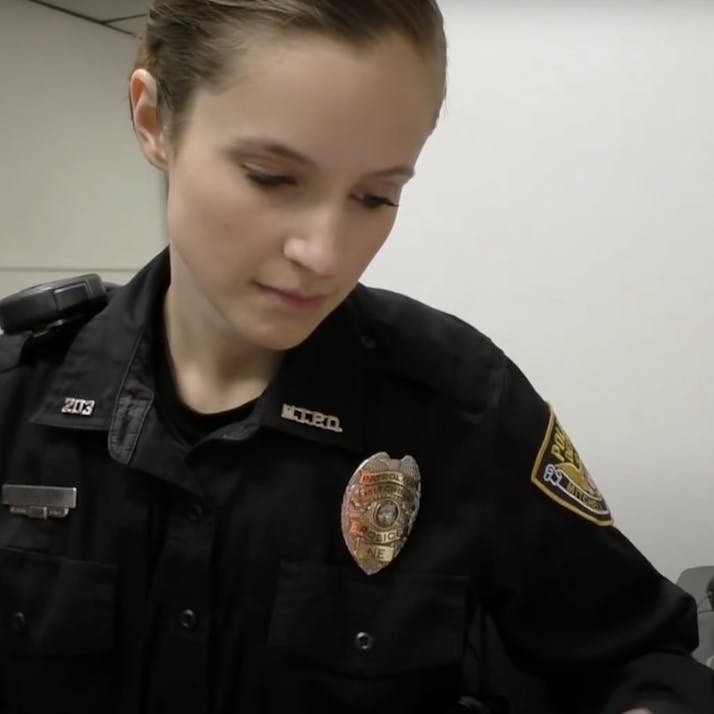 Life as a Female Police Officer in 2020
A police officer writes about her gig, COVID-19, protests, warts and all.
/ / /
I will never forget the first time I walked into a psychological evaluation.
This evaluation wasn't over trauma I was going through or something I signed up for to figure myself out as many do in their 20s. It was because I was finally an eligible candidate to become a police officer. Thinking back, it was strange: I had dealt with anxiety my entire life, and here I was, walking into a psychologist's office for my first time because of a job application, not because insurance suddenly decided that I could pay less than a few hundred dollars for a consultation.
I sat down in front of a male psychologist. He seemed nice enough. I had really only spoken to men for the many law enforcement jobs I had applied for, so it did not feel much different.
I will admit, I am uniquely feminine in my looks. Although I work out daily, I am tall and rest around a thin score of 18 on those otherwise unreliable BMI charts. I love wearing winged eyeliner and letting my hair down. I even did modeling when I was in high school. But I was far removed from that part of my life as I sat in front of this psychologist, ready to tell him how I knew in my heart that I could excel as a police officer in one of the most violent cities in my state. As I spoke with him, everything seemed to be going well, until he randomly stated that I reminded him a lot of his daughter, a high school cheerleader.
I was a 24-year-old woman with a bachelor's degree in criminal justice, a full-time administrative job within the judicial system, I'd worked as an intern with a local district attorney's office and was just months out from completing all of the required training needed in my state to receive a peace officer certification. Yet, I left his office that day knowing I would not be a police officer with the agency to which he reported. After he compared me to a teenage cheerleader, I knew I'd get the dreaded email thanking me for my time and wishing me the best in my future endeavors.
A short few months later, however, I did get hired. I still walked into all of the phases of my application process with my hair down, winged eyeliner and a confident promise to myself that I would not change who I was to get hired at a law enforcement agency. I am thankful every single day that I found an agency that hired me for who I am.
Gender Roles in the Police Force Are Definitely Still a Thing
Although I envisioned many challenges related to being a female police officer, nothing in my career has been like I thought it would be.
I am a vulgar individual, so being around a majority police force of men all day (or night, you know, graveyards), was not much of a shock. After all, you may have to occasionally respond to a person running around flashing their private parts at other people, or a person who hasn't been alive in maybe a few weeks. Hence, it's not really a job for a person who is easily embarrassed or sheltered.
It is also a job where humor is essential, as the world is not always kind.
At first, the guys did tread carefully with me. But I did not tread carefully with them, and they warmed up to me. They would often tell me that my outward appearance did not match the comments and jokes that came out of my mouth and, in fact, I think they learned quickly that I would jump into any foot chase, fight or coffee break with my brothers. In turn, they would call me to assist with matters that could use a woman's touch.
There are many of those calls, as sometimes people going through the worst night of their lives want to speak to someone who has the emotional and maternal comfort that many women have to offer. I have laughed with strangers, and I have cried as I held the hand of a stranger. My brothers constantly reminded me that I was worthy, that I was an officer beyond my years and expressed that they were glad to have me as their little sister. 
So, if everything has gone so smoothly for me in working with a majority male police force, where are the issues?
"Should Women Be Police Officers?" Should Not Be a Question in 2020
There are a few places in which women still face significant challenges in law enforcement. Many women face hurdles within their own departments, and I am so lucky that is not part of my story: There is a whole world of unfair treatment and career paths that have been covered in the gravel of sexism. I am probably a minority, to be honest.
The first challenge that I can reference, as described above, is getting hired in the first place. Another is that not every person who calls the police believes that women should be in law enforcement, which is a tough pill to swallow. First of all, it is 2020. There have been articles written on women in law enforcement about how they are less likely to use force when engaging in police work. This publication was even referenced by the National Criminal Justice Reference Service in 2005. Yet, here we still are in 2020 with older generations who harbor bias and are reluctant to hire us. People call us to respond to their emergency end up not wanting to speak with us. I'll never forget the calls that I went on where men called me less-than-polite words, one telling me I should be at home cooking for my man, another telling me that he refuses to speak with a female officer.
The Challenges of Female Police Officers Include Other Women
Another test as a woman in law enforcement is, surprisingly, other women. It is an impressive career to have as a woman, and sometimes women get territorial being the only female on their shift—or being one of only a few in a department. In my experience, women have not always been the most welcoming or guides to the newcomers down this lightly trodden path.
Sometimes, the woman who has already walked that path did not have someone to guide them, and they believe that the next woman must conquer it on her own. And sometimes it's because it builds a woman up to see a newcomer fail. This is not just commonplace in the law enforcement world; it is an issue that women need to work together to understand and resolve across the board.
But female officers are not the only issue.
The other group of women who do not make things any easier for women in law enforcement are police wives. I understand their apprehension as they sleep alone at night while their husband spends the night working with another woman. However, for me, this eventually became a matter of my former modeling photos from social media being exchanged among the wives and communications related to the job not being permitted between my teammates and me unless it was during work hours. In the end, I have somewhat learned to accept this, but it was an emotional challenge for quite some time that did not allow me to feel that "brotherhood" that the guys felt with one another.
Being a Mother and a Police Officer Has Taught Me a Lot About Myself
The most unique challenge that I can speak to about law enforcement and being female is having children. This has been something that I have become more and more passionate in talking about, as I have had two beautiful children in a short, two-year period of my career.
After dealing with infertility for nearly a year and a half, I was elated to find out that I was pregnant. I cried tears of joy, tears of fear and talked to my babies every night that they were in my belly riding as my patrol partners. My husband, who is also in law enforcement, told me that women he worked with left the street around eight weeks pregnant, while some women I knew worked until the eighth month of pregnancy. I hit about 20 weeks with both of my babies before I decided to hang up my belt and go in for light duty. I faced personal apprehensions about the perception I would give off to my brothers; I was afraid of reminding them that I was, after all, "different" from them. No matter how hard I worked, I also harbored a fear that others would think that I was leaving the street to get out of doing real police work and operating under regular hours.
I was lucky to make it to around 20 weeks on patrol on graveyards with both of my babies, and I could have gone even longer with how late I started to show in pregnancy. However, there comes the point in time where the maternal instinct takes over, and the safety of your unborn child outweighs worrying about how someone else may see you in your job position. That part of being a woman that was hard for me to accept, but there is no one to blame for the fact that some of us are born with the ability to carry children. I got to watch multiple other coworkers, the kinds who don't have the equipment needed to carry children, continue to do what they loved to do on the streets, as I sat in the office doing paperwork. After dealing with infertility, I am in no way ungrateful. Still, it is an odd feeling to vulnerably sit at a desk away from the dangers of the world, while men can continue their everyday lives while awaiting the arrival of their child.
I've Never Experienced Anything on Duty Like COVID-19
The job also requires that we deal with shorter-term issues. Working during a global pandemic has been one for the books.
I work graveyards by choice, and there is usually some hustle and bustle during the night. When COVID-19 finally surfaced in the United States, it is almost as if the world ceased to exist. In my state, when the virus surfaced, businesses shut down and everything started closing early. The majority of people stayed home but I was four months pregnant on patrol. For me, it gave me a personal sense of comfort to know that while the entire world was panicking, I could be around to provide support to others.
Before I went on light duty, my biggest worry was keeping a safe distance from others, and where I would be able to pick up a healthy bite to eat at 2 a.m. My world did not stop, and I was not at home trying to readjust to a "new norm" like everyone else was. Crime does not stop, accidents do not stop, and people needing medical assistance does not stop—not at 12 p.m., and not at 3 a.m. By the time I did decide to go on light duty, the world was still struggling to get PPE out to first responders, and the numbers were rising dramatically. It was time for me to come in and let my baby grow safely.
Law Enforcement Needs Women Now, More Than Ever
As I write this, people are wishing harm on police officers across the United States and even threatening police officers' children. I think about my unborn child that was inside of me while I worked during a global pandemic, out of obligation to respond to someone on the worst day of their life, and maybe to stop just one more person in this world from having to be labeled as a "victim" on a police report. I hope to empower my children to be a calm presence for others when the world is in shambles, even if it is just in one person's world.
We need women in law enforcement but they don't often apply for the job. I have realized that while there are many obstacles involved in being a woman in law enforcement, much of the time the struggle comes from within ourselves. Nearly every challenge I have encountered stems from one place, and it is that I seem to care just a bit too much about other people's perception of my gender, and not enough about what I am capable of as a strong woman who knows what she wants in this world. They say that comes with age, and I hope to age like a fine wine.