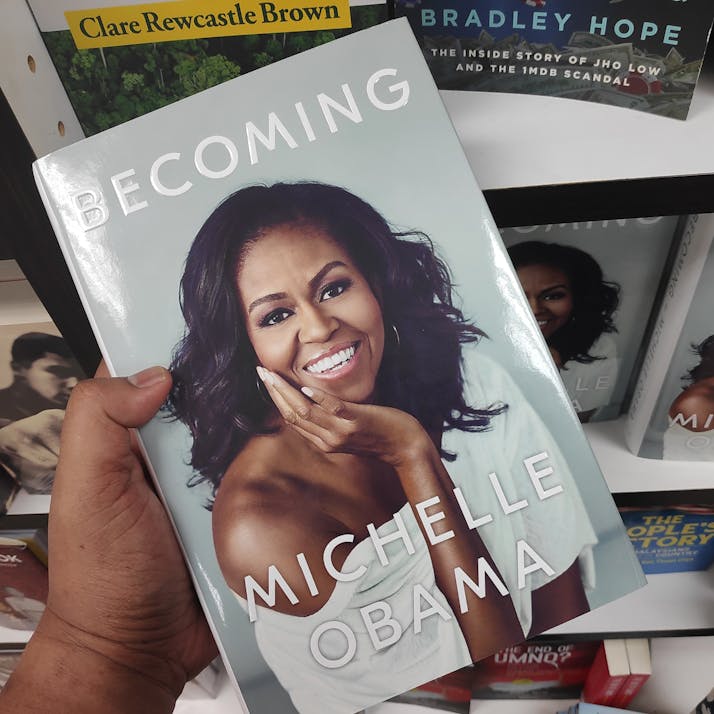 Dear Michelle Obama: A Letter From London
A young woman, who lost her father, tells Mrs. Obama how inspirational she has been.
/ / /
Dear Mrs. Obama:
For my twenty-fourth birthday last year, I received a very exciting birthday present: a highly sought-after ticket to your book tour. I read your memoir in November 2018 and I was desperate to hear your story in person.
One of the most memorable accounts that I read in Becoming was a scene that you described after the death of your father in 1991. You, your mother and your brother sat around the kitchen table, just staring at each other as you tried to take in the news. This was harrowing to read as similar scenes played out in my own family. We, too, lost the person at the very center of our worlds: my wonderful Dad.
On a sunny bank holiday weekend in May 2018, my father suffered an unexpected and fatal heart attack. He was a healthy man and had just returned home from his weekly game of golf. Dad was the hardest-working person that I knew. He logged long hours and rarely ever did anything for himself. He was the epitome of a devoted husband, father and son; to me, he deserved the absolute world. 
Reading Becoming, I was inspired to learn how the loss of your father drove you to do good for those around you. In March 2019, I sat amongst a 20,000-strong crowd at London's packed O2 Arena, hanging onto your every last word. It was fascinating to gain an insight into your White House years, but I wanted to know about your father's influence in your life, whilst first experiencing life without my own.
I began to realize the parallels between your father, Fraser Robinson, and my own dad. These were two men from different corners of the globe, one from the South Side of Chicago and another from Northern Ireland, who lived by the same high moral standards, serving their families first and foremost, and living out each day with the utmost kindness, honesty and integrity.
That evening, as you sat alongside comedian Stephen Colbert, you explained how your father instilled in you a deep sense of self-worth. This resonated with me deeply and articulated so much of what I know is true of my own father. Dad taught my brother, sister and I that with hard work and determination, the sky is the limit. He taught us the little things like catching a ball, checking a car's oil level and, once, the offside rule in American football. But most importantly, he instilled in us a fundamental sense of self-worth. As I gain more experience of life, I realize that this was the greatest gift he could have given me.
Whilst serving as the First Lady of the United States, your father was often the subject of your speeches and it was evident that he influenced everything that you believe in, and everything that you do. In 2015, you delivered a speech to a high school audience and spoke of what your father's loss has meant to you. This has stuck with me. "He is the hole in my heart. His loss is my scar, but…his memory drives me forward every single day of my life. Every day I work to make him proud."
So, early on in my own process of grief, I needed to be shown that the pain of losing a loved one doesn't have to overwhelm you but can be harnessed to bring about good. You have shown this in abundance, with dignity, grit and with grace.
I discovered your story at a very critical time in my life, a full decade after first being inspired by you and your husband. On November 4, 2008, I watched from my parents' television as Barack Obama was elected the forty-fourth President of the United States. I was a thirteen-year-old living in London, but I couldn't help but feel overwhelmed as confetti rained down on you and your family. I didn't know where Washington, D.C. was on the map, but I knew that this moment of "HOPE" was hugely symbolic. It was then that my love of American history was first born, and I have since gone on to complete an undergraduate and master's degrees in American History and Politics.
As your husband did for millions back in 2008, you gave me that hope at the end of 2018, the most challenging year of my life. Thank you for demonstrating how beauty can come from great pain and adversity. I know now that I am my father's legacy and I will work every day to ensure that the love that he poured into me will bring light to many.
Thank you for igniting this hope in me.
Kindest regards,
SWLondoner