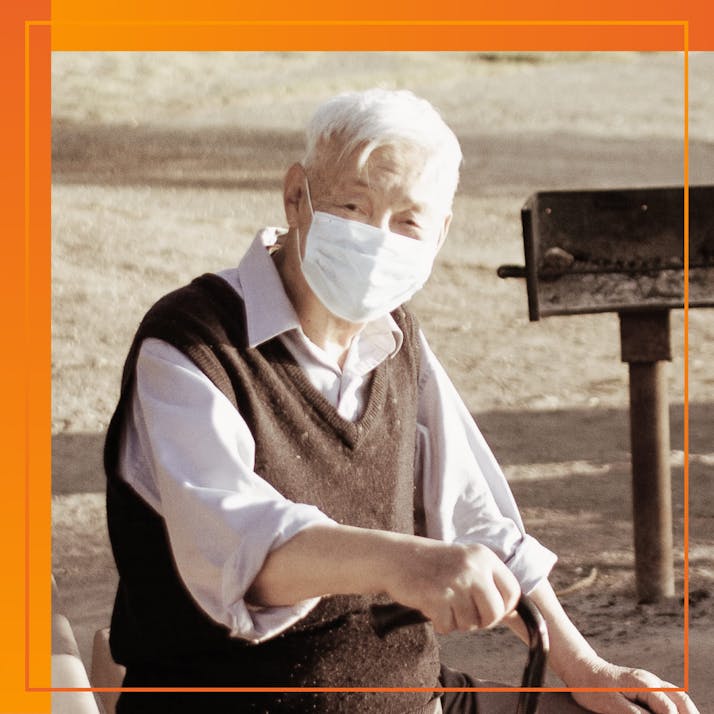 My Grandfather Died of COVID-19: I'm Learning to Appreciate Life Like Him
A writer remembers his grandfather through the letters he wrote and the memories they shared.
/ / /
In 1995, after he lost his wife to leukemia, my grandfather wrote letters nearly every week and mailed them to his three children. The letters lay out in incredible detail my grandparents' lives and the lives of their family and friends. 
In 2020, my grandfather died due in part to complications from COVID-19. I saw him lifeless for an hour or so after his death, and I missed his spirit; when I got back to my room, I returned to his letters. In a masterful one postmarked July 1, 1999, the date of my grandparents' 50th wedding anniversary, my grandfather encapsulates every five years of their lives in a concise paragraph.
This list includes their fifth wedding anniversary when they lived in Paris and their baby, my mother, slept in a dresser drawer; their 15th anniversary, when they moved into "a lovely Eichler house in a liberal ghetto in far-right Orange County;" and their 30th anniversary, when my grandmother was diagnosed with leukemia, but beat the odds, living for 17 more years.
When he reached the 50th anniversary, he wrote of my grandmother: "We have lost Molly…I feel sad. But much sadder for her. She was giving so much. She had so much more to give."
I Bonded With My Grandfather During Long Drives
After her death, my grandfather, in his 70s, still treasured companionship. By luck, he reconnected with a former college sweetheart, Amy, and they lived a beautiful life together in Santa Rosa for 17 years. After Amy died in 2013, my grandfather moved down to Irvine to be closer to my family.
At the time, I was a 28-year-old artist, and my 90-year-old grandfather, still full of vigor and with a healthier body than mine, wanted to see all of the museums in Los Angeles. So I drove from my apartment in Culver City down to Irvine back up to museums in Los Angeles then back to Irvine. He didn't mind the gridlock; we had a lot of time to talk.
Looking back, I don't remember all of the words we said, I primarily remember wanting to learn from him. I remember doing my best to catch all of his personal history. Sometimes I would retell the stories back to him, hoping they would stick. But what I mainly remember is our energy, our laughter, and our ability to know each other as friends despite the generational divide.
My Grandfather Gave Me Advice on Love
When I was 20 years old, I came out as gay to my grandfather in a postcard. I told him that I hoped I could find the loves that he had found. I hoped my life would be as simple and loving as his life. I don't remember us formally talking about the postcard; I knew he and Amy just wanted me to be happy. Years later, on the freeway, I would bring up my new relationships to him shyly, hoping to glean some important knowledge that would turn my love life around.
In one conversation, I remember him telling me that early relationships are so fun and full of possibilities. I never thought dating was fun, but he made me think I could appreciate the unknowing. I wanted to ask him more questions, but I usually let it go after ten minutes or so. Perhaps I was more uncomfortable than he was in talking in detail about my dating life. Though I had good reason to believe we had different perspectives on love.
For an audio project in 2014, I asked him for advice on love. He prefaced in a joking tone, "Dammit if you weren't a homosexual, I'd have a good one for you." And as I laughed loudly into the microphone he said, "Maybe it applies, maybe it applies." I agreed and told him I would let him know. "The only thing I succeeded with in my life was marrying two superior women," he said.
Over Two Marriages, My Grandfather Showed Me How to Live Fully
On July 1, 1949, my grandfather married my grandmother, Molly, in downtown Manhattan. He writes of the marriage venue as tragic at first: "The district is dingy. Papers are flying about on the street in the wind." But quickly turns upbeat in relating the "charming" chapel and "dignified" officiant. And when the moment comes, he nearly leaps from the page: "We are married! It is as if a great burden has been lifted from me. I have never been so happy. I am floating with joy." 
He shared a grand and interesting life with my grandmother, who he described as an influential social worker, a successful lyricist, an elegant dresser, a rose among thorns.
Almost 47 years later, and after a loving life with Molly, he reconnected with Amy. She had lived a full life of her own as a chemist and writer with seven children and an array of grandchildren and great-grandchildren. My grandfather and Amy married months after their second first date and lived happily together in Santa Rosa, making strawberry pie and carbonara, attending symphonies, finishing crossword puzzles and enjoying time with friends.
He ended his letter in the present. 
"When I got up this morning and walked into the living room the sun, filtered by the trees, was streaming in through the French doors bathing the room in light. The light reflected off the prism Molly bought and created a rainbow on the wall above the fireplace. I am an unusually lucky man."
My grandfather knew how to live a full life. It's unclear how many times my grandfather struggled in his life. He wrote about his fair share of difficulties. But they were always tinged with a sweetness of appreciating life. I, too, wish to appreciate life and love through his eyes.