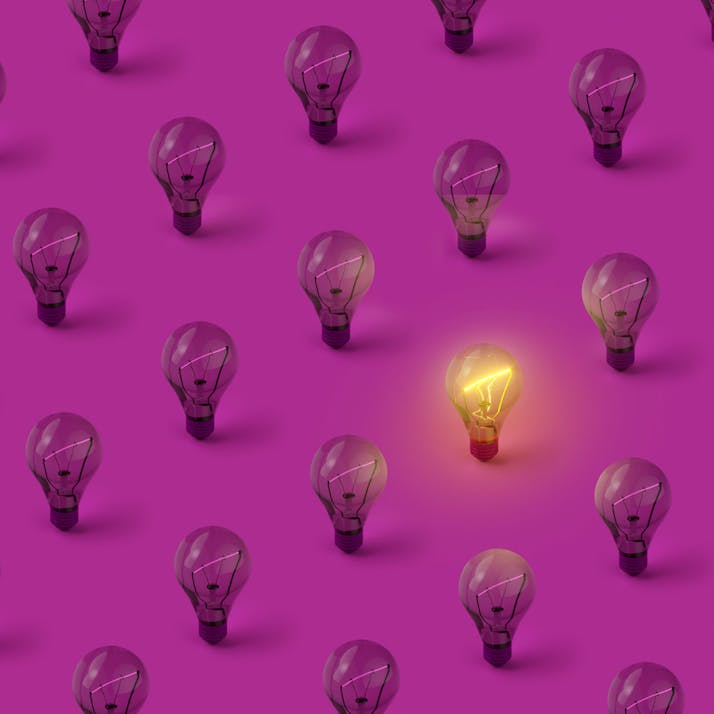 Leaders of the Creative Economy Are Out of Ideas
A creative professional explains how leaders have started recycling tired concepts to keep consumers engaged.
/ / /
Most men I've ever slept with own a Carhartt jacket. Most women they've slept with have the same haircut as me.
We're all watching: watching ourselves, watching others watch us, watching each other, repeat. To be honest I find the L.A.-versus-New York debate to be over. We all live on the internet. We've all memorized the same Twitter dogma, and live in fear of not abiding by its rules, to be caught slipping. We share the same memes, Spotify screenshots and infographics. We're all going up for the same jobs.
We are the reason your local grocery store is sold out of oat milk.
Imitation Is the Basis for Creative Industries
"Mimetic desire" is a theory first introduced in René Girard's 1961 book Deceit, Desire and the Novel. It's the French historian's attempt at a question that extends as far back as ancient Greece: Why do we mimic each other? "Mimesis" is a term of various meanings, often relating to imitation and the ways it bubbles up in our self-expression. Girard makes a distinction between "imitation" and "mimesis." The former is usually understood as the positive aspect of mimicking someone else's behavior, whereas the latter implies the negative aspect. Rivalry. According to Girard, we are a species that cannot help but imitate. It is, after all, a basic human tool for learning. We can't help it. We are ashamed of this interconnectivity. 
I first discovered the term in a short story written by a friend. We mostly keep in touch via Instagram. In one of our IRL meetings, we got together to sit and chat in a public park. The simplicity of the moment was not lost on us, or the masked crowd surrounding us, six feet away. Sitting as closely as the current health regulations allow, I couldn't help but admire her. She cut an elegant shape in all black: miniskirt, thigh high stockings, tailored blazer. Weeks later, after the image had time to sink into my subconscious, I purchased my own stockings. I didn't recognize her influence until I posted them in my story and she replied, 'Twins! <3.''
Sometimes I can't tell the difference between liking someone and wanting to be them.
The Disruptor: The Embodiment of the Creative Economy
Remember the summer of 2018, when Fila re-released the chunky Disruptor sneakers? Retro-'90s "dad style" had reached a zenith, and the reissued shoe exploded it into the mainstream. Every influencer wannabe owned a pair, like a training bra for fame. They were unleashed upon every major city, a meme for a certain "type": self-described "creatives" with an airplane emoji and a minimum of two cities in their bio. I bought a pair in the spring, and by fall I had grown to loathe them. I detested them for what they said about me. Was I more "basic" than I originally suspected? Definitely. 
Who isn't? We've been stuck in an era of endless pastiche. We can't stop rehashing the past four decades. We're afraid to fully enter the 21st century, and with good reason. The question of having a liveable planet has made us all want to crawl back into the womb. So we drink our single-origin cold brew coffees, binge the same shows, share the same articles—the same intersectionality piece, the same gender piece, the same race piece. We remind ourselves of terrible things as collateral for our own pleasure-seeking. The cycle has become so airtight it feels impenetrable. 
Have Cultural and Creative Industries Peaked?
What is the purpose of a writer, then? I try to write about what it's like to be alive today, without much luck. My peers feel mostly the same. It seems as though editors, or maybe magazines, make it their business to make writers feel bad so readers can feel smart. Let's regurgitate their political beliefs back to them, every click an affirmation.
Do you!
As a result, we're all collecting unemployment and doing online sex work to get by, waiting for the moment we can get on the mic. Now that the media's biggest cash cow is on his way out of office, what will be left for us? The culture industry that was born in resistance to Trump gave start to many careers that might never have happened otherwise. I am fearful of returning to the hazy neoliberalism of the Obama years, when we believed racism and sexism were neatly solved. 
What if we did name this interconnectivity. What if we admitted the things we want, and it wasn't cringe? If we all desire to live in the same world, why is it perpetually out of reach? I assume that is by design, but I am trying to remain hopeful. Frankly, I'm bored. The global creative economy has confused itself. It's malfunctioning and losing shape: reboots, remakes, relaunches. Anything for the comfort of a time that wasn't as peaceful as we remember—but that's part of the past's charm. We all know the ending.