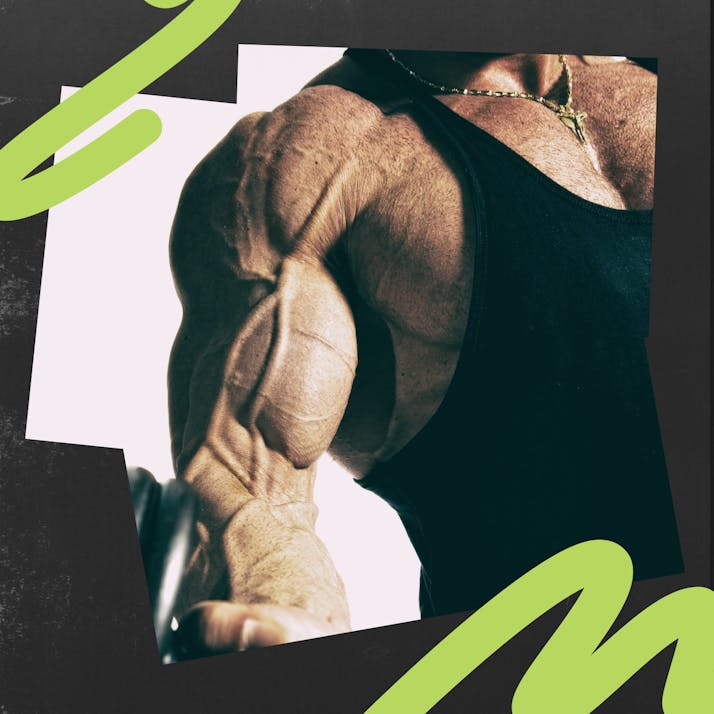 I Got Kicked Off of YouTube for Telling the Truth About Steroids
I used to be one of the most popular bodybuilding experts on YouTube, until they decided they wanted to muzzle me.
/ / /
I've been an athlete my whole life. Growing up in Iowa, I played four sports in high school, but college basketball captivated me the most. I soon started studying everything there was to do—from biomechanics to kinesthesiology—right when I got out. Eventually, I got certified as a nutritionist and personal and group fitness trainer. I kept it up in my twenties while living in Italy as a fashion model. Because I lived overseas, I trained people through the internet and on Skype. I eventually became certified in about ten different ways. It's been my life's work.
My trajectory halted in 2010 for a year and a half-long prison stint. When I got out, my life had changed and I was determined to do whatever I could to work and make money. I went back to my training roots. As I went online looking for different opportunities, I came across these bodybuilding forums, and started participating in them. They were looking for reps for various companies. "Well shit, I'd like to do that on the side," I thought. They only paid me in supplements, but I went from being a small rep for a supplement company within one year to being a salaried employee making five grand a month.
The Start of the YouTube Experiment
Soon, they wanted me to start making YouTube videos as part of my work. The videos took off so fast that I turned my name into something huge and quickly became a self-made star. I went from living in my mom's basement in the middle of 2011 to buying my first house in 2012. And I did it all from scratch.
Most of my messaging on YouTube is trying to steer people away from steroids. A lot of what I preach are the dangers involved in them—how to be careful and how to find alternatives. But if you're going to use them, I explain how. 
It's not difficult to get them once you figure out where to look online. China is trying to ban the production of steroid powders in its country, which is where they mainly come from. But even if they ban them, it would just be like weed and coke being illegal here. You're still going to get it. 
Go on Google and type in "buy steroids online" when you're not busy. It'll blow your mind. So, I will help people, but I tell them that taking steroids is not recommended, and if you're under 25 years old, even if you pay me, I won't coach you on them. I consider myself more of a good guy in the industry. I've never sold steroids and I've never sold regular supplements—I've just worked for those companies. I'm on the opposite end of the spectrum.
My Honesty Was My Undoing
For some reason, people get mad at me for this. When people ask you a question they just want an answer. I need to know their weight, their height, their medical, their psych history. There are a million reasons I could explain why you shouldn't use steroids. I've used them all and I've made a point to tell people that I quit them all because I'm not a bodybuilder, I'm not a meathead and I have a family. 
It's just not me. Most people making YouTube videos just like to get views and traffic, so they tell you whatever you want to hear. I won't tell you what you want to hear; I won't coddle you. I hate that. If you ask me a question, you're going to get an answer. If my wife asks me, "Is my hair messed up?" I'll tell her if it is. I hate people who won't tell you the truth. If you ask me if you're out of shape, I'm going to tell you.
Eventually, YouTube suspended my account. It's very vague why, but people I was competing with and people who just flat-out didn't like me were angry. I pissed them off, and so they started flagging my videos and reporting them as dangerous. The thing is, there are a million other people making the same videos. Why is it that mine is taken down when others are not? It's a big question that I never, ever received an answer to. YouTube just writes back and says that the videos violate their policy. I made disclaimers that this was for entertainment purposes. I never signed up to put ads on my channel. I never tried to make any money or do any of their affiliated stuff. I never signed up for their premium products.
My Life Post-YouTube
I don't belong with the groups of people who do a lot of advertising and make money on their channels. The way I make money is by getting people to follow me and then I sell them personal training or get them to buy supplements that I get paid for in referrals. I've put some new videos up, but to be honest with you, I don't even enjoy it because years and years of work have already been taken down. The stuff I put out is priceless info, and I want to get paid for it. 
I'm opening a gym now and I've made some real estate investments. I don't need YouTube anymore. I was going to make a subscription service, but everybody wants everything for free. Sometimes I ask people, "What do you do for a living? Would you give me free information if you were a fucking attorney? Would you cut my hair for free, or fix my brakes for free?"