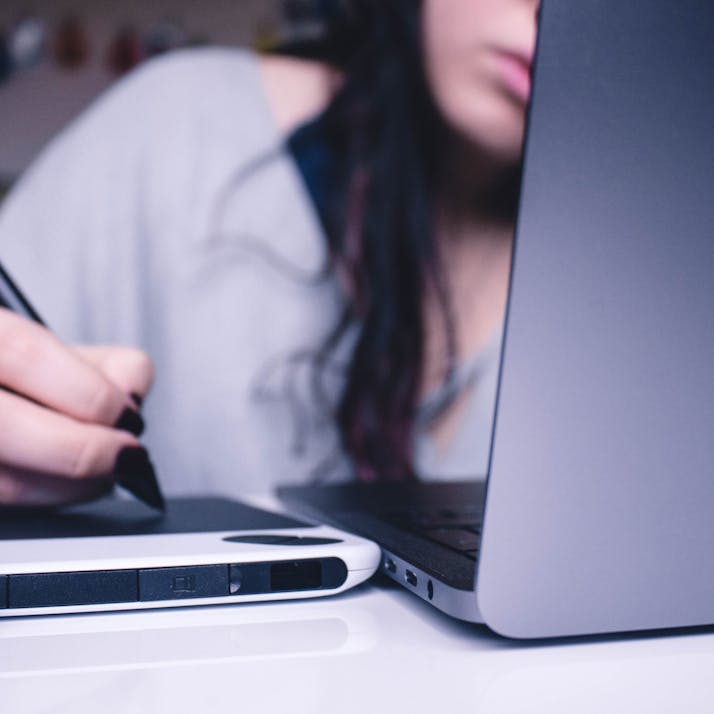 On the Early Internet, My Physical Disabilities Didn't Exist
An artist reflects on the transcendent power that early web-based applications had on her self-perception.
/ / /
As a child, I would visit a physical therapist and stand, knees bent, with my back against the wall. I would stay like this for an hour, taking little breaks every five minutes. I would think about the strengthening of muscles that I couldn't see, and an accident that I couldn't remember. Due to how young I was when it happened, I was never given the full story from start to finish. I was given the memory as if it was a hand-me-down and had to stitch together the details myself. My family was retrieving our first set of proper baby photos; a drunk driver hit our car; my car seat didn't do its job. I fell into a coma for a few days, suffered minor brain damage, and the development of my gross motor skills came into question. The doctors were concerned I would never walk properly because as I got older, I tip-toed like I was constantly creeping away from something.
My accident was proof to my immigrant parents that we were unfortunate victims to the evil eye, so I wasn't allowed out much. Instead, I spent a lot of time in our backyard, picking insects from the grass and minnows from the pond to study and draw. Unlike my feet, my right hand—combined with a crayon or any tool that could make a mark—could transport me anywhere. 
Inevitably, I trapped and drew all the creatures available in the small perimeter surrounding my house. When I grew bored, I focused my attention on capturing the people I saw on television. This was before the era of stop-and-rewind, so I woke up early in the morning and frantically drew the Sailor Moon reruns that aired an hour before school started to the best of my ability. It was figurative drawing tailor-made by and for a recluse.
My Friend Introduced Me to Online Art
During this time, I was struggling in school, and my time spent sheltered from the outside world made me anxious amongst my peers. My limited mobility and the details of my ongoing recovery were always disclosed to my teachers, and this made me even more self-conscious. I knew I wasn't as fragile as the adults treated me, but because I was so young, I didn't have the vocabulary yet to defy their judgment. 
Recess in my elementary school took place in the loop, a quarter-mile of thin, circulate concrete, which was used for physical education classes. I would walk laps by myself, avoiding the kids that zoomed past me and the obstacles made out of dueling jump ropes. I made sure that my weak foot hit the ground with confident steps. It was here that I bumped into a girl who told me she hated the cement track as much as I did.
Ilse drew, too. I couldn't help but notice her strange, unexplainable confidence, even though it was obvious she was as introverted as me. Ilse's drawing practice was somehow fulfilling in a way that mine wasn't. She talked about "friends," but they weren't names that I recognized as fellow students. She reassured me, however, that they were real and that I could meet them after school. Then she gave me a web address on a torn piece of sketchbook paper.
That URL was my first memory of logging onto the internet with a destination in mind. I was greeted by a splash page made of postcards featuring the Sailor Scouts on vacation. With some clicking, I eventually found an imageboard that allowed users to publish drawings within the browser. I didn't know what Flash was but downloaded it anyway; I still remember the excitement and fear of that first risky click. The drawing interface was a sophisticated version of MS Paint. I recognized the paint and brush icons and watched as I made shaky strokes appear on my screen with my mouse. It was hard for my brain to believe that I was actually drawing. When I was done, I was greeted by another prompt: Name? I had a mad crush on Dwayne Johnson, known then as the Rock. I honored him in my own way and hit submit. 
What I loved about the early internet was how my physical body didn't exist there. My face and my silly walk weren't captured in pixels or gigabytes. Instead, I entered a borderless zone undefined by my given truths. In this online community, I was known only by a name that hinted at my love for a professional wrestling star, and for how I posted artwork of zombified animals. I could have been hundreds of years old and living on Saturn. My relationship to my hands, the aspect of my body that allowed me to draw and connect to similarly-minded people with a single click, was all that mattered. I stopped worrying about how I stood.
The Internet Helped Me Appreciate Connections in All Forms
Once I adjusted to the ease of connecting with people online, I realized it didn't have to be so hard in real life. I felt less bound by how I looked or how other people perceived me. I began to tell people that I was an artist and that I was inspired by planets, their moons and their orbits. I fidgeted less and learned to seek and find comfort in the supercharged online conversations that flew, safe and uninterrupted, down my spine like electricity. 
I learned the art of malleability, copying and pasting, following forward links. In my collective, alternative fantasy, I adopted an empathetic language and a radical disregard for where things came from. I was only concerned with intimate connection. Eventually, the way I spoke and felt online began to translate to being offline. Even though exiting an in-person interaction was not as easy as closing a webpage, I let those real-life experiences start coming to me.
These days, due to the coronavirus, I spend a lot of time in my bedroom again, dividing my schedule between Zoom, Discord and Twitter. It is harder to dream in the internet spaces that exist today, so I split my time between them and the outdoors. I'm a certified naturalist and the curiosity that made me want to understand my childhood backyard never left, contrary to my large internet presence. I enlist both in the labor of dreaming. I use an app on my phone that uses citizen science to identify native flowers. With the help of a chat room, I organize tennis matches with friends at the public park down the street. With the help of some activists I met online, I distribute iced bottles of water to the unhoused during a record-breaking heatwave. 
And I keep returning to this elusive quote by the notoriously isolated writer and philosopher, Emil Cioran: "Life is tolerable only by the degree of mystification we endow it with." I ground myself, and practice my dreaming of other worlds and galaxies, and in this balancing act, I find my own version of grace.