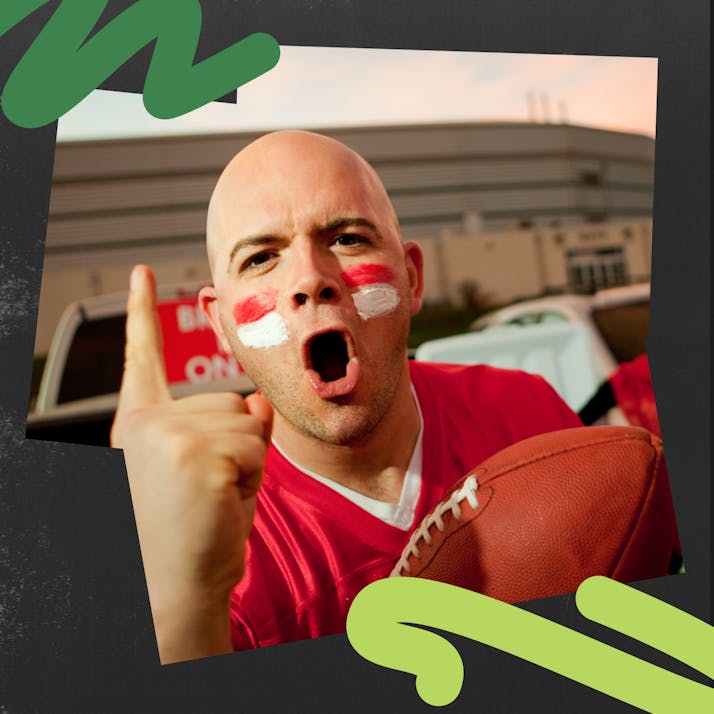 Inside the Soul of an NFL Superfan: Here's Why I Go Wild for My Team
I'm one of the uber-dedicated football fans who dresses up and attends every game on the calendar.
/ / /
What is a "superfan?" Why would seemingly normal adults go to crazy lengths for a sports team? I can answer these questions because for the past seven years I've been engulfed in this world. Let me tell you this now: It's a world filled with wonderful people, unique characters, some really creative costumes and a ton of passion.
Before I get into the brat (read: meat) of this analysis, I want to share with you my three favorite NFL superfans—my inspirations, you could say—out there. 
Frozen Tundra Man: The handmade artistry and painstaking detail of this costume are stunning. I know this gentleman personally and it takes hours of preparation. The costume makes it nearly impossible to eat, drink or use the restroom during the game. However, I'm sure it does help keep him warm during those below-zero games at Lambeau Field.   
Da Pope: How can your team possibly lose with God on your side? 
Bearman: Another great cold-weather costume. He's ready for every game, but it seems as though his team has been in hibernation since 1985's historic championship. 
OK, let's dive into the burning questions on everyone's minds.
I Started Wearing a Costume to Games and Became a Hit
What is a superfan?  Let me tell my story to help with this answer. 
I have been a fan of my team since the 1980s. They weren't always good. In fact, they were pretty irrelevant until we drafted one of the all-time great quarterbacks. This led to a flood of attention and truly transformed my hometown into a football city.  Jump ahead 30 years and my superfan story begins. 
I began wearing a costume to my team's home games. The costume, which will remain anonymous for this article, generated more attention than I could have dreamed. I took photos with fans, made it on the local news and was invited to be on ESPN Sunday Countdown in Bristol, Connecticut—all within the first couple of years. I discovered a wonderful subculture of superfans around the country. These were my people, my tribe. They were regular people with extraordinary passion and energy.  
Had I always been a superfan? No. There was just something about these connections to other people who take their fandom to the next level that I really identified with. Their enthusiasm and energy were contagious. Superfans are not limited to sports, of course. Someone could be a superfan of any number of things: Star Trek, for example. Have you ever seen some of them? Wow. They are all in and they want to be around others who share that same love and excitement for pointy ears. One tends to think of superfans because of their outfit, but what I've learned is it goes way deeper than the face paint.
My unofficial definition of superfan is: Any fan who has a passion, energy and enthusiasm for a certain subject that goes beyond an ordinary level.
Game Days Provide an Escape from the Daily Grind
Why go to such lengths? I'll be honest; this isn't normal behavior. No one in their right mind dresses like a giant bear on Sunday afternoons, unless maybe they're trying to blend in to take some selfies in Yellowstone National Park or something. The "why" someone is a superfan can only be defined by the individual. For me, being an extreme fan of my sports team provides an escape from the daily grind of life.  
On NFL Sundays, nothing else exists. I wake up early and dive headfirst into a sea of face paint, hours of pregame statistics, the delightful smells of perfectly grilled bratwurst and rituals that surely can only result in my team's victory. Fortunately for me, my two teenage sons share in my love for our team. They've grown to be superfans of their own. You might be thinking, well can't I just turn the game on at 1 p.m., see what happens and still be a fan? Of course! For the superfan, the rituals and passion just take over well before the kickoff and after the final whistle. Yes, Monday comes and I go back to my day job, but next week's game is always in the back of my mind. 
My costume started in 2014, when my wife and I were leaving our first preseason game as season ticket holders. A lady in the street passed me and said I looked like a certain former NFL coach. My wife said, "Wouldn't it be fun to dress like him for the next game?" That was all I needed to hear. The very next game, my costume and superfan persona began. There was no elaborate planning, it just happened. Little did I know about the hundreds of pictures I'd take with fans and all of the places the persona would take me.
The crazier the world gets, the deeper the fandom gets. At first, I did this just for fun. Then I started to realize this was so much more. I've met fans from Mexico to Austria to London to Japan and beyond. People whom I've never met are now my friends, people that I would never have interacted with share something in common. Sports can be such a great unifier of people and my superfan status has drawn me to so many wonderful souls. This is my "why."
Being a Superfan Means Having a Deep Love and Passion
In January of 2020, my wife and I were at Lowe's purchasing a new water heater. While waiting, I checked my phone and discovered a Twitter direct message from the owner of the team I support. "Congratulations!" the message read. "You have been selected as the season ticket holder to represent the team at Super Bowl 54 in Miami!" My wife and I were stunned to say the least. We enjoyed the trip of a lifetime watching the game and experiencing all the incredible fan experiences in Miami. My super fandom led me to an all-expense paid trip to the Super Bowl.
The soul of the superfan is genuine. The passion and love are deep. The bonds between people of similar passions are true. What's your passion? What is that thing that gives you hope? Maybe you haven't discovered it yet, but when you do, you will know it. You will feel it in your heart. Your love for it will grow and, like a magnet, you'll be drawn closer to those who share in your love. This love makes your life richer.  
It feeds the soul of the superfan.