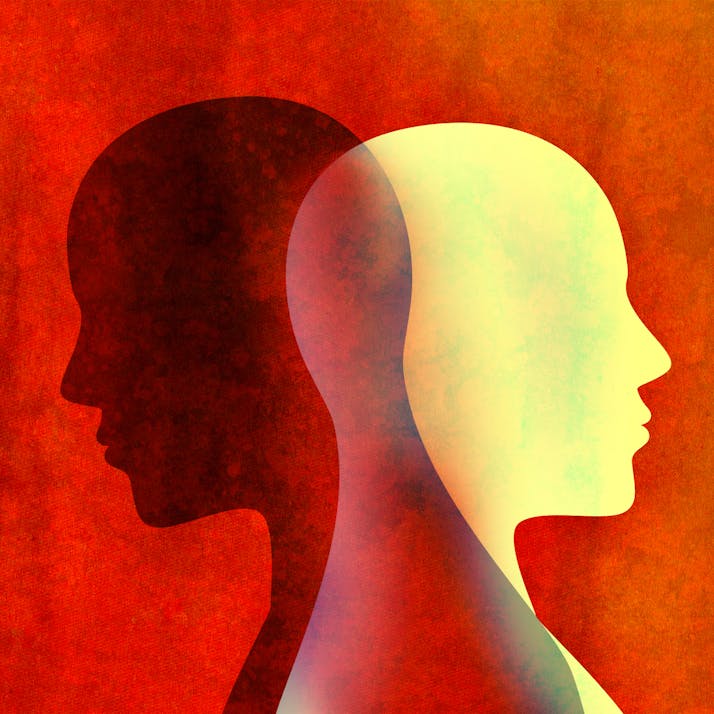 I Inherited the Best and Worst of My Father's Bipolar Disorder
An artist shares her life's struggle negotiating the roots of her mental disorder.
/ / /
I've always been curious about the connection between genius and madness. I'm not sure if I qualify as a genius, but I have certainly entered states of madness. True genius, of course, would be overcoming my own madness—to get my art out into the world and begin feeling happy and fulfilled. 
On my father's side of the family, I'm the third generation to receive shock treatment. There might have been more if it had been available. I received two full rounds after a suicide attempt and another after a blazing fire in my SoHo one-bedroom apartment, which was also my art studio. Some blamed me for the fire, and I ended up in the psych ward at Bellevue Hospital. The art of my life will be surviving some truly hard times the way my ancestors did.
My Mental Illness Feels Like Karma
Both my grandfathers died young, before I was born. My great-grandfather, on my mother's side, named me Vichna, which means "tender" in Yiddish. And my father gave me my English name, which means "strong."  I am both tender and strong, filled with intense fragility.
My mother's Yiddish name is Goldy. She is like gold. The other day I was talking to my sister about how our mother, a single mom, has the most solid mental health of anyone we know. I have to remember that I have her DNA in me—every bit as much as the DNA on my father's side that has brought me a karmic mental illness. 
I have always had that feeling with my father, who was cheating while I was in my mother's womb. He left the day after I was born, then came in and out of my life. For a decade, I had an order of protection against him. In my mid-20s, he reentered my life, and soon after, I was diagnosed with bipolar I. His mother suffered from depression, and although I was a young child, I always felt understood and connected to my grandma Vera. She used to look deep into my eyes and tell me, "I understand you." She would also say, "My favorite color is the color of your eyes."
I have lived through a great deal being bipolar: Ten hospitalizations. Suicide attempts. Two full rounds of shock therapy. Unfulfilled love. The one I recognized as my twin flame never saw me being the mother of his children. I am 45, he is 48, and now he has a baby. I dream about him. My dreams didn't come true with him. I felt for sure that he was my life partner.
My Mother and Father Have Shaped Me in Different Ways
I was always a natural performer. A graduate of Juilliard, I looked forward to a flourishing career and had top representation. People projected I would be a star. The summer before 9/11, I went to Burning Man and soon after was hospitalized against my will, officially diagnosed with bipolar disorder at the age of 26. Before that, I had no real mental health challenges. I was bullied in elementary school, like so many others. I did, and sometimes still do, keep my room like a nest. Beyond messy. 
Both of my grandmothers had a huge impact on my life. On my mother's side, thank goodness, there is no mental illness. My mother made a living as a school teacher, yet in some ways, I see her as an artist. She is very intuitive and creative and capable, able to knit, sculpt, make jewelry and complete the Sunday New York Times crossword puzzle in record time. I recently requested a certain design for an interesting shawl-scarf and my mother made it the very next day. She is the most loving force in my life. My relationship with my mom stays constant. We touch base every day. 
My father, meanwhile, passed away in August. He was sick, depressed and suffering for over a decade. After his third wife separated from him, he became agoraphobic. He was a brilliant yet tortured soul. In some ways, however, I feel relief after my father's passing. I shared his pain. He wasn't a good dad—I feel bad to say it, but it's true. He was a wild guy until those last years when he deflated and gave up. He lost his will. 
A highlight of my relationship and knowing him was in the music. He caught on early that I was gifted musically and brought me to a professional recording studio to record three songs when I was in elementary school. One of them was James Taylor's "You've Got a Friend." He proudly attended many of my concerts and left me the original bass guitar he first learned on. It needs fixing, but I will play with it in his honor. 
I Have Forgiven My Father, but Still Struggle
Just today, my stepmom sent me a card I wrote to my father in 2009, when he started to fall into a deep, stoic depression that he never escaped. 
"You are epic," I wrote. "So powerful and brilliant. There is more happiness, peace and purpose in the world and in yourself for you to discover. This is not the last chapter. You will get through this and break on through to the other side. I believe in you so much. I love you so much. I am proud that you are my father, and I am proud to be your daughter. I am on your side. We are sensitive. We are strong. We are survivors." 
I am sad that he never did, in this lifetime, "break on through" his depression. In his final months, he fixated on his regrets and mistakes and sought forgiveness. I told him I forgave him. In many ways, I am still processing his loss. I do not want to end like him. I am now stable, on medication, still living with heartache and unfulfilled dreams. It is a daily struggle. 
In my most prolific times, I was hypomanic. Channeling. Fully connected to the higher power. Madness? Genius? Who knows? All I know is round and round we go.