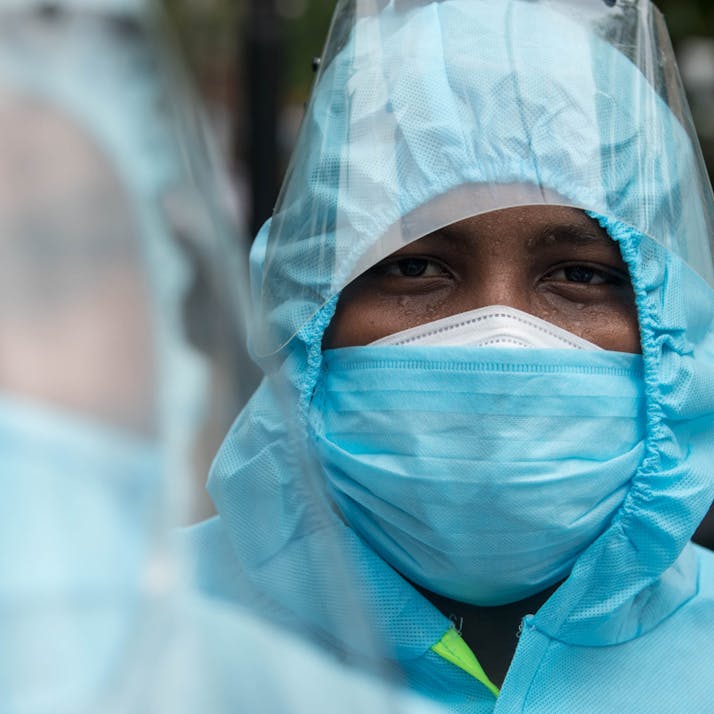 Report From India: What the COVID-19 Pandemic Is Like Right Now
The ferocious second wave killed my grandfather and is pushing India's healthcare system to the brink of collapse.
/ / /
When the COVID outbreak appeared to be under control earlier this year, the Indian government eased the restrictions of movement for large crowds—a decision which is now turning out to be catastrophic as our country deals with the spread of a more contagious new variant of virus.
It's a catastrophic situation: Daily death figures reach new highs as gravediggers work round the clock. There's a shortage of oxygen supplies, the menace of a black market for essential medicines, the unavailability of ventilators and beds in hospitals, and a shortage of crucial raw materials required to manufacture the COVID-19 vaccine.
The Real Numbers Are Being Suppressed
Official numbers report total COVID cases crossing 20 million, and more than 200,000 deaths.
But medical experts believe the actual number of deaths from COVID-19 could be 10 to 30 times the official numbers. With underreporting of cases and large test positivity ratios, the true scale of the pandemic may be far worse than the numbers would suggest.
Each day I am receiving calls from friends or distant relatives that someone from their family has died of COVID. So many people can't get a COVID-19 test, hence their cases remain unreported.
Most hospitals are already working at almost twice their capacity; they are not able to keep pace with the surging demand for ICU beds.
COVID Took My Grandfather
My grandfather was straight away denied a hospital bed, because saving the life of a 78-year-old person wasn't the doctor's priority. Lots of people who are not getting access to hospital beds are being forced to struggle and succumb to suffocation at home. My grandfather lost his life after 36 days of struggle with lung blockage.
For the last four days, I've been hearing the screams of an older lady, who lives next door. She is dying of suffocation and lung blockage, but it seems there isn't much that her family can do to alleviate her suffering.
The Crisis Is Leading to a Black-Market Explosion
Remdesivir, which usually costs around $50 is being sold for $1,000. Oxygen cylinders which usually cost $80 are being sold for as high as $1,400. This is the same with most crucial medicines. For my uncle's COVID treatment in a private hospital, my family ended up paying around $30,000 in hospital bills for a one-week stay.
For lower-middle-class and middle-class people, it has become almost impossible to get appropriate medical treatment in a good, private hospital. They are mostly being left on their own.
At New Delhi crematoriums, corpses wait in long queues to burn. The crematoriums are running out of wood required for pyres. For my grandfather's cremation, my family had to carry his body on a bicycle as no vehicle was available to take his body to the crematorium. At the site, the 24-hour queue was a very shocking and disheartening experience for my family.
Elections and Religious Ceremonies Are Continuing as Usual
Amidst the pandemic, the government decided to go ahead with state elections in West Bengal, where thousands of people flocked to cast their vote. Common people are paying a huge price for the government's irresponsible attitude of giving priority to elections over putting restrictions in place.
Religious ceremonies are also taking place. Mahakumbh saw a gathering of more than nine million devotees, after which the state saw a massive surge in COVID cases.
Ray of Hope: International Support
Many countries—including the U.S., Russia, France and the United Kingdom—are rushing critical emergency equipment to assist India in battling this deadly second wave. And the international support is giving us hope of battling COVID-19 successfully.
Still, these days on social media, I don't get to see funny memes, beautiful videos or political jokes. Instead, everywhere on Facebook, Instagram, WhatsApp and Twitter, the posts are frantic calls to save lives from my friends, and friends of friends. Everywhere people are posting, sharing, tagging, asking for information related to ventilators, plasma, oxygen cylinders and hospital availability.
I am hopeful that the situation in India will become better soon, the posts will brighten and, in some months, people will be able to live their lives again.